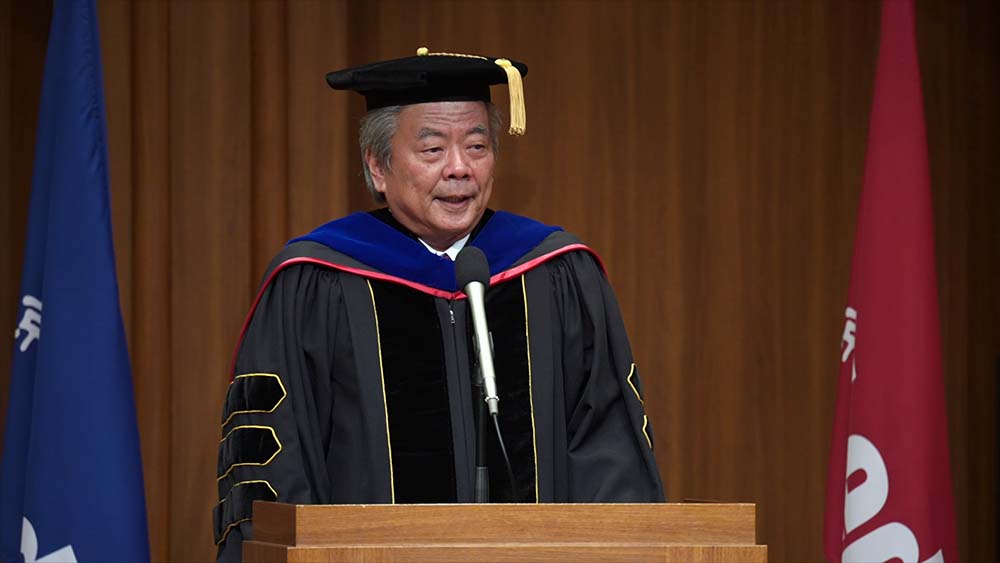 Kyoto Computer Guraduate Institute (KCGI) and Kyoto Computer Gakuin (KCG) held their spring semester 2022 degree conferment and graduation ceremonies in cyberspace on Wednesday, September 14, 2022.Due to the prevention of new coronavirus infection, the ceremony was not held in the main hall on campus, and KCG Group President Wataru Hasegawa and KCGI President Toshihide Ibaraki offered their congratulations and words of encouragement to each of the participants in a video-streamed address.Despite the uncertain future of the Corona disaster, the graduates left the school with confidence and hope, having acquired solid IT knowledge and skills and high qualities as members of society.Congratulations to all of you!We sincerely wish you the best in your future endeavors.
In his address, President Hasegawa explained that the ceremony was held in cyberspace to prevent the transmission of the new coronavirus and to ensure the health and safety of alumni, graduates, and related personnel.He added, "At this university, you have acquired a variety of knowledge and skills related to IT, which will be the axis of society and help people.I hope that you will continue to hone your skills and contribute to the realization of a better society.He added, "You are also a member of the KCG family, a human network of more than 50,000 alumni and alumnae.Our graduates and alumni are active in many companies in Japan and abroad.We hope that not only horizontal ties but also vertical ties between seniors and juniors will be valued.It would be wonderful if our alma mater, KCG Group, which is aiming for its 100th anniversary, and our alumni and alumnae could work together to grow and develop together.I sincerely wish you all good health and success in your future endeavors," he said in his farewell address.
President Ibaraki said, "You have learned the knowledge of ICT, which is the key to the coming age, at our university.In addition to its basic knowledge, the University has provided a truly broad spectrum of knowledge to enable students to play an active role in a wide range of applied fields of ICT.You have acquired the necessary knowledge, which is a valuable asset that will surely help you in your post-graduation activities," he pointed out.He added, "You will be active in society in the future, and you will solve various problems that you will encounter by using the knowledge that you have gained at this university.Our society is in the midst of change.Times of change can also be times of great opportunity if viewed from a different perspective.In order not to miss out on any opportunities, it is important that you do not rest on the knowledge you have acquired at the University, but that you constantly update yourself by absorbing new knowledge.I sincerely hope that you will not overlook the changes of the times, take on the challenges of the opportunities that come your way, and achieve success," he encouraged.
Mr. Horiguchi, a graduate of KCGI's Graduate School of Applied Information Technology, gave his graduation/completion address on behalf of the graduating students and graduates.Mr. Horiguchi, who is a dentist and has taken advantage of the long-term student system, said, "During the three years before the Corona disaster, I received warm and enthusiastic guidance from various professors and was able to deepen my understanding of the profound study of IT and management.Thanks to this, we were able to achieve our initial goal of improving operational efficiency by incorporating ICT into our clinic.With the results of our studies at the University, we will move toward the realization of our dreams and goals.I am committed to fully demonstrate the knowledge and abilities I have acquired at this university, which is blessed with an excellent educational environment, in my respective field and to contribute to the creation of a new future," he said.
At the ceremony, the graduates who have achieved outstanding academic and research results and were selected for the Grand Prize and the Award for Excellence were announced.Each will receive a certificate and a commemorative gift.The "Master of Information Technology (Professional)" degree to be awarded to KCGI graduates and diplomas and title certificates to KCG graduates will be mailed at a later date, or handed to them individually if they wish.
After the ceremony, an online celebration was held.Graduates and alumni attend the "celebration site" from their homes and other locations.KCGI and KCG students gathered by specialized courses and academic departments, respectively, to reminisce with faculty and staff and to discuss their dreams for the future.There was also a photo session in which graduates were dressed in academic gowns on the screen, using a system developed by Professor KCGI.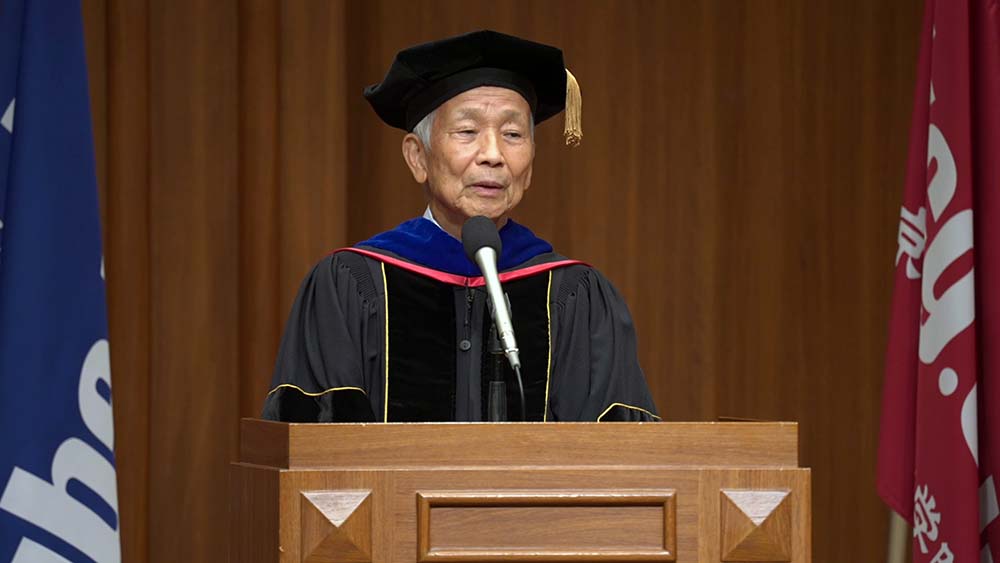 ◇ ◇ ◇
The KCG Group continues to make the utmost efforts to prevent the spread of the H1N1 coronavirus, such as by conducting classes and school events in cyberspace, with the utmost concern for protecting the lives and health of students and faculty members.
KCG Group's response to prevent new coronavirus infection