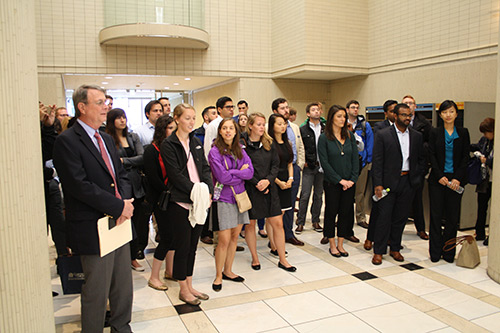 A party from Darden Business School who arrived at KCG
50 students and 4 faculty members of the University of Virginia's Darden School of Business, famous for their high-quality MBA programs, will visit Kyoto Computer Gakuin (KCG) Kyoto Station School on May 12, 2017. I visited.I visited this school as part of the overseas training held every year.The group received a welcome greeting from President Akira Hasegawa and immediately visited the KCG Computer Museum on the 1st floor of the station square.This museum was certified by the Information Processing Society of Japan as the first of the "Distributed Computer Museum" in 2009, and many computers certified as "Information Technology Heritage" are displayed and preserved.While listening to the explanation by President Akira Hasegawa, the students were interested in watching the famous computer of the times that could not be seen in the United States.
Next, in the main hall, we heard a lecture in English by Hideaki Sugawara, Professor of Kyoto University of Information Sciences (KCGI), and the President of KCG Group General Manager, Hiroshi Hasegawa.Prof. Sugawara's title is "Management of IT Projects in Japan" and "RINGI system" is a unique bottom-up style meeting style in Japan, and "After 6", which gives real feedback that is difficult to get out of the meeting. Introducing the Japanese-style decision-making process that emphasizes harmony, such as the importance of communication at an izakaya (after work).
Chairman Wataru Hasegawa explained the founding philosophy of KCG and the educational philosophy of the KCG group, and the Japanese content industry, such as manga and animation, which has been attracting attention from around the world in recent years, as well as the art and We introduced in detail about content-related classes.In particular, the promotion video of the vocaloid "Hatsune Miku" developed by Mr. Hiroyuki Ito, KCGI professor, representative director of Krypton Future Media, seemed to have a strong impression.After the lecture, students asked questions about the progress of the RINGI system, the contents of KCGI and KCG education, the policies of Cool Japan, and so on.Although it was a short KCG visit for about 4 hours, the tour proceeded in a relaxed atmosphere from beginning to end, and it seemed to have deepened the understanding of the advanced IT education of the KCG group.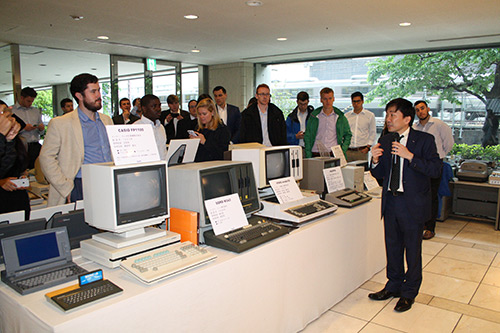 Visit the KCG Computer Museum while listening to the explanation of Akira Hasegawa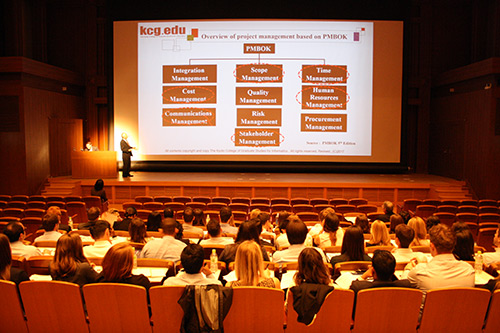 Lecture by Professor Hideaki Sugawara, Kyoto University of Information Sciences (KCGI)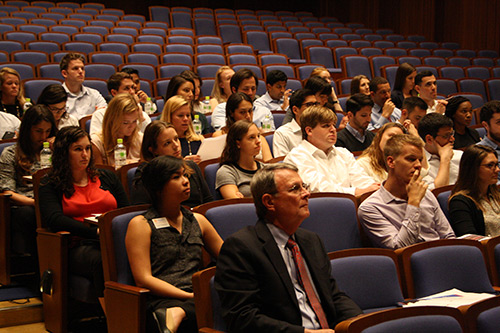 Students listening to the lecture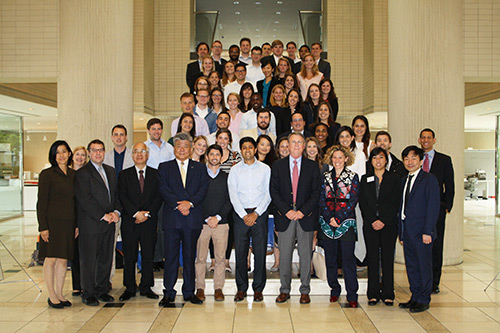 Commemorative photo with KCG group faculty and staff