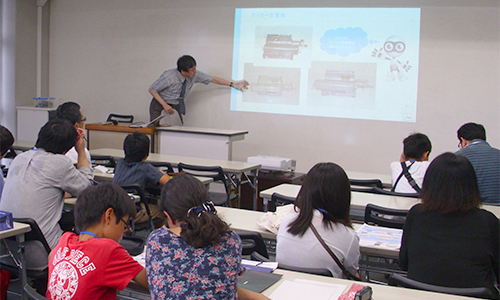 Parents and children studying computer history
Kyoto Computer Gakuin (KCG) Summer Festa "History of Computers for Parents and Children" was held at Kyoto Station School on August 2, 2015, and children during the summer vacation together with their parents to see precious computers in the past. visited.The lecturer was Dr. Hiroto Chiba, vice director of the KCG Computer Museum.Prof. Chiba was appointed as a visiting professor at Kyoto University of Information Graduate Studies (KCGI) this spring. He is very familiar with the world of the SF series "Star Trek" and operates its official Japanese website.Because of his profound knowledge of computer history, he also serves as the vice director of this museum.
At the event, participants first learned about the history of computer development, from hand-held computers to large-scale computers using many vacuum tubes to notebook computers in recent years, and then in the lobby of the school in front of Kyoto Station. I looked around the actual computers on display at the computers.The children also took on the challenge of disassembling and assembling personal computers, and showed a strong interest in the internal structure for the first time.
A 6th grade elementary school student from Osaka City expressed his impression that he was surprised to learn that the computer design a little while ago was not as smooth as a recent personal computer. A 6th grade child who participated from the city said, "It was interesting to see the computer for the first time."
The KCG Group has preserved the past computers, etc. that have been used in education, practical training, and research for more than 50 years since its establishment as the "KCG Museum" and has made it widely available to the public.In 2008, the KCG Museum was certified by the Information Processing Society of Japan as the "Distributed Computer Museum" for the first time in Japan.The Society also has the "TOSBAC-3400" and "OKITAC 4300C system" (both 2008, first national certification), "NEAC-2206" (2010 certification), "NEAC system 100" "(Certified in 2011)," MZ-80K "(certified in 2012), and" PDP-8 / I "(certified in 2014) are certified as" Information Technology Heritage Certified Equipment ".The KCG Group is planning to build a school in front of Kyoto Station as a "computer museum" to be widely used as a place for research and education in order to pass on the technology that supported Japan's high growth to the next generation. We are calling for support and cooperation from the national government, Kyoto Prefecture, Kyoto City, academic societies, the educational community and companies.
KCG Museum
http://www.kcg.ac.jp/museum/
Summer Festa 2015
http://kcg.edu/summer-festa/2015/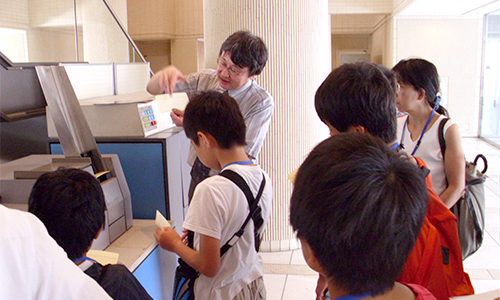 Children listening to explanations by Hiroto Chiba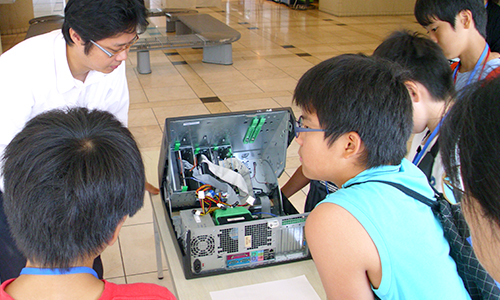 Inside the computer for the first time