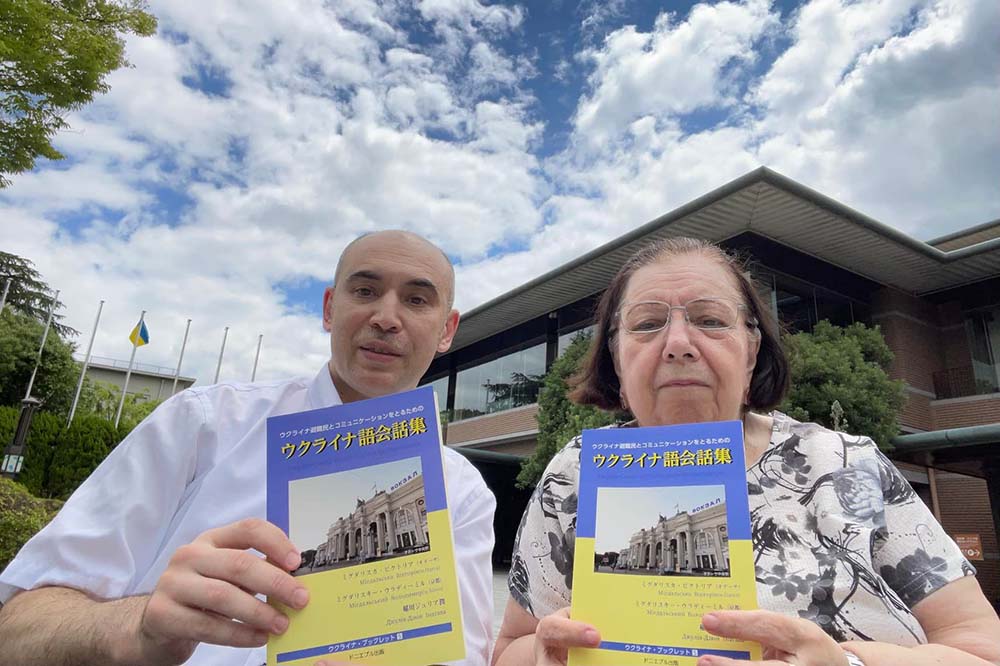 As the number of Ukrainian refugees living in Japan increases due to the Russian invasion of Ukraine, Professor Vladimir Mygdalskyy and his daughter, Victoria Mygdalskyy (both from Ukraine), of The Kyoto College of Graduate Studies for Informatics (KCGI), have published "Ukrainian Conversation Book" to eliminate the "language barrier" faced by refugees and Japanese who provide support.The book is now available at bookstores nationwide, and both professors are calling for its use, wishing for the earliest possible arrival of peace.
The conversation book is written in both Japanese and Ukrainian so that it can be used by both Japanese and Ukrainians.The book contains approximately 500 phrases, including greetings and expressions for daily life, which can be used by pointing to them while showing them to the other person.
In July, Prof. Mygdalskyy started an "Introductory Japanese for Daily Life and Communication" course for displaced Ukrainians and an "Introductory Ukrainian for Daily Life and Communication" course for Japanese in online format.Professor Mygdalskyy said, "We believe that the created conversation book will be useful for all Ukrainians (displaced persons) who are just starting to learn Japanese, as well as for municipalities, social organizations, and volunteers working with displaced persons from Ukraine to learn practical Ukrainian in a short time.