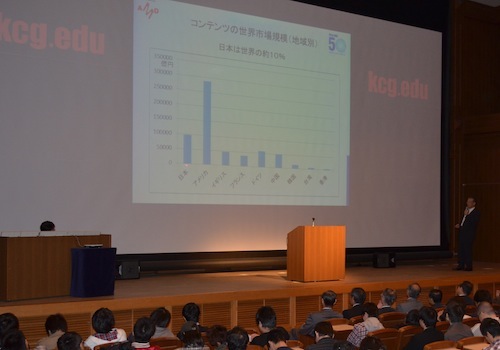 50th Anniversary / NAIS Lecture on KCGI 's anniversary
A lecture to commemorate the 50th anniversary of the KCG Group's founding in 2013, co-sponsored with the Information Systems Society of Japan (NAIS) *, whose secretariat is located in KCGI, November 1, the KCGI's founding anniversary, Kyoto Information The Graduate University was held in the Kyoto University Satellite Hall.This was the first lecture for the 50th anniversary of the foundation. Many students and many other people visited for the lecture.Mr. Keiichi Murakami, Managing Director of the Digital Media Association (former Fujitsu Ltd.) gave a lecture as "Trends and Challenges of Content Business". Based on his long experience in the industry "You can't survive unless you have the challenge and the spirit of challenge", "Collaboration is an important factor in content development.Since personal connections are important, we need to feel like making lots of loans for others on a regular basis. "
Mr. Murakami explained the content business market size, production / distribution system structure, copyright issues that stand up to the business, etc., and as a challenge to develop the business globally, responding to differences in national circumstances ▽ Consideration of religion ▽ Consideration of harmful information-etc. are listed.In recent years, South Korea has taken a leap forward in the content business.South Korea is also trying to dominate the Southeast Asian market in a similar way."There is a need for Japanese encouragement," he said. "We are waiting for the development of creative and professional human resources."
Mr. Murakami joined Fujitsu in 1979 and participated in the launch of research and development of ultrasonic diagnostic equipment at the Medical Laboratory of Fujitsu Laboratories.He was involved in the development of residential care systems using medical image networks and ISDN-TV telephones.During the Akashi Research Laboratories, he was engaged in research and development of personal devices mainly PCs.We have won the Grand Prize at COMDEX, the largest PC-related exhibition at that time, for making mobile PCs smaller, lighter and longer.After working at IT Media Research Laboratories and Ubiquitous System Research Laboratories, he has been a Managing Director of Digital Media Association since 2008.
At the KCGI foundation commemoration ceremony held prior to the lecture, President Toshihide Ibaraki stated that "KCG Group will celebrate its 50th anniversary in 2013.Let's take this opportunity to recall the Pioneer Spirit, which is the spirit of our university, and walk towards further development. "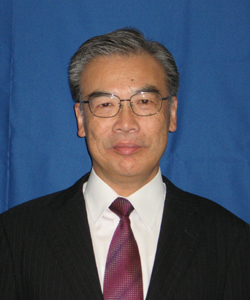 Keiichi Murakami
Managing Director, Digital Media Association (former Fujitsu)

* Japan Society for Information Systems (NAIS)
Japan branch of AIS = Association for Information Systems =, an international information society.There is an office in Kyoto Information Graduate University.