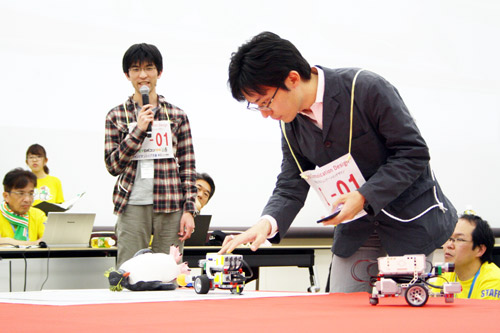 KCGI team demonstrating a robot that patrols a nursing home
The championship of the 2016 ET Robot Contest was held in Yokohama, Japan on November 16, and the team of Mr. Yuusaki Ohashi and Mr. Satoshi Kojima, who study at The Kyoto College of Graduate Studies for Informatics (KCGI), participated in the "Innovator Division".The KCGI team participated under the team name "Helpful Senior Citizen Home" and gave a presentation on their robot "Eagle 113," which patrols a nursing home at night.Eagle 113" is a robot that patrols the corridors along a designated route at night when manpower is scarce and adequate patrols are not possible, and notifies staff members via their smartphones when it finds a resident who has fallen.The team won the Kansai Preliminary Round held in September and challenged for the championship.
In a six-minute presentation, the team showed a video of a penguin doll that looked like a fallen resident and a robot that could detect and notify the resident, as well as a performance in which the team actually hit the robot with an umbrella to demonstrate its durability and ease of repair.Unfortunately, the team did not win in the final judging, but the judges gave positive feedbacks such as "This is a development with social needs in today's aging society," "It has a good point of view and has potential to be developed into a business," and "It is very good that it can be easily repaired even if broken." The team and KCGI were able to showcase their innovator power throughout the country.
The ET Robocon is a national robot contest held annually since 2002, in which young to intermediate engineers compete in the fields of software, modeling, and robot control technology, with the aim of fostering world-leading engineers.In the "Innovator Division," contestants are judged on their ability to plan and develop a robot that solves a specific problem, and are evaluated on their planning ideas, robot design, design, implementation, and presentation skills.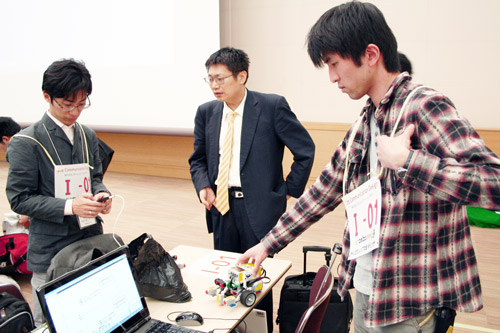 Team meeting with KCGI Associate Professor Keiji Emi, Advisor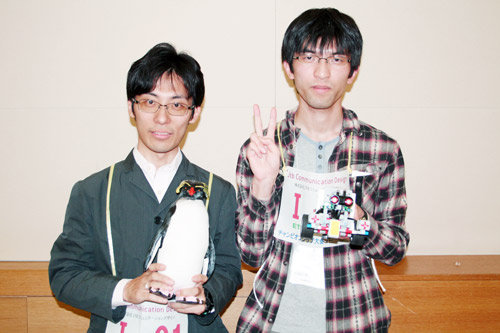 We aimed to win the championship with our own robot "Eagle 113"!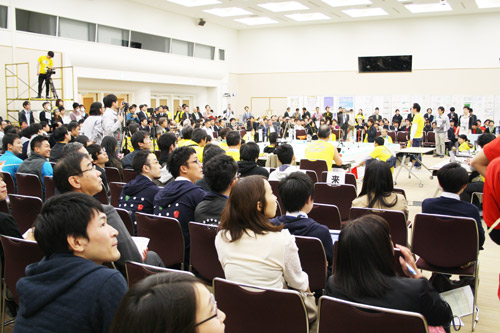 Championship venue where the audience was excited by the robot's every move.