On Friday, May 10, "Supercomputer" Kyo "10 Petaflops" by Yuji Tomonaga, General Manager of Next-Generation Technical Computing Development Division, Fujitsu Limited, will be the sixth installment of the 50th anniversary lecture of the KCG Group. Was held at the Kyoto Information Graduate University Kyoto Station Satellite Hall.
Mr. Oonaga gave technical talks about the "Kei" jointly developed by RIKEN and Fujitsu, which achieved the "world's best" in 2011 in computing performance. The students seemed to feel the greatness of realizing their dreams and at the same time expected that the supercomputer would be used in all aspects.
In the lecture, after reviewing the history of supercomputers, he introduced the progress of the development of the K computer, which achieved the world's first 10 petaflops in November 2011.Mr. Oonaga stressed that "Kyoto" has been developed with an emphasis not only on performance but also on practicality, and it has never been flat and has overcome many issues.As a strategic field where the use of "Kyo" is expected ▽ Predicted life science and medical care ▽ Creation of new materials and energy ▽ Prediction of global change that contributes to disaster prevention and mitigation ▽ Next-generation manufacturing ▽ Elucidation of the origin and structure of materials and the universe In five areas, Fujitsu introduced joint development with experts in the "heart simulator", "magnetic field simulator", and "tsunami simulator" sections.
As of 2012, "Kyo" was ranked third in the world in computing performance. In the future, while emphasizing low power consumption, we will continue to adopt semiconductors that have pursued the latest technologies, advanced memory and optical technologies, He said that he wanted to challenge the high goal of exascale (the ability to achieve performance exceeding 10 18 (100K) operations per second).
He also pointed out that the development of supercomputers in the business sort of the Democratic Party 's administration pointed out that "(in the world) is not the second best", "There is a possibility that" aim for the second "in the technology world Absent.The second is the result of losing aiming for the top.The engineer must always keep track of what is best. "
* "Kyo" is a registered trademark of RIKEN.
* The supercomputer "K computer" is jointly developed by RIKEN and Fujitsu.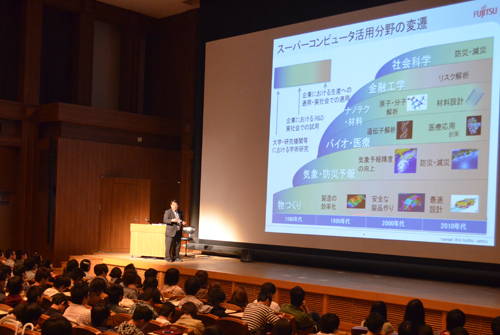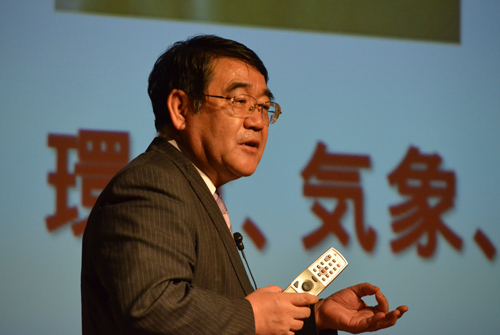 Mr. Yuji Okinaga discusses his passion for the development of the K computer.