On Friday, May 10, "Supercomputer" Kyo "10 Petaflops" by Yuji Tomonaga, General Manager of Next-Generation Technical Computing Development Division, Fujitsu Limited, will be the sixth installment of the 50th anniversary lecture of the KCG Group. Was held at the The Kyoto College of Graduate Studies for Informatics Kyoto Station Satellite Hall.
Mr. Oonaga shared technical information about the K computer, which was jointly developed by RIKEN and Fujitsu and achieved the world's highest computing performance in 2011. The public and students who visited the event felt the wonder of realizing their dreams and looked forward to the future use of supercomputers in various fields.
In the lecture, after reviewing the history of supercomputers, he introduced the history of the development of the supercomputer "K computer", which became the first supercomputer in the world to achieve 10 petaflops in November 2011.Oshinaga stressed that the K computer's development path has not been a smooth one, with an emphasis on practicality as well as performance, and that many challenges have been overcome.As strategic fields where the K computer is expected to be utilized, the following five fields are listed: - Predictive life science and medicine; - Creation of new materials and energy; - Prediction of global change for disaster prevention and mitigation; - Next-generation manufacturing; - Elucidation of the origin and structure of matter and the universe.
As of 2012, the K computer was ranked third in the world in terms of computing performance, and the company hopes to achieve the lofty goal of exascale (the ability to achieve performance beyond 10-18 operations per second (100K)) by focusing on low power consumption and adopting the latest technology in semiconductors, cutting-edge memory and optical technology.
He also touched on the fact that the development of supercomputers was pointed out in the project screening process during the Democratic Party of Japan administration, saying, "Can't we be second in the world?Number two is what happens when you aim for the top but lose.He stressed that "engineers must always pursue being the best.
K computer is a registered trademark of RIKEN.
The supercomputer "K computer" was jointly developed by RIKEN and Fujitsu.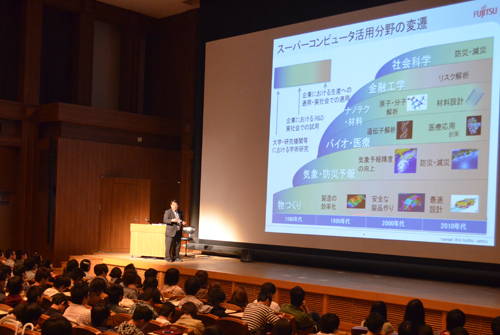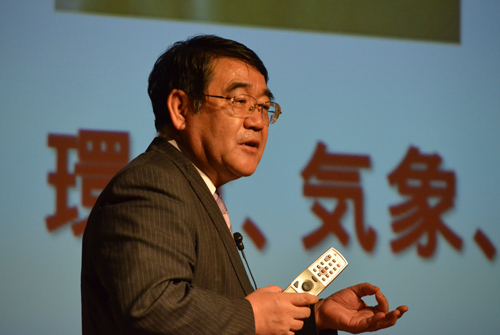 Yuji Oinaga shares his passion for the development of the supercomputer K computer