<The International Telecommunication Union (ITU) is a specialized organization of the United Nations.
(財)日本ITU(国際電気通信連合)協会The "International Cooperation Forum on Telecommunications and Broadcasting" (supported by the Ministry of Internal Affairs and Communications) was held on October 6, International Cooperation Day, at Chiyoda Broadcasting Hall in Tokyo's Chiyoda Ward, and Kyoto Computer Gakuin President Yasuko Hasegawa received the "International Cooperation Special Award.The activities that received particular recognition this time were the overseas computer education support activities (educational support that integrates the donation of a large number of personal computers and the training of local teachers) that began in 1989.This project is unprecedented among the world's international contributions, and to date, we have donated 3,000 PCs (already in use at the institute) to 16 countries, and have facilitated an epoch-making educational revolution in the field of computer education in each of the recipient countries.As a result, Dr. Hasegawa has received awards from the Ministry of Education of Thailand, Ghana, Sri Lanka, Peru, and other countries.
In his address on behalf of the other awardees, President Hasegawa stated, "The key to the success of this voluntary assistance program was the bond of trust and friendship in the partner country," and expressed his determination to continue to expand global activities.
As the first computer education institution in Japan with a history of 43 years, we have pursued and developed cutting-edge education while striving to build a global educational network for the creation of a global information culture.The award is a testament to the high regard in which the KCG Group is held by various circles for its efforts.
The Special Award for International Cooperation was established in 2001 as a once-every-five-year award in addition to the existing "International Cooperation Award" and "International Cooperation Encouragement Award.The awards are given to individuals or organizations that have made particularly outstanding achievements in international cooperation in the fields of telecommunications, broadcasting, and postal services.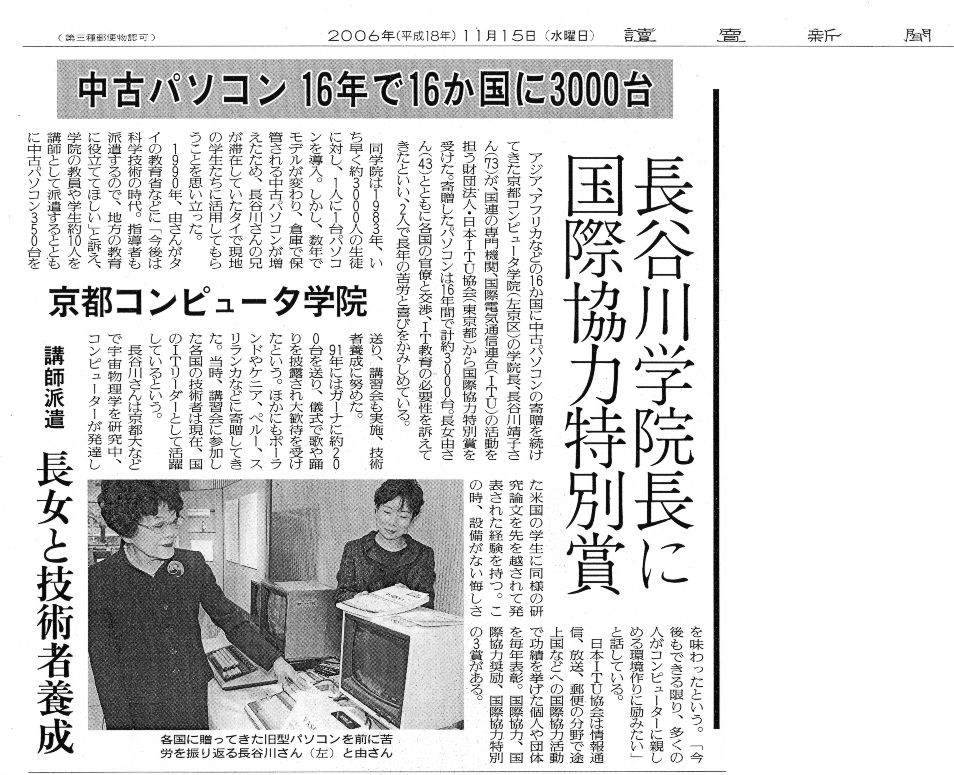 Featured in Yomiuri Newspaper