Communication and Broadcasting International Cooperation Forum Council, Japan ITU (International Telecommunication Union) Association "Communication and Broadcasting International Cooperation Forum" (sponsored by the Ministry of Internal Affairs and Communications) was held at Chiyoda Broadcasting Center in Chiyoda-ku, Tokyo on October 6th, the day of international cooperation. Award ".This time, I was particularly evaluated for overseas computer education support activities (education support that integrates mass donation of personal computers and local teacher training) that began in 1989.This is an unprecedented project in the international contribution of the world. To date, 3000 donated personal computers (used at the school) have been supported, and the number of supported countries has reached 16 countries. Prompted.As a result, Hasegawa Gakuin has received recognition from the Ministry of Education of Thailand, Ghana, Sri Lanka, and Peru.
Governor Hasegawa gave a greeting on behalf of other awardees, stating, "The success of this voluntary support activity was key to the bond of trust and friendship in the partner country," and will continue to develop global activities. I showed my determination.
With a history of 43 years as Japan's first computer education institution, this school has pursued and developed state-of-the-art education, while striving to build a global education network for the creation of a global information culture. It was.The award of Governor Hasegawa, who has played a central role in these activities, is a testimony to the fact that the KCG Group's efforts are highly appreciated by various industries.
The International Cooperation Special Award was established in 2001 as an award every five years in addition to the existing "International Cooperation Award" and "International Cooperation Promotion Award".In the fields of telecommunications, broadcasting, and postal services, individuals and groups that have made remarkable achievements in international cooperation were targeted. This year, two individuals and groups, including the director of Hasegawa Gakuin, received awards.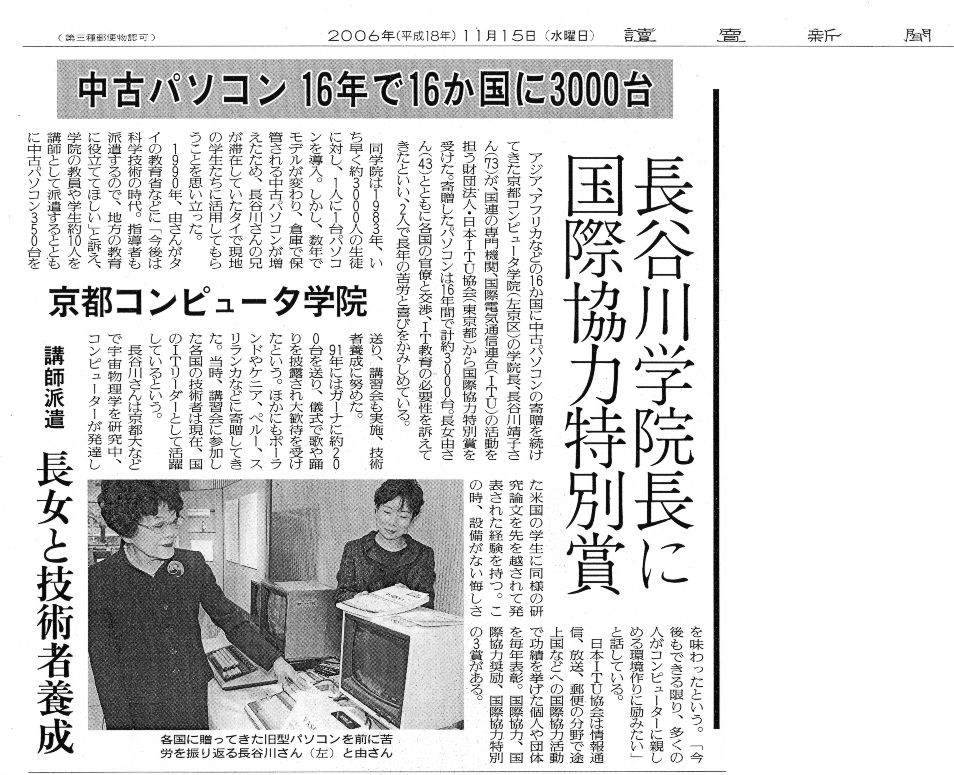 Featured in the Yomiuri Shimbun