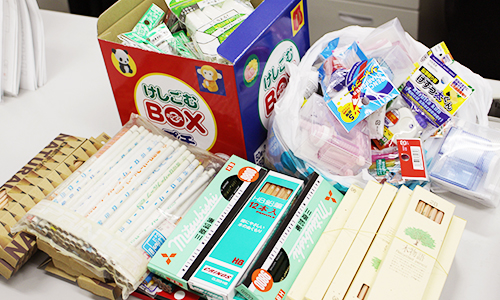 Stationery collected by teachers and students to be delivered to schools affected by the Nepal earthquake
Ms. Shrestha Bandana, who is from Nepal and completed her studies at Kyoto Graduate Institute of Information (KCGI) in March 2011, requested us to help with the shortage of stationery at a school near her birthplace that was hit by the Nepal Earthquake (April 25, 2015).When Mr. Bandana returns to Japan on July 16, we will have him deliver it to the local school.All of us in the KCG Group pray for the recovery of the affected areas and the speedy recovery of the injured people.
The KCGI Student Association held a street fundraiser near Sanjo Ohashi in Kyoto City on May 23 and 24, and donated 210,700 yen to the Japanese Red Cross Society for the 2015 Nepal Earthquake Relief Fund.
Consideration and service for the weak is one of the proud traditions of the The Kyoto College of Graduate Studies for Informatics Student Council.In the aftermath of the Great East Japan Earthquake and the Sichuan Earthquake in China, students from the University of Tokyo stood up for the people affected by the disasters through fundraising activities.