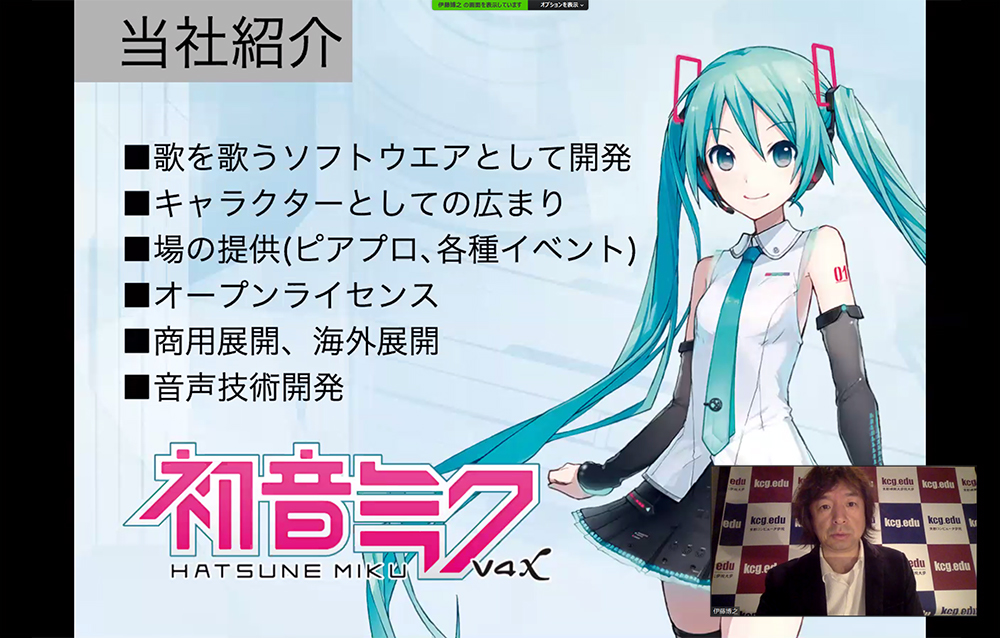 世界中で人気のボーカロイド(VOCALOID)「初音ミク」の生みの親で,クリプトン・フューチャー・メディア株式会社(本社:札幌市,創立:1995年)代表取締役の伊藤博之・京都情報大学院大学(KCGI)教授による特別講義が2020年10月30日(金),新型コロナウイルス感染防止のためオンラインで実施されました。本特別講義は京都コンピュータ学院(KCG)京都駅前校・KCGI京都駅前サテライト6階大ホールで定期的に行われていますが,今回はZoomウェビナーを使用。講義は英語同時通訳とともにライブ配信され,ホール収容人数にとどまらない多くの学生が,コンテンツビジネスの第一人者の話をじっくり聞くことができました。伊藤教授は「初音ミク」誕生の経緯や成長ぶり,音声技術・3DCG技術への取り組み,国内外での幅広い活躍について映像を交えて説明し
Hatsune Miku is a virtual idol born on August 31, 2007, and is a popular 16-year-old character who stands 158 centimeters tall, weighs 42 kilograms, and sings by voice synthesis when you input lyrics and melody.
In a lecture titled "Learning from Hatsune Miku: The Potential of Digital Content," Professor Ito introduced Crypton's business and explained the basics of computer music, explaining that "software for reproducing musical instruments on a computer is called a virtual instrument, and 'Hatsune Miku' was created as a virtual instrument for singing voices, using a singing voice synthesis technology called Vocaloid developed by Yamaha.
Professor Ito said, "As 'Hatsune Miku' became more and more popular as a character, there was a need for various rights clearances," and explained how the environment for rights processing was set up.
Thirteen years have passed since the birth of Hatsune Miku, and as a result of secondary and tertiary creations by creators, the ways in which she can express herself have expanded greatly, not only in song and voice, but also in dance, video, cosplay, and figurines, and she continues to be commercialized through collaborations with fashion, opera, robots, games, taiko drumming, and popular TV anime characters.
In 2020, before the spread of the new coronavirus, she toured Europe in January, performing in London, Paris and Berlin, and in 2021 she is planning MIKU EXPO 2021 ONLINE, which will broadcast live performances of Hatsune Miku to fans around the world.
Dr. Ito became a professor at KCGI in April 2013, and was awarded the Medal with Blue Ribbon in the fall of 2013 in recognition of his international activities and technological innovations. KCGI and KCG have a system that allows students to audit each other's classes, so that not only KCGI's content business-related students, but also KCG's content-related students in Art and Design, Digital Game, and Computer Science Information Processing IT Voice Acting courses can learn a lot from Dr. Ito's efforts.