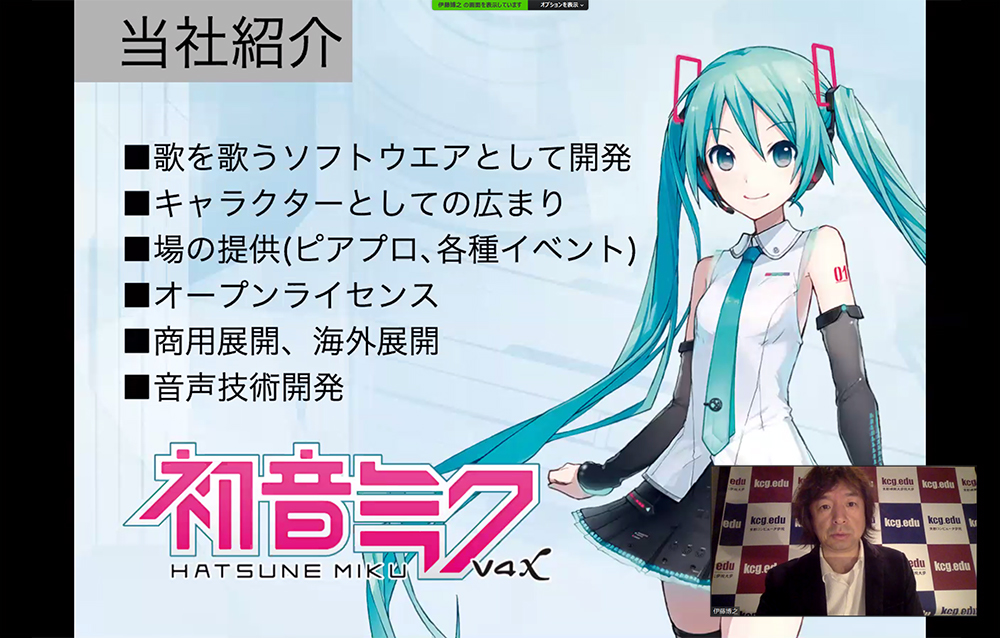 Professor Hiroyuki Ito, creator of the globally popular Vocaloid "Hatsune Miku" and president of Crypton Future Media, Inc.This special lecture is regularly held at Kyoto Computer Gakuin (KCG) Kyoto Ekimae School, KCGI Kyoto Ekimae Satellite 6F Main Hall, but this time Zoom webinar was used.The lectures were streamed live with simultaneous interpretation in English, and more students than the hall could accommodate listened carefully to the leading experts in the content business.Professor Ito explained the birth and growth of "Hatsune Miku," her approach to voice technology and 3DCG technology, and her wide-ranging activities in Japan and abroad, using video clips.The Q&A session with students was also conducted online.
Hatsune Miku" is a virtual idol created on August 31, 2007.It is a software program that sings a song by voice synthesis when lyrics and melody are inputted, and is a popular "character" of 158 cm tall, 42 kg, and 16 years old.Live concerts are held in Japan and abroad, and it has become a symbol of Cool Japan, which promotes Japanese culture to the rest of the world.
In his lecture titled "The Potential of Digital Content Learned from Hatsune Miku," Professor Ito introduced Crypton's business and explained the basics of computer music.And "the software used to reproduce the instrument on a computer is called a virtual instrument," he said.Hatsune Miku" was created as a virtual instrument of singing voice.It uses a singing voice synthesis technology called Vocaloid developed by Yamaha," he explained.
The characterization of Hatsune Miku was so successful that people began to create not only music, but also illustrations of her appearance, computer graphics, cosplay, etc., and post them on the Internet, creating a chain of creative activities that spread on a global scale.Professor Ito said, "As 'Hatsune Miku' becomes more and more popular as a character, various rights clearances become necessary," and explained how the environment was set up to handle the rights.
Thirteen years have passed since the birth of "Hatsune Miku," and as a result of secondary and tertiary creations by creators, the ways of expression have greatly expanded beyond singing and voice to include dance, animation, cosplay, figures, and more.Commercialization continues with fashion, opera, robots, games, Japanese drums, and collaborations with popular TV cartoon characters.Professor Ito said, "We are responding to many collaborations with the idea that we should have a variety of people create and thus enhance the value of the product.
Hatsune Miku" has been performing and appearing at many events in Japan and abroad.In 2020, we toured Europe in London, Paris, and Berlin in January before the spread of the new coronavirus.In 2021, we are planning "MIKU EXPO 2021 ONLINE," which will stream live performances of "Hatsune Miku" to fans around the world.In addition to online live performances, Hatsune Miku "Magical Mirai," a 3DCG live performance and exhibition event that has been held annually since 2013, is scheduled to be held in Osaka in November and Tokyo in December 2020.
Dr. Ito became a professor at KCGI in April 2013.In recognition of his international activities and technological innovations, he was awarded the Medal with Blue Ribbon in the fall of 2013.KCGI and KCG have a reciprocal class auditing system.Not only students studying content business at KCGI, but also KCG students in art and design, digital games, computer science, IT voice acting, and other content-related courses can learn a lot from Professor Ito's efforts.