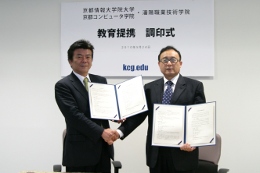 Hiroshi Hasegawa, director of KCGI and KCG (left) signing a joint education alliance and shaking hands
KCGI and Kyoto Computer Gakuin (KCG) signed a "cooperative education tie-up" on May 24 with the aim of enhancing education through student exchanges with Shenyang Vocational School of Science (Liaoning, Liaoning), China. Did.Five members, including Dr. Wang Qiang, director of Shenyang Vocational Institute of Technology, visited KCG Kyoto Station School, and at the signing ceremony held at the new building, President Wang and Hiroshi Hasegawa signed the KCGI / KCG Director.
Prior to the signing ceremony, members of the Shenyang Vocational School visited the latest educational facilities such as the e-Learning Studio and met with Director Hasegawa.President Wang said, "We hope that the partnership will bring more progress to both sides."
Shenyang College of Vocational Technology is a "Comprehensive General College of Vocational Technology" approved by the Liaoning Provincial Government.The contents of this alliance are as follows: ▽ Stuyang Vocational College (4th year) 4th year students go to Kyoto Information Graduate University (KCGI) ▽ Shenyang Vocational Technology College / Software College (3-year course) partnered with KCG, The main content is "Shenyang 2 years + KCG 2 years" or "Shenyang 3 years + KCG 2 years".
We received a request from the Shenyang Vocational School for cooperation in technical education and human resource development that can be applied to the world.
[Shenyang Vocational School]
This is a school for the purpose of training highly skilled professionals such as computers and teachers. The "main course" is a four-year course that corresponds to a university, and the "specialty" and "university" that correspond to a Japanese vocational school such as a software school. Year course).There are about 10,000 students.There are 475 full-time teachers, 40% of whom have business experience.Active in international exchange, exchanges with higher vocational education institutions and schools in countries such as the UK, Singapore, South Korea and Japan, and hundreds of students study abroad or find employment overseas.