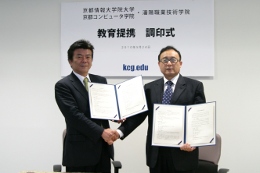 Wataru Hasegawa, KCGI/KCG General Director (left) and Wang Qiang, President of Shenyang Vocational Technical Institute, shake hands after signing a joint educational partnership
On May 24, KCGI and Kyoto Computer Gakuin (KCG) signed a "Cooperative Educational Partnership" with Shenyang Vocational Technical Institute (Shenyang, Liaoning Province) in China, which aims to enhance education through student exchange.President Wang Qiang of Shenyang Vocational Technical Institute and five others visited KCG Kyoto Ekimae Campus, and at the signing ceremony held in the new building, President Wang and KCGI/KCG General Director Wataru Hasegawa signed the agreement.
Prior to the signing ceremony, the delegation from Shenyang Vocational Technical Institute toured the state-of-the-art educational facilities, including the e-learning studio, and met with Mr. Hasegawa, Director General of the Institute.We hope that this partnership will further advance the education of both sides," said Dr. Wang.
Shenyang Vocational Technical Institute is a "Comprehensive General Higher Vocational Technical Institute" approved by the Liaoning Provincial Government.The contents of this alliance are as follows: ▽ Stuyang Vocational College (4th year) 4th year students go to The Kyoto College of Graduate Studies for Informatics (KCGI) ▽ Shenyang Vocational Technology College / Software College (3-year course) partnered with KCG, The main content is "Shenyang 2 years + KCG 2 years" or "Shenyang 3 years + KCG 2 years".
Shenyang Vocational Technical Institute, wishing to provide world-class technical education and human resource development, requested a partnership, and TUAT, which has been actively involved in building a global educational network since its establishment, gladly accepted the request.
Shenyang Vocational Technical Institute
The schools are designed to train highly skilled professionals and teachers of computers and other technologies, and include the four-year "Honka" course, which is equivalent to a university, and the "Senka" and "Dasen" (three-year courses), which are equivalent to special training schools in Japan, such as Software Academy.The number of students enrolled in the school is approximately 1,000.There are 475 full-time faculty members, 40% of whom have work experience in companies.The school is active in international exchange, and has exchanges with higher vocational education institutions and schools in countries such as the United Kingdom, Singapore, Korea, and Japan, and several hundred students have studied or worked abroad.