KCG groups such as Kyoto Information Graduate University, Kyoto Computer Gakuin, Kyoto Automobile College, etc., on November 24, 2017 at the Kyoto Information Graduate University (KCGI) Kyoto Ekimae Satellite Concert Hall. Have fun! Chamber Music ~ "opened.LUZ LESKOWITZ (violin), Misa Hasegawa (piano), Yuri Hashizume (Oboe), Satoshi Machiya (viola), Yasunori Onishi (cello) played melodies, and many general visitors I fascinated people and students.
He performed Haydn's "String Trio in G major, Op. 53-1", Mozart's "Oboet Quartet in F Major, K370, First Movement", Schumann's "Piano Quartet in E flat major, Op. 47 – Cantabile", JS Bach's "Concerto for Violin and Oboe in C minor BWV1060".In Mozart's song, a delicate oboe tone was added to the soft examination of stringed instruments, and a big applause came from the audience.On the way, we also had time to introduce the instrument.
Since its founding, the KCG Group has incorporated general education subjects into the curriculum to develop not only specialized skills but also students' intellect and sensibility, and has also been holding music concerts such as classical music, various cultural lectures, and traditional art appreciation events.These events are also appreciated by the general public.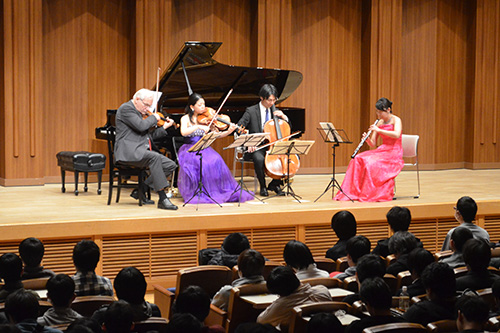 Classic concert "Beauty-beauty!" Have fun! Chamber Music ~ "(November 24, 2017, Kyoto Information Graduate University (KCGI) Kyoto Station Satellite Concert Hall)