KCG groups such as The Kyoto College of Graduate Studies for Informatics, Kyoto Computer Gakuin, Kyoto Automobile College, etc., on November 24, 2017 at the The Kyoto College of Graduate Studies for Informatics (KCGI) Kyoto Ekimae Satellite Concert Hall. Fun! Chamber Music" was held.Ms. LUZ LESKOWITZ (violin), Ms. Misa HASEGAWA (piano), Ms. Erika HASHIZUME (oboe), Ms. Midori WAITANI (viola), and Mr. Yasunori ONISHI (cello) performed and played melodies, attracting many visitors and students.
We performed Haydn's "String Trio in G major, Op. 53-1", Mozart's "Oboe Quartet in F major, K370, 1st movement", Schumann's "Piano Quartet in E flat major, Op. 47 - CantabileBach's "Concerto for Violin and Oboe in C minor, BWV1060" and others.In Mozart's piece, the soft sound of the strings was accompanied by the delicate sound of the oboe, which drew loud applause from the audience.In the middle of the performance, there was a time to introduce the instruments.
Since its establishment, the KCG Group has incorporated subjects of general education into its curriculum in order to cultivate students' intellect and sensitivity in addition to their specialized skills.These events are open to the public for viewing.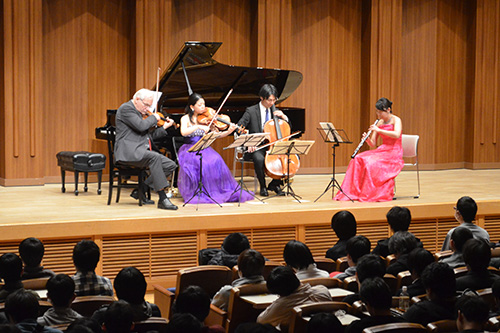 The hall was filled with the soft music of the classical concert "BIRAKU - BEAUTY! Fun! Chamber Music ~ "(November 24, 2017, The Kyoto College of Graduate Studies for Informatics (KCGI) Kyoto Station Satellite Concert Hall)