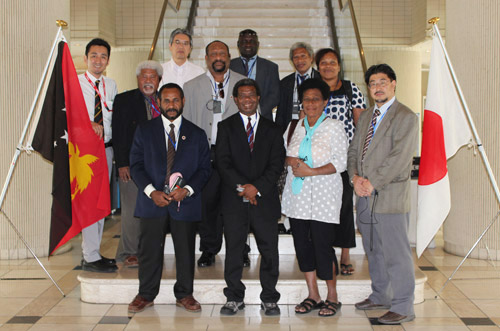 Dear trainees from the Ministry of Education, Papua New Guinea
On June 6 (Thursday) and 7 (Friday), a two-week JICA training course from the independent country of Papua New Guinea "Distance education dissemination and organization strengthening project using media Education media and the quality of education through distance education using ICT As part of the "Promotion of quantity improvement", eight trainees, including senior officials from the Ministry of Education, visited Kyoto Computer Gakuin (KCG) Kyoto Station.
The bank stores and manages computer equipment used in the past by KCG KCG Museum (Distributed computer museum first certification) and KCG educational facilities.Over the next half day, Koji Ueda, an associate professor at Kyoto University of Information Studies (KCGI), used the university's learning system KING-LMS, and distance learning using the Internet using the KCGI Baiman campus and Polycom system. I experienced.
In Papua New Guinea, distance education using TV is currently being conducted, but in the near future, distance education using ICT is expected.It will take some time for all the educational institutions in Papua New Guinea to be connected to the Internet, but this time the trainees involved in educational administration will introduce distance education using ICT using KCG's educational system as a model. It will not be a far future.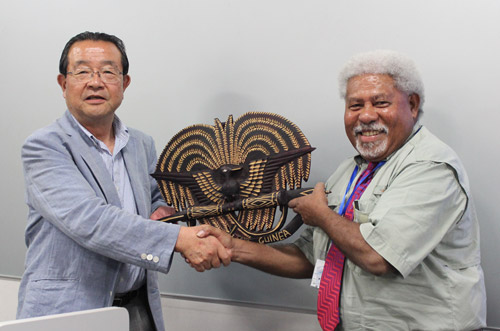 Vice-President Terashita KCGI / Principal KCG Kyoto Station in front of Mr. Madako Suwari, Ministry of Education, Papua New Guinea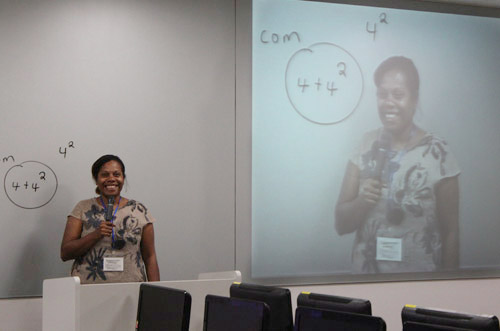 Salome Ilima, a model teacher of distance learning (television) in Papua New Guinea, gave a demo class using KCG's e-learning system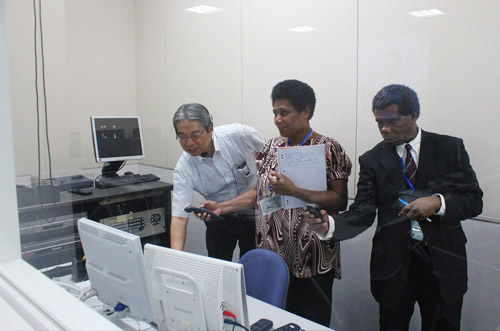 Associate Professor Ueda KCGI instructing trainees at KCG's e-learning studio