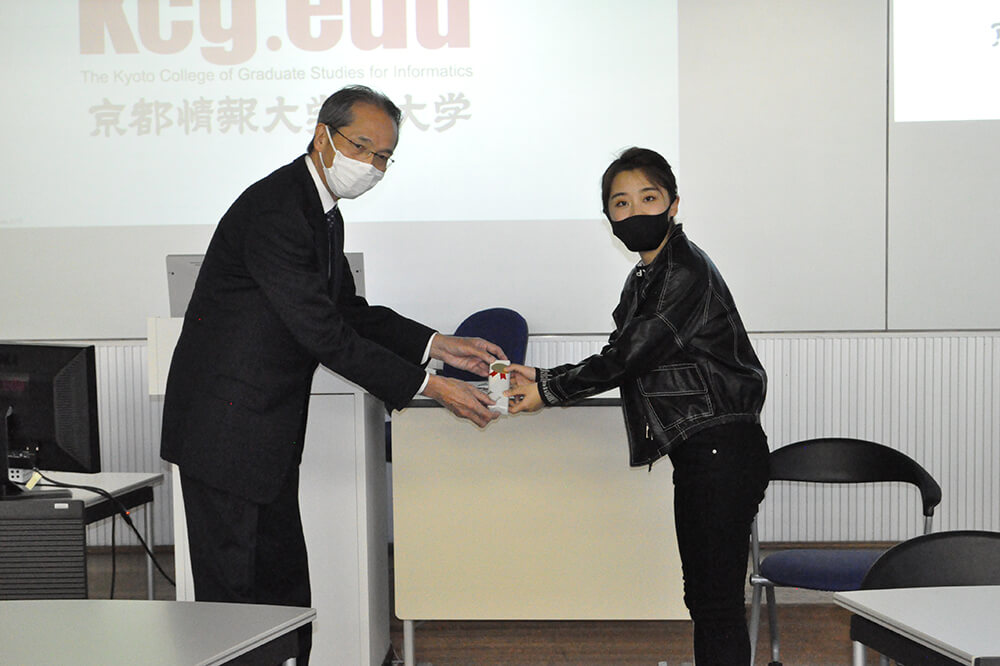 The total number of students from Kyoto College of Guraduate Studies in Informatics (KCGI) who have passed the SAP Certified Consultant Examination of SAP of Germany has exceeded 200.The number of successful applicants has steadily increased since the first one in 2005, reaching 100 in June 2017, 150 in June 2019, and recently surpassing 200.To commemorate this event, a ceremony was held on November 13, 2020, in a classroom at KCGI Kyoto's Hyakumanben Campus, attended by five students in the ERP program and four faculty members in charge of ERP education.The ceremony was held to prevent infectious diseases by limiting the number of participants, disinfecting the school building and equipment, providing constant ventilation, and inspecting the temperatures of faculty, staff, and participants.
At the ceremony, Prof. Masaki Fujiwara, who supervised the students, presented the successful students with a commemorative gift.Professor Masahiro Furusawa congratulated the students and said, "I would like to express my sincere appreciation for the efforts of the students and the faculty.According to SAP's official website, certified individuals must "keep their skills up to date and ensure the highest level of expertise.Please gain experience and contribute to social change," he said in a message of encouragement.
Isao Nakae, General Manager of the Strategic Planning Division, EBAS Business Headquarters, Fujitsu Limited, said, "I consider it a great achievement that we have surpassed the 200-member mark.We salute the efforts of your university to date," he said in a congratulatory message.Mr. Nakae also commented on the recent situation in Japan and abroad, "Japan is on the verge of becoming a DX-behind-the-scenes country.We are working hard every day to help Japanese companies avoid this, and we believe that SAP ERP is one of the most promising platforms that can serve as a DX foundation for companies," he emphasized.In this respect, KCGI "can be said to be playing a role in the development of human resources involved in the construction of Japan's DX infrastructure.I am sure that you consider your school's 200th student to be a milestone, and I hope that you will continue your efforts to increase the number of students who pass the SAP certification exam," he congratulated the students.
Mr. Rio Abe, Manager of SAP University Alliances at SAP Japan, commented, "Successful applicants are just like getting a driver's license to drive on the road.We received a congratulatory video message saying, "We hope that you will hone your skills and gain experience in the S/4 HANA car," and a book supervised by the company as a souvenir for the students.In the midst of the Corona disaster, companies are under pressure to change more than ever, he said, pointing out that "more and more companies now consider 'ERP implementation as a minimum requirement for management' in the sense that they use applications and access necessary information, just as they do with smartphones.In today's rapidly changing environment, it is more necessary than ever for companies to be able to freely use S/4 HANA to manage their business operations.I hope that your university will pay more attention to human resource development than ever before," he said in his congratulatory message.
Finally, Professor Fujiwara said, "The SAP certification exam is a global standard qualification.You have qualified and laid the foundation for your global activities as ERP consultants.I hope you will take this opportunity to spread your wings after graduation," he encouraged.
Enterprise Resource Planning (ERP) is a planning method that increases management efficiency by optimizing the allocation of people, goods, and money, which are the basic elements of corporate management.SAP's ERP software has been adopted by many global companies, and the need for qualified ERP consultants is increasing day by day.
KCGI's ERP education has a strong lineup of experienced faculty members.From the first semester of enrollment, systematic lectures and practical training are conducted to help students pass the SAP certification examination.The number of companies implementing SAP ERP in Japan continues to increase, and this ERP consultant certification is a powerful weapon for employment.More than 30 of those who have passed the exam have been hired by listed companies, and are active as leaders in the IT field at domestic and overseas companies.KCGI is the only university in Japan that offers systematic SAP ERP education.Next, we will focus on SAP ERP education in order to reach our 300th successful candidate.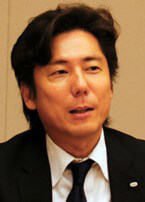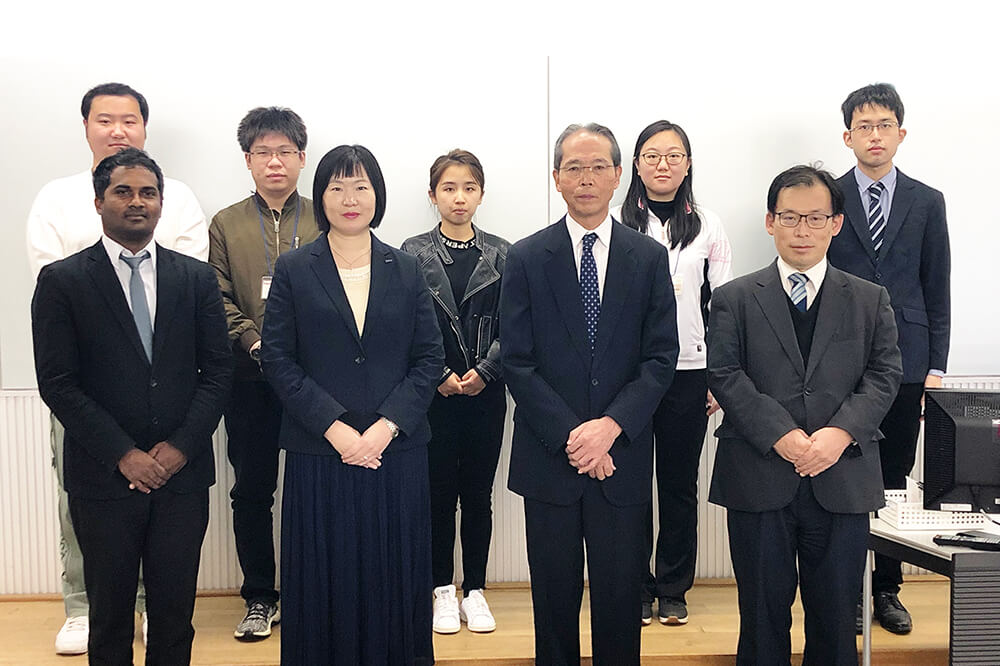 Click here for interviews and congratulatory messages from those who have passed the SAP certification exams.
https://www.kcg.edu/career/sap-interview