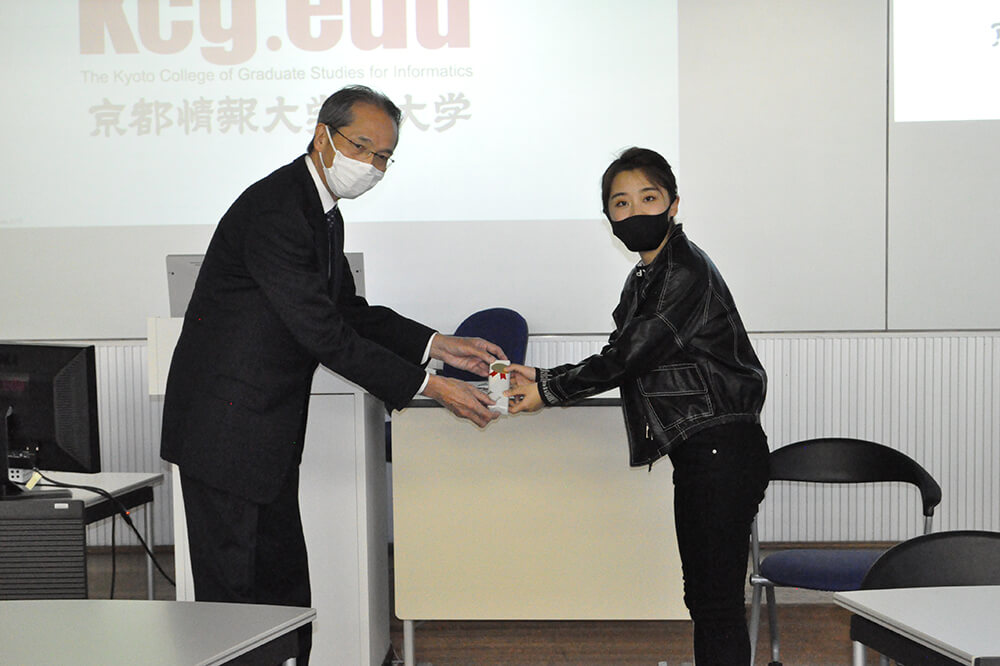 The number of Kyoto College of Computer Science and Information Industry (KCGI) students who have passed the SAP Certified Consultant Examination of SAP, a German company, has exceeded 200, with the first student passing in 2005, followed by 100 in June 2017, 150 in June 2019, and now 200.
At the ceremony, Prof. Masaki Fujiwara presented the successful students with a commemorative gift, and Prof. Masahiro Furusawa offered his congratulations and a message of encouragement, saying, "This is the result of your hard work and the hard work of the professors, and according to SAP's official website, certified students must continue to 'keep their skills up to date and ensure the highest level of expertise.
富士通株式会社EBAS事業本部・戦略企画統括部の中江功統括部長からは,200人突破は「 大変な功績だと考えています。これまでの貴学の努力に敬意を表します」とお祝いのメッセージをいただきました。中江統括部長はまた,昨今の国内外の状況を踏まえ,「日本はDX後進国になりかねない状況です。それを日本の企業が回避するために日々努力を重ねているのですが,企業にとってのDX基盤となりうる有力なプラットフォームの一つがSAP ERPだと考えています」と強調。その点で,KCGIは「日本のDX基盤構築に携わる人材育成の一翼を担っているとも言えます。恐らく貴学にとっての200名突破は通過点とお考えと思いますが,これからもSAP認定資格試験合格者を増やすことにご尽力されることを期待しています」と祝福されました。
SAPジャパンの阿部理央SAP University Alliances マネージャーからは,「合格者の皆さんは,ちょうど道路で運転するための免許証を取得したようなものです。S/4 HANAというクルマを乗りこなすスキルを磨き,経験を積んでいってもらえたらと思います」というお祝いの動画メッセージと,学生向けの記念品として同社監修の書籍をいただきました。コロナ禍の中,企業はこれまで以上に変革を迫られているとし,「スマートフォン同様,アプリケーションを使用し,必要な情報にアクセスするという意味で現在,『ERP導入は経営の最低条件だ』と考える企業も増えてきています」と指摘。「環境の変化が大きく,変化のスピードが速い現代,企業のかじ取りにおいてS/4 HANAを自在に操ることがこれまで以上に必要になってきており,人材が求められています。貴学に
At the end of the session, Professor Fujiwara encouraged the participants, saying, "The SAP certification exam is a global standard, and you have laid the foundation to become active in the world as ERP consultants.
ERP (Enterprise Resource Planning) is a planning method that improves management efficiency by optimizing the allocation of "people, goods, and money," which are the basic elements of corporate management, and SAP's ERP software has been adopted by many global companies one after another, and the need for personnel with SAP ERP consultant qualifications is increasing day by day.
KCGI's ERP education is provided by a strong team of experienced faculty members. From the first semester of enrollment, systematic lectures and practical training are conducted to help students pass the SAP certification exam. As more and more companies in Japan implement SAP ERP, this ERP consultant certification has become a powerful weapon for employment.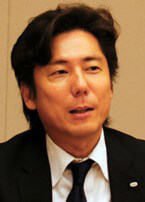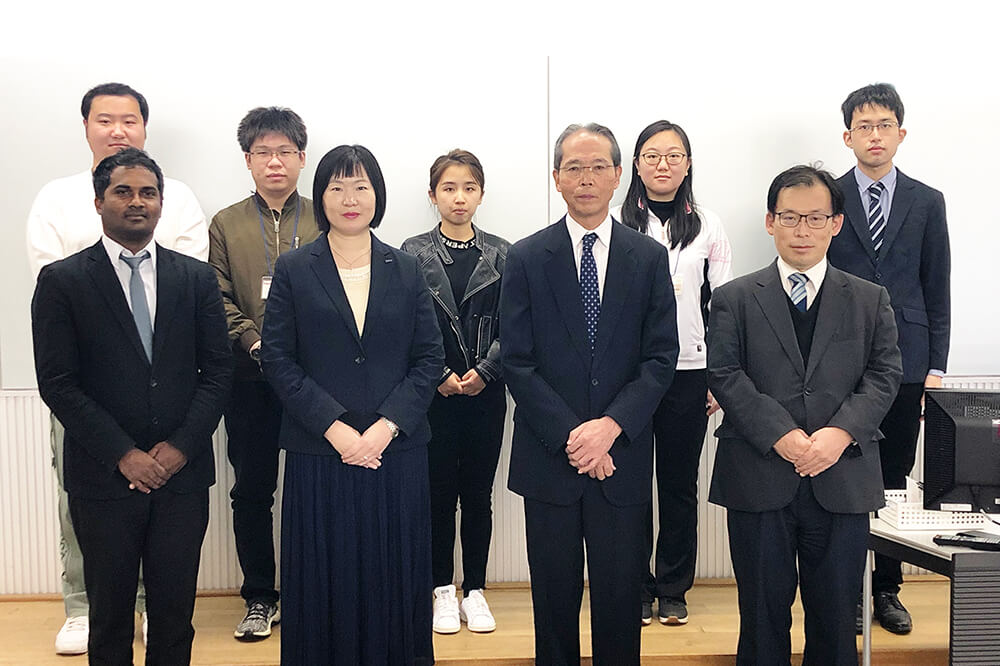 Click here for interviews with SAP certification exam passers
https://www.kcg.edu/career/sap-interview
Click here to send a congratulatory message
https://www.kcg.edu/career/sap-interview#message