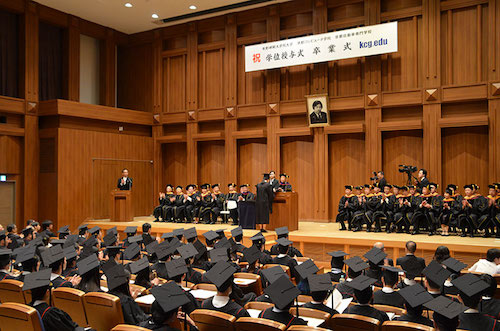 Graduation ceremony and graduation ceremony for the 2018 academic year held at Kyoto Computer Gakuin Kyoto Station School, The Kyoto College of Graduate Studies for Informatics Kyoto Station Satellite 6th Floor Large Hall.Graduates, who have acquired cutting-edge technology and knowledge, left for their respective fields with great hopes (September 14).
The Fall 2018 Degree Conferral Ceremony and Graduation Ceremony of Kyoto College of The Kyoto College of Graduate Studies for Informatics (KCGI), Kyoto Computer Gakuin (KCG), and Kyoto College of Motor Vehicles (KCGM) were held on Friday, September 14, at the Main Hall on the 6th floor of KCG Kyoto Ekimae School and KCGI Kyoto Ekimae Satellite.Graduates and graduates who have acquired cutting-edge technology and knowledge have left for their respective fields with great hopes for the future.
KCGI President Toshihide Ibaraki presented the "Master of Information Technology (Professional)" degree to the representative of the graduating class, Yoichi Terashita, principal of KCG Kyoto Ekimae School, presented the diploma and certificate of title to the representative of the KCG graduating class, and Masayoshi Tezuka, principal of KCGM, presented the certificate to the graduating class.Afterwards, KCGI alumni who were selected for the Grand Prize and Excellence Award for their outstanding academic and research achievements were presented with certificates and commemorative gifts.The Grand Prize went to Sachiko Oikawa, a student of Web Business Technology in the Graduate School of Applied Information Technology, who studied at KCGI Tokyo Satellite as a working student.
In his remarks at the ceremony, KCG Group President Wataru Hasegawa noted that, in light of the recent earthquake and typhoon damage, "we can confront the challenges posed by natural disasters more appropriately through the further utilization of ICT (information and communications technology).The knowledge and skills you acquire will support the foundations of modern society, so society has high expectations of you.Now is the time for everyone to be active.He encouraged the students to continue their efforts to improve their skills and contribute to the realization of a better society, without settling for the status quo based on what they have learned at the university.He added, "When you go out into the world, you will have opportunities to meet senior members of the KCG Group who are active in various industries.At that time, please confidently identify yourself as a junior and build a good network," he said.
Citing the population problem as an example, President Ibaraki then asked the audience to "recognize once again that there is a mountain of important issues yet to be resolved in the society we are about to embark upon.He added, "I hope that you will understand the great power of ICT, and strive to change the society in which we live into one that is as livable as possible.I sincerely hope that you will not miss out on the opportunities that will surely arise in the process, and that you will proactively take on challenges.
Next, Ms. Azusa Chen Zhao, a graduate of KCGI's Graduate School of Applied Information Technology, majoring in Web Business Technology, gave her graduation address on behalf of the graduating students and alumni.I came to Japan with worries and anxieties, but my teachers, seniors, and friends gave me advice and encouragement, and always looked after me.The ability to solve their own problems (in the future) is required more than ever.I will devote myself to Japan, my country, and a new future," he said emphatically.
At the end of the event, all attendees sang "Light of Fireflies" together.After the ceremony, a celebration party was held at the Kyoto Tokyu Hotel with the graduates and alumni.
Congratulations to all graduates and alumni.We sincerely wish you continued success in your future endeavors.