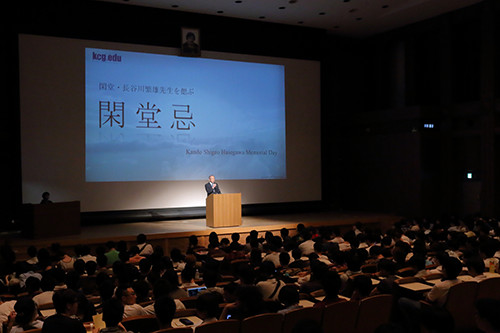 Venue of KCG Kyoto Ekimae School
The Kandoh memorial service was held on July 2, 2016 at KCG Kyoto Ekimae School and at Hyakumanben Chionji Temple, the family temple of Shigeo Hasegawa, the founder and first president of Kyoto Computer Gakuin (KCG).Dr. Shigeo Hasegawa passed away on July 2, 1986 at the age of 56, 30 years after his death.Every year at KCG, all students and faculty members commemorate the legacy of Mr. Shigeo Hasegawa, a pioneer of information processing technology education, on this day as the anniversary of his death.Kandō" is the pseudonym of Shigeo Hasegawa, and it means "a quiet space for meditation away from the world.
At the commemorative lecture held at the Kyoto Information University of Kyoto University Satellite Hall, Professor Kazushi Sakuhana, who was a professor at The Kyoto College of Graduate Studies for Informatics (KCGI) and worked with KCG on information processing education with Shigeo Hasegawa, The lecture was titled "What the first school director aimed for."
Mr. Sakka praised the foresight and independent spirit of Mr. Shigeo Hasegawa, who aspired to provide information processing education in the 1960s, when even electronic calculators were not widely used. He compared Mr. Hasegawa to Mr. Shoin Yoshida, who opened the Matsushita Murajyuku School at the end of the Edo period and nurtured talented people who would support Japan in the Meiji period.
After the lecture, students and faculty members moved to Hyakumanben Chion-ji Temple by bus and prayed for the repose of Mr. Shigeo Hasegawa's soul and the further development of the KCG Group.In addition, the student volunteers set up a booth at the Kyoto Ekimae School, selling homemade yakisoba, hot sandwiches, shaved ice, and other items that added to the energy of the event.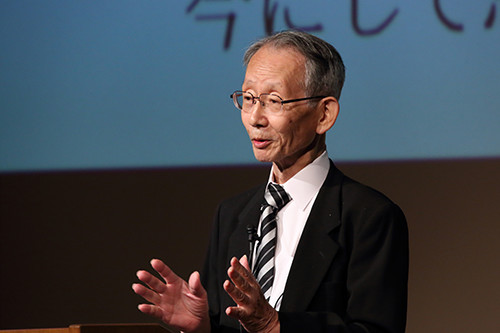 Dr. Kazushi Sakka talks about the episode of Shigeo Hasegawa