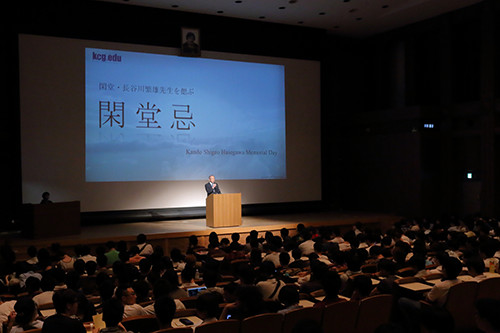 KCG Kyoto Ekimae School Venue
On July 2, 2016, KCG Kyoto Ekimae School and Hyakumanben Chionji Temple, the family temple of Dr. Shigeo Hasegawa, the founder and first president of Kyoto Computer Gakuin (KCG), held a memorial service in honor of the anniversary of his death.Dr. Shigeo Hasegawa passed away on July 2, 1986, at the age of 56.Every year, KCG holds a memorial service for Mr. Shigeo Hasegawa, a pioneer in the field of information processing technology education, on this day.Kando" is the pseudonym of Dr. Shigeo Hasegawa, meaning "a quiet space to meditate away from the secular world.
At the commemorative lecture held at the Kyoto Information University of Kyoto University Satellite Hall, Professor Kazushi Sakuhana, who was a professor at The Kyoto College of Graduate Studies for Informatics (KCGI) and worked with KCG on information processing education with Shigeo Hasegawa, The lecture was titled "What the first school director aimed for."
Dr. Sakka praised the foresight and independent spirit of Dr. Shigeo Hasegawa, who aspired for information processing education in the 1960s, when even computers were not widely used. He compared Dr. Hasegawa to Shoin Yoshida, who opened Matsushita-murajuku at the end of the Edo period and nurtured the gems that supported Japan in the Meiji era. He introduced that both were similar in that they were visionaries and diligent workers of their times, passionate educators, who stressed the power of the people without depending on the government, and in that they were both seeking "Utopia" and "knew the importance of efforts to pursue Utopia," in their attempt to create new schools never seen before.
After the lecture, students and faculty members took a bus to Hyakumanben Chionji Temple to pray for the repose of Dr. Shigeo Hasegawa's soul and the further development of the KCG Group.A booth set up by student volunteers in front of the Kyoto Station School sold homemade yakisoba noodles, hot sandwiches, shaved ice, and other items, adding to the lively atmosphere of the event.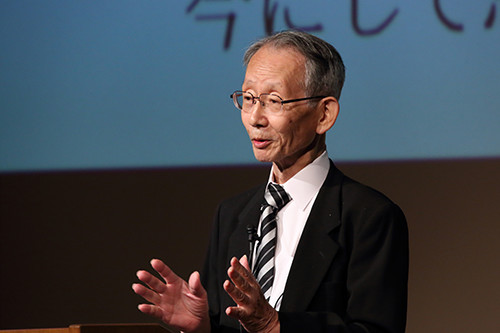 Dr. Kazushi Sakka tells an episode of Dr. Shigeo Hasegawa