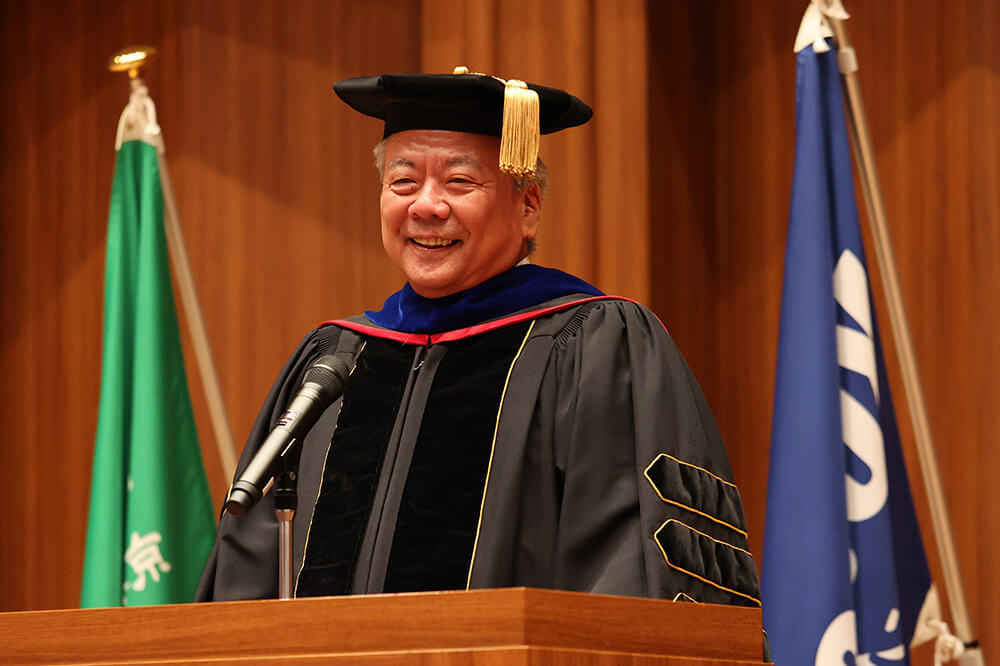 Kyoto Computer Gakuin (KCG), Kyoto Computer Guraduate Institute of Informatics (KCGI), Kyoto Japanese Language Training Center (KJLTC), and Kyoto College of Global Motor Vehicles (KCGM) held a hybrid entrance ceremony on April 8 (Saturday), allowing students to choose to attend either cyberspace or in person.The ceremony was held again in the main hall of the campus, which had been suspended due to the prevention of new coronavirus infection, and KCG Group President Wataru Hasegawa and KCGI President Shinji Tomita delivered the ceremonial addresses, welcoming and encouraging the new students.As the digitalization of society accelerates, young people with a strong desire to acquire specialized knowledge and advanced skills in IT and automotive maintenance joined the KCG family of more than 50,000 graduates and alumni to start a new academic life on a happy spring day, which marked the 60th anniversary of KCG's founding and the 20th anniversary of KCGI's founding.
The face-to-face entrance ceremony was held for the first time in four years, with KCG and KCGM holding their ceremonies in the main hall on the 6th floor of KCG Kyoto Ekimae Campus, and KCGI in the large lecture hall of the new Hyakumanben Campus building at KCGI Kyoto Main Campus, which was just completed in summer 2022.Both ceremony sites were connected in real-time online.KCGI's brand-new large lecture hall, whose enrollment capacity has increased to 700 students since the 2023 academic year, has a staircase that spans two floors (the first floor and the basement) and is equipped with the latest facilities and specifications to enable multi-purpose use, including lectures and concerts.
After watching a video introducing the history of KCG, which was founded 60 years ago as Japan's first computer education institution, and KCGI, which was founded 20 years ago as Japan's first IT professional graduate school, President Hasegawa delivered his ceremonial address.President Hasegawa explained that the hybrid style entrance ceremony was held in consideration of the health and safety of the new students and their families, rather than the full gathering of the entire student body.He added, "With the spread of the Internet, cyberspace has developed in human society.I hope that by learning IT to the fullest, you will become students at the forefront of the times, with the ability to move freely between real space and cyberspace," he added.The presentation will also introduce KCG's educational philosophy and its history and achievements of taking on new challenges with a pioneering spirit and a spirit of challenge, always being aware of the leading edge of the times without being bound by the conventional preconceptions of schools of the past.I hope you will make as many friends as possible while you are in school, friends that you will treasure for a lifetime.Please encourage your friends to study hard together.I hope that you will follow in the footsteps of our outstanding seniors and become confident graduates and alumni who will carve out a bright future for yourselves.I sincerely wish all of you a vibrant and fulfilling student life," he said in his congratulatory address.
In his address, President Tomita said, "Young students need to cultivate new applied technologies such as computers, artificial intelligence, and data science as integrated science and technology, as 'the ability to survive in the new era.I hope that you will continue to develop new fields of application and truly contribute to the well-being of humankind," he urged.He added, "These are exciting and challenging times, and I hope that everyone will experience the joy of research and learning.Kyoto has a scenic natural environment, a diverse concentration of culture and arts, a climate that emphasizes innovation in the midst of tradition, and a spirit of respect for students.I sincerely hope that you will have a meaningful student life at our university and leave with confidence when you finish your studies here," he welcomed the students.
In response, Mr. Suzuki, a new student who has enrolled in KCG's Department of Management and Information Sciences, said as a representative of the new students, "In today's world where IT has rapidly progressed in society due to the Corona disaster and where IT personnel are in short supply, I believe it is essential that we become information engineers who can fill this shortage and lead our society toward a more prosperous future.Under the guidance of my teachers and seniors, I will take action toward the realization of my dreams and goals, aiming to cultivate "abundant creativity" while acquiring specialized skills and knowledge to contribute to society," he pledged strongly.
Congratulations to all the new students!