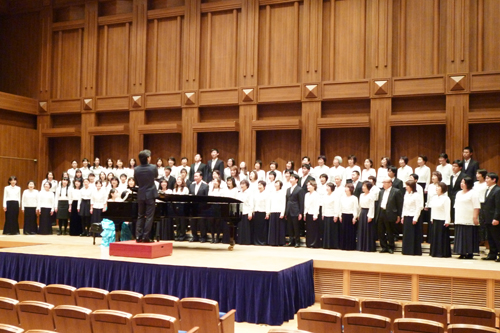 Recording scene of "Kimi wa Hana I wa Kaze" written and composed by Mr. Shimpei Umehara (December 21, 2014, Kyoto Information University Kyoto Station Satellite Concert Hall)
Chorus Circle U-Choir from Kyoto University of Computer Science and Kyoto Computer Gakuin (KCG Group) in December last year, written and composed by Mr. Shimpei Umehara Is now available on the Internet video site and distributed to the world.This song is a new song by Umehara, a singer-songwriter known for "folding cranes". It is a new song by Japanese students and foreign students from China, and those who returned to their home countries after studying in Japan. I wrote it down for U-Choir's premiere and distribution plan, with the hope that people would deepen their friendship.Chinese lyrics were translated into Chinese by UTokyo students based on Umehara's Japanese lyrics.
I uploaded YouTube for both Japanese and Chinese versions, and Youku, a popular video site in China (URL below)."You are a flower, I am a wind" has the subtitle, "If you open a flower of talent, I will be the wind that carries the seeds of that flower," and the lyrics say "History did not always give up." "You, become a bridge that connects the world", "Love, deliver to the world beyond words," and so on.
In the recording of December 21, last year, there was also a full backup of the KCG Parents Association. In addition to U-Choir, about 100 students including teachers and international students, faculty, and general choirs gathered. , I got the singing voice under the guidance and guidance of Mr. Yohei Kajimura, the advisor.
U-Choir
This is a mixed choir consisting of Japanese students at Kyoto Information Graduate University, Kyoto Computer Gakuin, international students from China, faculty and staff.Through chorus, international exchanges are conducted to learn about the beauty of Japanese language, Japanese mind, and Chinese culture across borders and language barriers.
YouTube
Japanese
https://www.youtube.com/watch?v=WvXpdeYFLiA
Chinese
https://www.youtube.com/watch?v=zAKDYI2BvlQ
Youku
Japanese
http://v.youku.com/v_show/id_XODg3ODI0MDA4.html
Chinese
http://v.youku.com/v_show/id_XODg3ODUwMTky.html
◇ Lyrics
▽ Japanese
"You are a flower, I am a wind"

Isn't there a big love big enough to wrap this earth?
Are there big dreams that fill the world with smiles?
You, the pioneer of creating an era, you, the bridge that connects the world
Talk to you tomorrow with certain eyes, you, carve your name in history
For example, if you are a flower, I will be soil
For example, if I'm in the wind, you will be empty

The dripping sweat and the regret and tears are all the power to open up the future
History never gave up Opening the door with the wish of one person
Love, transcend words, deliver to the world, dreams, transcend tears, connect hearts
Just one star, the planet of water, we were born there, one family
For example, if you are a flower, I will be soil
For example, if I'm in the wind, you will be empty

You, the pioneer of creating an era, you, the bridge that connects the world
Talk to you tomorrow with certain eyes, you, carve your name in history
For example, if you are a flower, I will be soil
For example, if I'm in the wind, you will be empty

For example, if you are a flower, I will be soil
For example, if I'm in the wind, you will be empty
▽ Chinese
「你 是 花儿 我 是 风」

My earth, my life, my life, my life
A peaceful world Identical individuals 心 Each individual 个 Each individual
你 你 你 创 成 成 成 为 你 你 你 你 你 你 你 你 你 你
你 你 仿佛 双 双 双 美 美 美 美 스
Hanae Wakazure gazen land
Neat and clean

Dripping sweat, unrepentant eyes, all capitals, future development, ingenious ability
A good and good history 从 不会 轻言 放弃 因 一个 人 小小 心愿 敞开 望 之 门
够 就是 能够 超越 语言 达达 全 一边 是 就是 可以 胜 胜 泪水 Before ambassadors change
那 一颗 水 蓝色 的 星球 独一无二 的 家园 在 这里 里 生长 大 的 我们 永远 都是 一家 人
Hanae Wakazure gazen land
Neat and clean

At the end of the development
World of Continuation
你 你 仿佛 双 坚 双 双 双 双 美 美
你 你 把
Hanae Wakazure gazen land
Neat and clean