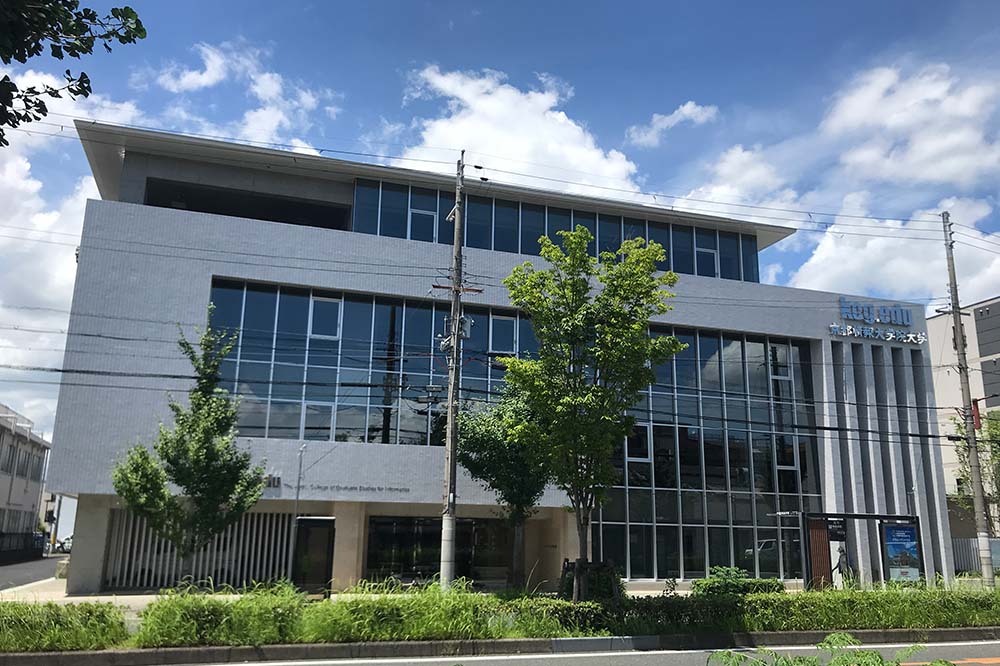 A new center for IT education and international exchange has been established at The Kyoto College of Graduate Studies for Informatics (KCGI).The new building that the university has been constructing on the north side of the Hyakumanben Campus (1 Tanakamonzen-cho, Sakyo-ku, Kyoto) will be completed on August 1, 2022, and lectures will begin in the fall semester (from October).The current Hyakumanben Campus, together with the Kyoto Ekimae Satellite (Minami-ku, Kyoto), Sapporo Satellite (Chuo-ku, Sapporo), and Tokyo Satellite (Minato-ku, Tokyo), will provide students from Japan and around the world with cutting-edge education in ICT, management, and business, including information technology and telecommunications.
The new school building, located in the historic academic city of Kyoto, has four stories above ground and one below.It is an advanced and innovative school building equipped with high-flex classrooms that can accommodate various learning styles such as active learning, innovation rooms that promote the development of new ideas, individual work booths for online classes and meetings, and a library that holds books mainly related to IT.In addition, a large lecture room that functions as a multi-purpose hall and a space for agricultural IT practices were also created.
Since its opening in 2004 as Japan's first professional graduate school of IT, the university has made steady progress.Inheriting the pioneering spirit of Kyoto Computer Gakuin College (KCG), Japan's first computer education institution founded in 1963, we train IT professionals with broad knowledge, advanced technology, and international mindset.We focus on developing international leaders with both IT and management skills who can demonstrate their abilities in countries around the world.
Since many lectures are offered in English, many international students from not only Asia and Europe, but also Africa and Central and South America have been studying here in recent years.The admission capacity, which was 80 at the time of opening (total capacity of 160), will increase to 600 in April 2020 (total capacity of 1,200 in FY2021), an increase of 7.5 times.In terms of the number of graduate school places available in the information field, the University is one of the best in the nation.