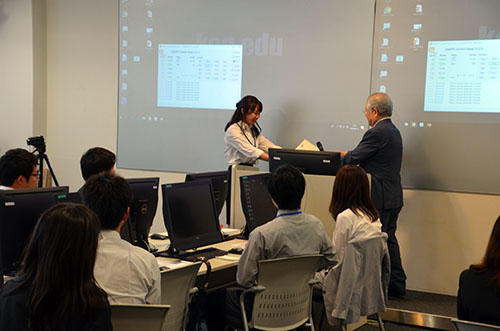 Trainees of new employees who have completed the 294-hour KCG group and receive a certificate of completion (June 15, 2018, KCG Kyoto Station School, KCGI Kyoto Station Satellite)
Kyoto Prefectural Information Industry, which has been in operation since April 5 with the KCG Kyoto Station School and KCGI Kyoto Station Satellite, as commissioned by KCG groups such as Kyoto Computer Gakuin (KCG) and Kyoto Information Graduate University (KCGI) Association (Kyokyo).Chairman: Hiroshi Hasegawa, Chairman of the KCG Group) The training for new employees of member companies ended on June 15th, and the completion ceremony and social gathering were held.19 people from 5 companies attended 294 hours of basic training such as manners as a member of society and IT technical training such as programming training and database training during the period. Return to your company with confidence.
From mid-May, the trainees worked on project exercises to plan and produce applications in teams and held a debriefing session on the final day to show the results.The report meeting was attended by the bosses of the companies to which the trainees belong, and the questions and answers were actively held.After that, at the ceremony, Yutaka Takahashi, Director of Career Center, KCG Group, gave each trainee a certificate of completion.
This training is part of employment-type training based on the "Practical Human Resource Development System" supported by the Ministry of Health, Labor and Welfare.After this, the trainees will return to the company they belong to and continue OJT (current training) until the end of September.