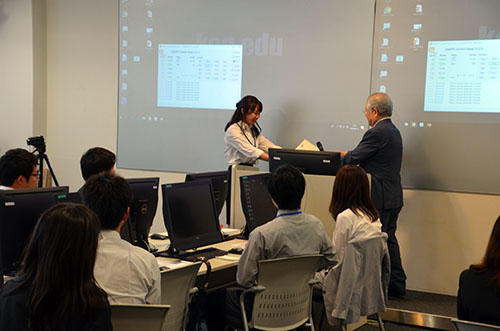 New KCGI trainees receive their certificates after 294 hours of training at KCG Group (KCG Kyoto Ekimae School and KCGI Kyoto Ekimae Satellite, June 15, 2018).
Kyoto Prefectural Information Industry, which has been in operation since April 5 with the KCG Kyoto Station School and KCGI Kyoto Station Satellite, as commissioned by KCG groups such as Kyoto Computer Gakuin (KCG) and The Kyoto College of Graduate Studies for Informatics (KCGI) Association (Kyokyo).(Chairman: Wataru Hasegawa, President of the KCG Group) held a completion ceremony and reception for new employees of member companies on June 15.During the program, 19 trainees from five companies will receive 294 hours of training, including basic training in manners as a member of society and specialized IT skills such as programming and database training, and return to their companies with confidence in the specialized skills and knowledge they have acquired through KCG training.
In mid-May, the trainees worked in teams to plan and create applications in a project exercise, and on the final day of the exercise, a debriefing session was held to show the results of the exercise.The trainees' supervisors from their companies attended the debriefing session, and a lively question-and-answer session ensued.After the completion ceremony, each trainee received a certificate of completion from KCG Group Career Center Director Yutaka Takahashi, and the trainees enjoyed a dinner party to celebrate their long training.
This training is part of the employment-type training based on the "Practical Human Resource Development System" supported by the Ministry of Health, Labor and Welfare.After this, the trainees will return to their companies and continue on-the-job training (OJT) at their assigned companies until the end of September.