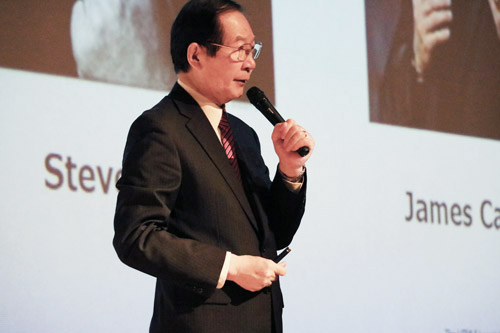 On January 13, 2017, Mr. Gen Narui, President of NPO LPI Japan, gave a lecture titled "A New World Created by HTML5" at the Main Hall of Kyoto Station Satellite of Kyoto Institute of Information.
On January 13, 2017, a special lecture to learn more about HTML5, which has become a mainstream language used in the IT industry, was held at the Kyoto Station Satellite Hall of the Kyoto Institute of Information Graduate University. Gen Narui, President of LPI-Japan (Minato-ku, Tokyo, LPI-Japan), a non-profit organization (NPO) that administers the HTML5 Professional Certification Examination, spoke to the students on the topic of "A New World Created by HTML5.Unlike Java and other languages, HTML5 is a language that can be used on all kinds of devices, including Windows, Mac, iPhone, and car navigation systems, and many IT companies are looking for people with this technology and knowledge.Obtaining a qualification will not only give you an advantage in finding a job, but will also be of great help in your future career.
KCGI (The Kyoto College of Graduate Studies for Informatics) and KCG received high acclaim for their outstanding achievements in IT and Web professional education in November 2016. For the first time in a higher education institution in Kansai, "LPI- Japan HTML5 Academic Certified School "We provide high quality education for students who want to earn HTML5 Professional Certification.
In his lecture, Chairman Narui cited the success of Apple Inc. in 2010, when it was the first to adopt HTML5, and the fact that many companies have recently shifted their internal core systems to HTML5.HTML5 is a language that can achieve them.We hope you will take up the challenge of acquiring the qualifications," he called out.
KCGI and KCG plan to continue actively developing activities that contribute to the development of web professionals and the expansion of HTML5 business. From March 6 to 10, 2017, an intensive lecture "Practical HTML5 Application Development" will be held, which is open to the general public.