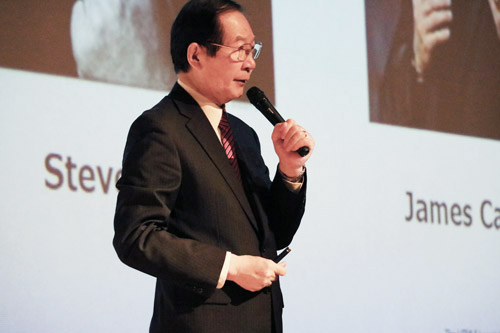 Director of the NPO LPI Japan giving a lecture entitled "New World Created by HTML5" Chairman Tsuru Narui = January 13, 2017 Kyoto Satellite University Hall, Kyoto Information University
A special lecture to learn more about HTML5, which is the mainstream language used in the IT industry, was held on January 13, 2017 at the Kyoto University of Information Sciences Kyoto University Hall. Naru, President of NPO LLP Japan (Minato-ku, Tokyo, LPI-Japan), spoke to students on the theme of "a new world created by HTML5".Mr. Narii said, "HTML5 is different from Java, and many IT companies are looking for human resources with the technology and knowledge in languages that support all devices such as Windows, Mac, iPhone, and car navigation.Qualification will not only help you get a job, it will also help you in your future work. "
KCGI (The Kyoto College of Graduate Studies for Informatics) and KCG received high acclaim for their outstanding achievements in IT and Web professional education in November 2016. For the first time in a higher education institution in Kansai, "LPI- Japan HTML5 Academic Certified School "We provide high quality education to students aiming to acquire HTML5 Professional certification.
In the lecture, Mr. Narui gave examples of how Apple Inc. succeeded in adopting HTML5 early in 2010, and that many companies have recently migrated their core systems to HTML5. "The creative market for IT plus video and music is huge.HTML5 is a language that can realize them.Please challenge yourself to acquire qualifications. "
KCGI and KCG plan to continue to actively develop activities that contribute to the development of Web professionals and the expansion of the HTML5 business. From March 6th to March 10th, 2017, the general public can attend. Lecture "Practical HTML5 Application Development" will be held.