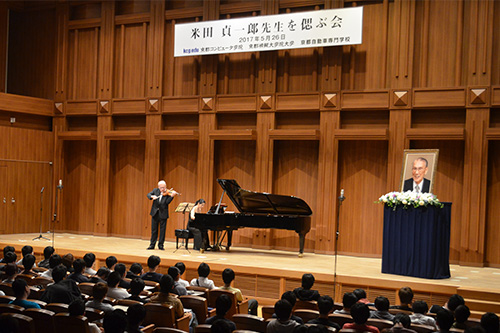 In addition to students, faculty members, graduates, family members, and other people who were deeply involved, such as those who had been taught before, the "Memorial for Dr. Seiichiro Yoneda" again expressed gratitude and gratitude. = May 26, 2017 Sun, Kyoto University of Information Sciences Kyoto Hall
Former Kyoto Computer Gakuin Kyoto Station School principal, who was aged 106 years old on June 7, 2016 The professor 's meeting was held on May 26, 2017, at the Kyoto University Graduate School of Kyoto Satellite Hall, on May 26, 2017.In addition to current students, faculty members, graduates including Kyoto Information Graduate School, family members, and others who were taught in the past attended and expressed their condolences and gratitude to Professor Yoneda.
Dr. Yoneda has been teaching at Kyoto Computer Gakuin since 1987 for nearly 30 years as the principal of the Shohoku School, the principal of the Kyoto Station School, and an advisor.Every year, we were in charge of "special lectures" at the three major festivals of Kyoto, Gion and Era, and students were highly popular with easy-to-understand explanations with gentle narratives. .Even after I was 100 years old, I was still on the platform and passionate about education.
At the meeting, Mr. Yoneda's history was introduced through slides, etc., and after recognizing the day, Lutz Leskovitz (violin) and Misa Hasegawa (piano) continue to perform in various parts of the world. Contributed 6 songs including Bach's "Sonata and Partita BWV1001" Adagio "G minor" for unaccompanied violin ".Lastly, all the attendees sang Yoneda 's favorite song, "Song of Lake Biwa".On the way, Daisaku Kadokawa arrived from the mayor of Kyoto.I myself learned a lot.He is an educator who is proud of Motoichi.I would like to express my deep appreciation for the achievements and virtues. "A small party was also held after the concert.
Thank you, Dr. Seiichiro Yoneda.Please sleep peacefully.