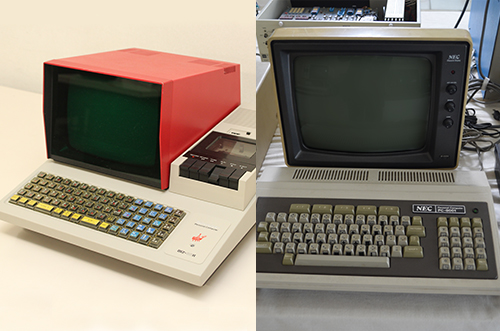 Sharp's "MZ-80K" (left) and NEC's "PC-8001" preserved in the KCG Museum
Following the National Museum of Nature and Science's recent selection of Sharp's MZ-80K and NEC's PC-8001 as "Heritage of Future Technology" for 2015, the KCG Museum, which preserves both machines in working condition, was introduced in NHK's national news and Kyoto local news on September 1, 2015.People from all over Japan learned about the attitude of the KCG Group in carefully preserving valuable computers and other items from the past that have been used in education, practice, and research for more than 50 years since its founding.
The museum has established a system of "Heritage of Future Technology (Important Historical Materials on Science and Technology)" to pass on to future generations the achievements of science and technology that have greatly changed or influenced the lives of the people.This year, 25 items were selected, including both domestic 8-bit personal computers that triggered the microcomputer boom of the 1980s, Hitachi's Basic Master-MB-6890, Sony's AIBO dog-shaped robot equipped with artificial intelligence, Pioneer's PR-7820, the world's first professional laser disc player, and Sankyo Shoten's (now Daiichi Sankyo) gastrointestinal digestive medicine Takaji Astase.
In order to report the news, NHK visited the KCG Museum at Kyoto Computer Gakuin in front of Kyoto Station to cover the actual MZ-80K and other machines.According to NHK, there was no other place that preserved these models with such care.In an interview, Mr. Eiji Kubota (Head of Engineering Department, KCG Rakuhoku School), who was present at the interview, said, "Compared with today's computers, the startup time is much slower, but the waiting time was exciting.There is no doubt that these models were the start of a huge boom in personal computers that changed the times, as well as the start of Japan's IT development," he said.
In 2009, the KCG Museum was certified as the first "Distributed Computer Museum" in Japan by the Information Processing Society of Japan for "preserving many of the most valuable devices in Japan.The "MZ-80K" was also recognized as a "Heritage of Information Processing Technology" by the same society in 2013.The KCG Museum is open to the public and contains many valuable computers, including six "Information Technology Heritage" models.
National Museum of Nature and Science
http://www.kahaku.go.jp/