On Wednesday, March 6, former employees of JBCC Corporation, who are involved in computer design and development, visited the "KCG Museum" at Kyoto Computer Gakuin (KCG) Kyoto Ekimae School, which houses many actual historical computers and has been certified as the first "Distributed Computer Museum" by the Information Processing Society of Japan.They were involved in the development of Toshiba's TOSBAC-1100 and TOSBAC-1200, both of which are in the museum's collection, and came to the museum to see once again the actual machines they were passionate about in their youth.
The developers, guided by Ms. Yasuko Hasegawa, Director of the institute, looked at the TOSBAC-1100 and TOSBAC-1200 on the first floor of the Kyoto Ekimae School, and their eyes were moistened as they touched the machines, looked at the details with their hands and eyes, took pictures, and enjoyed talking about the past around the machines.
Afterwards, Dean Hasegawa and the developers talked about computers, and various secret stories came out.He also talked about how he took a nap on one of the four beds at the development site, and how he cooled off during the hot season in the air conditioned room where the most important machines were located.Shigehachi Shintani said, "I am really happy to see the machine we developed being preserved.I feel as if I am reunited with my son after 40 years," he said, expressing his excitement.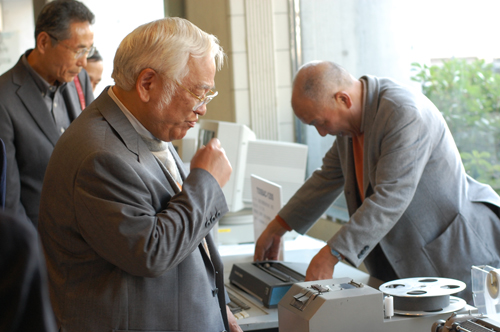 Developers are thrilled to be reunited with the machines they developed.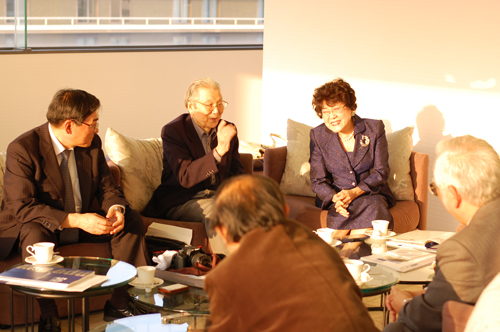 Developers discussing the hardships of the development process with Dean Hasegawa