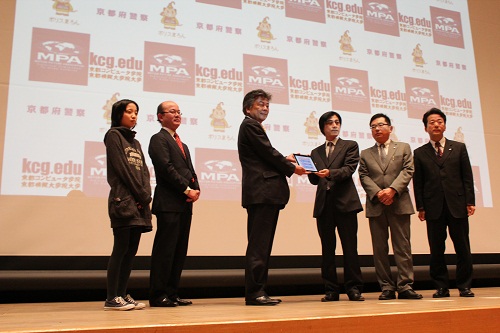 Received the "Smartphone Support Enlightenment Site" for students from the KCG side to the Kyoto Prefectural Police.
With the cooperation of the KCG group (The Kyoto College of Graduate Studies for Informatics, Kyoto Computer Gakuin, etc.), the "Cyber Crime Classroom-Learning Information Security with Smartphones" sponsored by the Kyoto Prefectural Police (December 16th, co-sponsored by Japan International Film Copyright Association) Kyoto Information Graduate University was held at the Kyoto Ekimae Satellite Grand Hall, and the "Smartphone Support Awareness Site" for students created by the KCG group was presented to about 500 students from the Shonan High School Attached Junior High School.Shonan Junior High School students deepened their understanding of cybercrime and copyright by taking on the quiz of the site.
The site is in charge of KCGI's character design, such as Han Haru (completed in March 2013), and the voice is from KCG's third-year KUI game professor Yui Kida. In response to this request, we have been working since the spring of 2012.The site is composed of ▽ Manners ▽ Rules ▽ Quiz hen-The manners narrate contents related to net morals such as paying attention to the handling of personal information.The rules section contains information on copyrights such as illegal uploads and downloads.In these reviewing quizzes, the wallpaper can be received according to the correct answer rate, and on each page, the character gently calls the user to comply with the rules and manners on the Internet.
On this day, the site was received from the KCG side to the Kyoto Prefectural Police and the Japan International Film Copyright Association, and Mr. Kita, who is in charge of audio, "I was informed once again of the fear of cybercrime during the creation of the site.I hope this site will help junior high and high school students get involved in internet troubles. "Han, who is currently in China, said, "We tried to create simple and interesting characters for smartphones.I would be happy if junior high school and high school students could enjoy the Internet safely and securely. "A representative student from Shonan Junior High School challenged the quiz.
At the crime prevention class, the Kyoto Prefectural Police Cyber Crime Countermeasures Section and the Japan International Film Copyright Association gave cautions and explanations about using the Internet.Hiroshi Hasegawa, President of KCGI / KCG, called "please study and build a safe and enjoyable Internet society" and explained the geographical name top-level domain ".kyoto", which will start operation in 2014 .Shonan Junior High School students then visited the KCG Museum, which preserves and exhibits valuable past computers.
Internet manners and rules to learn with smartphones
http://www.jimca.co.jp/manabi/