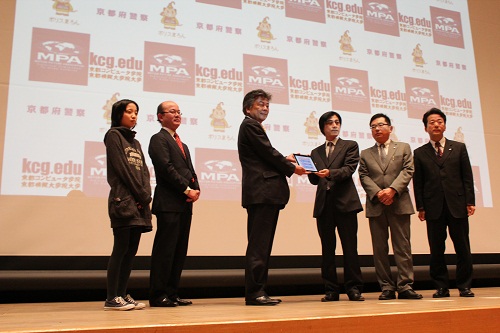 KCG received "Smartphone-compatible educational website" for students from Kyoto Prefectural Police and others.
With the cooperation of the KCG group (The Kyoto College of Graduate Studies for Informatics, Kyoto Computer Gakuin, etc.), the "Cyber Crime Classroom-Learning Information Security with Smartphones" sponsored by the Kyoto Prefectural Police (December 16th, co-sponsored by Japan International Film Copyright Association) The Kyoto College of Graduate Studies for Informatics was held at the Kyoto Ekimae Satellite Grand Hall, and the "Smartphone Support Awareness Site" for students created by the KCG group was presented to about 500 students from the Shonan High School Attached Junior High School.Students of Rakunan Junior High School deepened their understanding of cybercrime and copyright by challenging the quiz on the site.
The site was designed by Mr. Han, a KCGI student (graduated in March, 2013), and the voice by Ms. Akie Kita, a third-year student of KCG Game Department.The site is divided into three sections: Manners, Rules, and Quizzes. The Manners section contains information on Internet morals, including caution in handling personal information.The rules section shows the contents related to copyright such as illegal uploading and downloading.In the quiz section, which is a review of these pages, you can receive wallpaper depending on the percentage of correct answers, and in each page, characters gently remind users to observe the rules and manners on the Internet.
On this day, KCG delivered the site to Kyoto Prefectural Police and Japan International Motion Picture Copyright Association.I hope this site will help junior and senior high school students to avoid getting into trouble on the Internet," he said.Han, who is currently in China, says, "I tried to create a simple and interesting character for smartphones.I would be happy if junior high and high school students could enjoy the Internet safely and securely," said the message.Representative students of Rakunan Junior High School challenged the quiz.
In the crime prevention class, the Cybercrime Division of Kyoto Prefectural Police and the Japan International Motion Picture Copyright Association gave a warning and explanation about the use of the Internet.Mr. Wataru Hasegawa, General Director of KCGI and KCG, called on the participants to "study well and build a safe and enjoyable Internet society" and explained about the geographic name top-level domain ".kyoto" which will be in operation from 2014.After this, the students of Rakunan Junior High School visited the KCG Museum where valuable computers of the past are preserved and displayed.
Learn internet etiquette and rules with your smartphone
http://www.jimca.co.jp/manabi/