On February 24th (Sun), Kyoto University of Information Studies, Kyoto Station Front University Hall, students will present outstanding works from among the works developed and produced by graduation studies, etc. "50th Anniversary KCG AWARDS 2013-Student Works Presentation-"was held.
Six works selected from many works participated and were presented in presentations with repeated practice.After that, the rigorous screening of six judges invited from IT companies and voting from the audience, the game development tool "Knowall Library 5.0" of Teppei Yoneyama of the game department was awarded the highest award. ShinedIn addition, Memohack, a memo management app by Ayaka Teramura and 7 others from the Department of Information Science, was selected as the 50th anniversary special award.
"Knowall Library 5.0", the highest award, has many functions such as game framework, physics engine, computational geometric function, effects, etc. necessary for game development.Ms. Yoneyama participated in KCG AWARDS 2011 two years ago, and won the crown for the second challenge.
The 50th anniversary special award "Memohack" is a highly practical service that manages short memos of 140 characters or less and can be accessed from anywhere by using Twitter, Facebook, etc., and has been well received.
In addition, as a guest, "Development of Kyoto Prefecture Tourism Portal App" was announced by Komi Makino, who was selected from the program completion project presentation of Kyoto University of Information Graduate Studies.
Mr. Yukio Otsuki, former director of Kawasaki Heavy Industries, Honorary Member of the Gas Turbine Society of Japan and former chairman of Kawasaki's motorcycle "Z1" visited as a guest, said, "Computers are a field that I don't know well, I think that your attitude to research and development is very difficult.I was impressed by the fact that it was close to commercialization, "he said with a smile.
KCG AWARDS 2013-Student Work Presentation-Special Site
http://kcg.edu/awards/2013/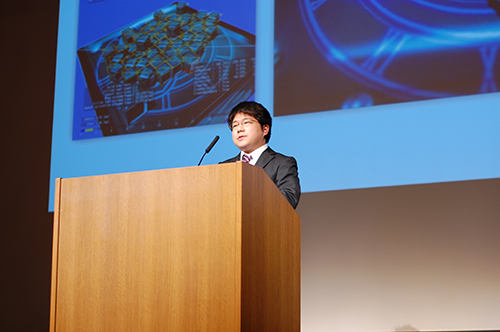 Mr. Teppei Yoneyama announces "Knowall Library 5.0" which won the Grand Prize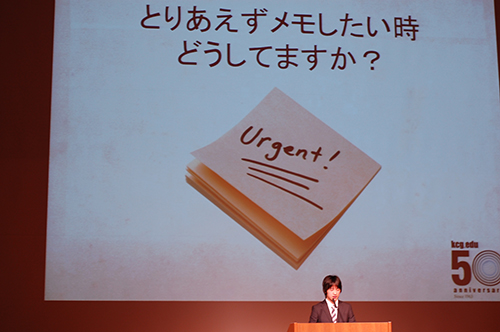 Ayaka Teramura announces "Memohack" which won the 50th anniversary special award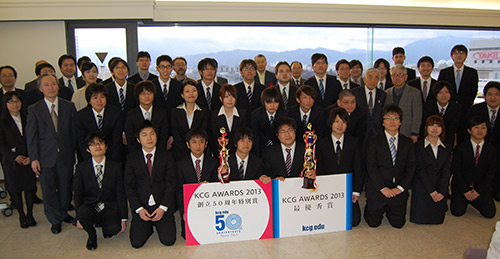 This year was also a wonderful presentation (group photo of nominees, judges, faculty and staff)