On February 24 (Sun.), the "50th Anniversary KCG AWARDS 2013 - Student Work Presentation" was held at the main hall of the satellite in front of Kyoto Station, Kyoto Institute of Information Science, where excellent works developed and produced by students for their graduation research were presented.
Six works were selected from a large number of entries and presented through well-rehearsed presentations.Afterwards, the six judges from IT companies were invited to judge the competition, and the audience voted for the winner of the Grand Prize, which was awarded to Teppei Yoneyama of the Game Department for his game development tool "Knowall Library 5.0".Memohack," a memo management application by Ayaki Teramura and seven others from the Department of Information Science, was selected for the 50th Anniversary Special Award.
The Grand Prize winner, "Knowall Library 5.0," is the culmination of Yoneyama's four years of work and includes many features necessary for game development, such as a game framework, physics engine, computational geometry functions, and effects.Yoneyama had competed in the KCG AWARDS 2011 two years ago and was crowned the winner on his second attempt.
Memohack," the 50th Anniversary Special Award winner, is a highly practical service that allows users to manage short memos of 140 characters or less and access them from anywhere by using twitter, Facebook, etc. It has already been released to the public and has been well received.
Also, as a guest speaker, "Development of Kyoto Prefecture Tourism Portal Application" was presented by Ms. Komi Makino, who was selected from the group school, Kyoto Institute of Information Science, for the presentation of her project for the completion of her course.
Mr. Yukio Ootsuki, the person responsible for the development of Kawasaki's Z1 motorcycle and former director of Kawasaki Heavy Industries, honorary member of the Gas Turbine Society of Japan, and former president of the Society, visited as a guest of honor. "Computers are a field I do not understand well, but as a fellow engineer, I think the attitude you all have toward research and development is very impressive.I was very impressed with some of the products that were close to commercialization," he said with a smile.
KCG AWARDS 2013 -Student Work Presentation - Special Site
http://kcg.edu/awards/2013/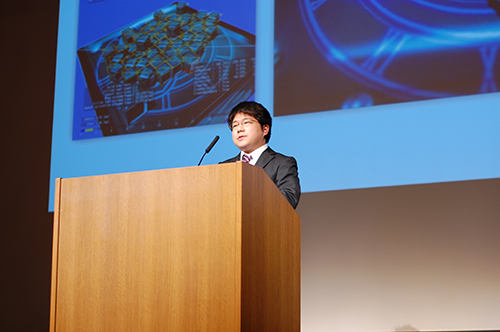 Teppei Yoneyama presenting "Knowall Library 5.0," winner of the Grand Prize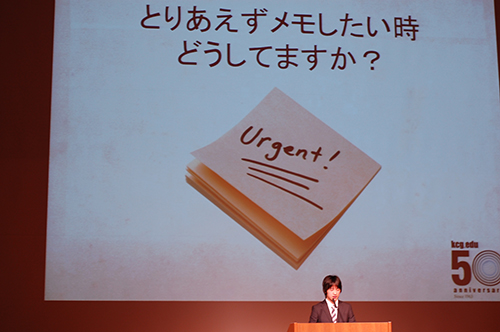 Ayaki Teramura presenting "Memohack," winner of the 50th Anniversary Special Award.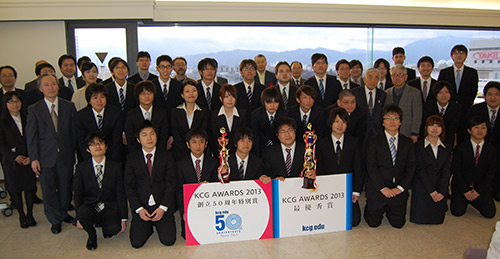 It was another great presentation (group photo of nominees, judges, and faculty).