The August Management Salon of the FUJITSU Family Association LS Research Committee (LS Lab) created by Fujitsu Ltd. and its business partners will be held on August 6 (Wednesday) at the The Kyoto College of Graduate Studies for Informatics (KCGI) Kyoto Station Satellite. 29 people including participants from Kanto participated.
The KCGI side introduced its activities and efforts to develop global human resources.The participants visited the KCG Museum, where valuable computers from the past are lined up, and exchanged opinions with our faculty members.
In particular, they actively exchanged opinions on ERP-related education, which KCGI is working on as part of global human resources development, and decided to share information on global human resources development between companies and schools.
LSK is a research group that conducts joint surveys and research on management strategies, cutting-edge themes, and human resource education, while fostering human resources full of creativity and individuality to contribute to the business reforms of member companies.At the Manages Salon, managers, CIOs, and managers in charge of information systems departments of member companies gather to freely discuss and exchange opinions on the latest trends in their industries and on the state of planning and information systems departments.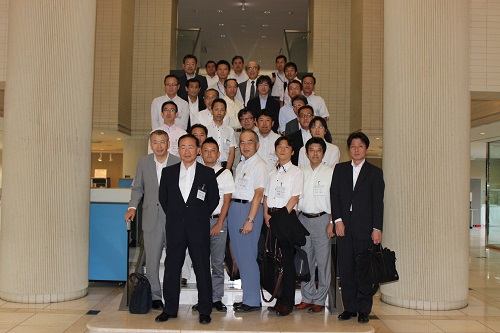 A delegation from the LS Research Committee of FUJITSU Family Association visited KCGI