The August Management Salon of the FUJITSU Family Association LS Research Committee (LS Lab) created by Fujitsu Ltd. and its business partners will be held on August 6 (Wednesday) at the Kyoto Information Graduate University (KCGI) Kyoto Station Satellite. 29 people including participants from Kanto participated.
KCGI introduced activities and global human resource development activities.Participants exchanged views with faculty members after visiting the KCG Museum, where valuable computers from the Kyoto Station Satellite were lined up.
In particular, there was an active exchange of opinions on ERP education that KCGI is working on as part of global human resource development, and information on global human resource development was shared between companies and schools.
LS Lab is a study group for joint research and research centering on management strategy, cutting-edge themes, human resource education, etc., and fostering creative and unique human resources and contributing to the business reform of member companies. .At the Management Salon, managers, CIOs, and information system department managers from member companies gather to freely discuss and exchange opinions on the latest trends in industry / industry and the ideal way of planning / information system departments. .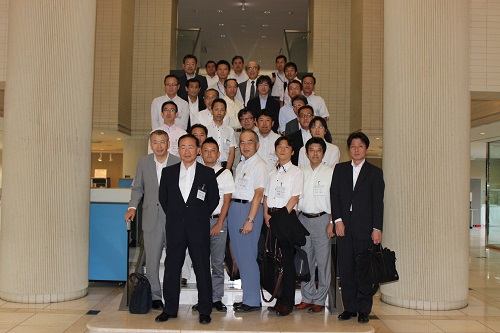 Members of FUJITSU Family Association LS Research Committee who visited KCGI