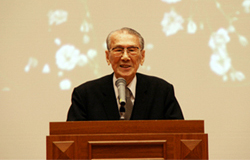 Prof. Seiichiro Yoneda, an advisor to Kyoto Computer Gakuin, who has been following the path of education, celebrated his 100th birthday on December 11, and KCG held a special lecture and a "celebration party" at the school in front of Kyoto Station. All students and faculty members were happy.Prof. Yoneda, who was well taught at the special lecture, said to the students, "I am honored to have such a celebration.I have been alive so far with the support of many people.You should deepen human bonds and make friends that can help you throughout your life. "The special lecture sang "Song of Lake Biwa", a song by Professor Yoneda, and a birthday song.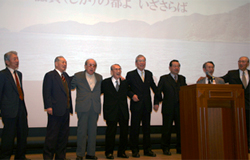 In a special lecture at the main hall, Sumio Makino, head of Kamogawa School, introduced the centennial years of becoming a Prof. Yoneda and walking, with the title "Let's live a long life-To Yoneda's 100 years old".Prof. Yoneda continues to teach, as a secret to long life
▽ We never missed "cold water friction" with towels washed and squeezed with cold water every day since the second year of elementary school
▽ I didn't like food and didn't smoke
▽ The curiosity is thriving, and when I was a child I flew around the sea and mountains.
▽ In the old 3rd high school era, we showed off-who cultivated basic physical strength by belonging to the track and field club.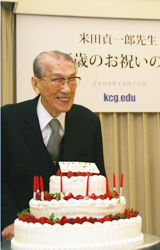 The "Celebration Party" held in the 6th floor lounge includes Prof. Yoneda's family, former Mikata Takashi where he once belonged, Kyoto (Imperial) University, Kyoto City Board of Education, Kyoto Gakuen University, Kyoto The city's Horikawa High School principal and many KCG teachers attended.Following the greetings by Reiko Hasegawa, Dr. Yoneda blows out the candle from the birthday cake and the party begins.All of them wished Yoneda's healthier health while blossoming old tales. On this day, a booklet "Haruka Koto" was published to commemorate 100 years of teachers.
Congratulations Dr. Yoneda.Stay forever.Please tell us your story.Thank you.