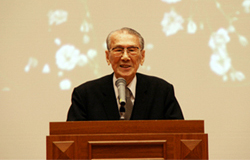 On December 11, Dr. Teiichiro Yoneda, advisor of Kyoto Computer Gakuin, who has devoted his life to education, celebrated his 100th birthday, and KCG held a special lecture and "celebration party" at Kyoto Ekimae School, where students, faculty and staff enjoyed each other's company.Dr. Yoneda, who cheerfully took the podium to deliver a special lecture, told the students, "I am beyond honored to be congratulated in this way.I have been able to live this long thanks to the support of many people.I hope that all of you will deepen your human bonds and make friends who can help each other throughout your lives.During the special lecture, the audience sang "Song of Lake Biwa Circumnavigation," a favorite song of Dr. Yoneda, as well as a birthday song, and the event was lively.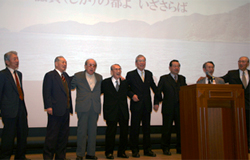 In a special lecture held in the main hall, Mr. Sumio Makino, principal of the Kamogawa School, gave a talk titled "Living a Long Life: Prologue to Mr. Yoneda's 100th Birthday," introducing his personality and the 100 years he has spent in the school.Dr. Yoneda will continue to teach, and will share the secret to a long life.
He has been doing "cold-water friction" with a towel wrung out after washing it with cold water every day since he was in the second grade of elementary school.
He had no likes and dislikes of food and never smoked cigarettes.
He was very curious and flew around the sea and mountains as a child.
He also shared his experience of being a member of the track and field team at the former third high school, where he cultivated his basic physical fitness.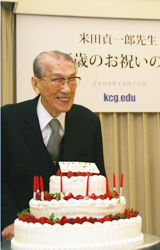 The "celebration party" held in the 6th floor lounge was attended by many people, including Dr. Yoneda's family, his former teachers from the three high schools, Kyoto (Imperial) University, Kyoto City Board of Education, Kyoto Gakuen University, the principal of Kyoto Municipal Horikawa High School, and KCG faculty and staff.Following the greeting by Ms. Yasuko Hasegawa, the party started with Ms. Yoneda blowing out the candles on the birthday cake.We all wished Dr. Yoneda good health as we reminisced about the old days. On this day, we also published a pamphlet "Shoyo, Shoyo in the Ancient Capital" to commemorate his 100th birthday.
Congratulations, Dr. Yoneda!Take care of yourself forever.Please keep us posted on your story.Thank you for your cooperation.