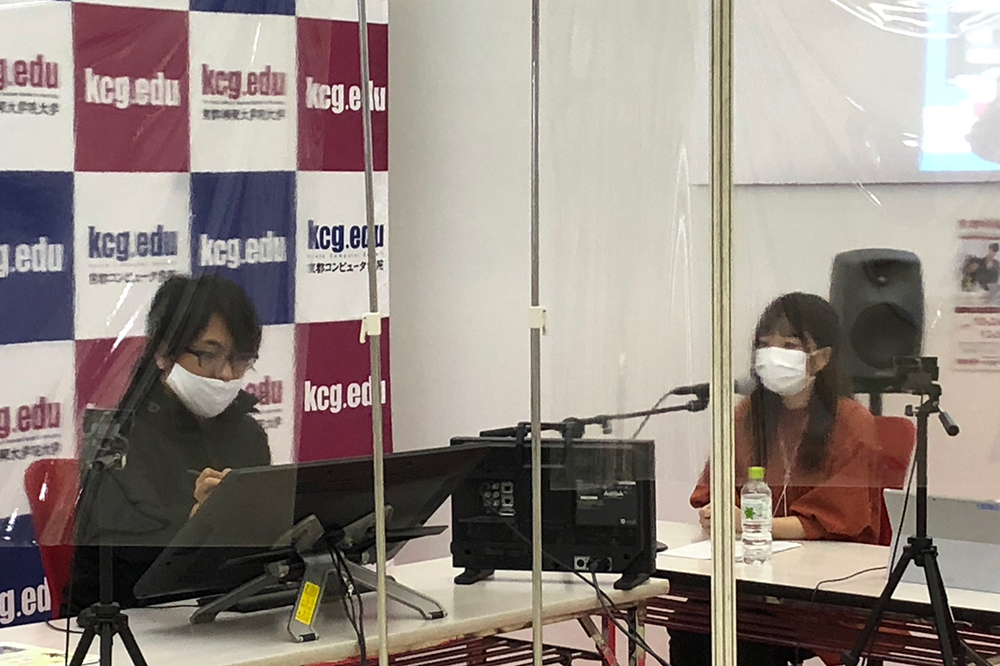 KCG Group (Kyoto Computer Gakuin, The Kyoto College of Graduate Studies for Informatics, Kyoto College of Automotive Engineering) co-hosted "Kyoto International Manga & Anime Fair (Kyo-Mafu) 2020", the largest manga and anime convention in western Japan (organized by the Executive Committee of Kyoto International Manga & Anime Fair and Kyoto City), which was held on September 19 (Sat.) and 20 (Sun.) at the Kyoto International Exhibition Hall (Miyakomesse).
In order to prevent the spread of the new coronavirus, this year's Kyoto MAFU opened with thorough infection control measures, including temperature checks at the entrance and the installation of rubbing alcohol at various locations.
会場に設けたKCGブースでは, プロアニメーターとして第一線で活躍する,アニメーターギルドスタジオPaTHoS代表の太田彬彦さんが液晶タブレットを使ったデジタル作画実演と,動画共有サービス「YouTube LIVE」でのライブ配信を行いました。「地下鉄に乗るっ」太秦麗役2代目声優の松河鈴奈さんがゲスト進行役を務める和気あいあいとしたムードの中,大勢の人が足を止め,次々と披露されるプロの技に見入っていました。太田さんは「絵コンテ→原画→動画→仕上げ」というアニメーション制作の一連の作業を実演しながら,「最初にどういう映像を作りたいかイメージをしっかり固める」「自分の描きやすいキャラクターを造形することも大切」「あらかじめラフ画(手書きデザインスケッチ)でキャラクターの動きを作ってから,細部をかっちり描きこ
When Mr. Matsukawa, who himself draws illustrations for smartphone applications, was asked what skills are necessary to become an animator, Mr. Ota replied, "The animation picture is a complement to the original drawing, and the quality of the animation depends on how accurately you can draw it while maintaining the same texture, sense of volume, and size of the character, so you should practice every day.
In addition, due to the prolonged spread of the new coronavirus infection in Japan and abroad, the 2020 convention of "Seiyu Tamashii", which was led and held by the KCG Group in the Kinki region, has been cancelled.
You can watch the drawing delivery by Mr. Ota at the following URL:
https://www.youtube.com/watch?v=cCAJ_ewhzoc