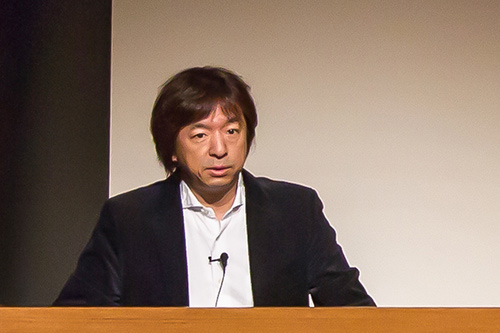 Prof. Hiroyuki Ito who gave birth to "Hatsune Miku"
A special lecture in Kyoto by Prof. Hiroyuki Ito, President of Krypton Future Media Co., Ltd. (Headquarters: Sapporo City, Founded: 1995), who created and raised VOCALOID "Hatsune Miku" 2016 It was held on November 18th at the Kyoto Information Graduate University Kyoto University Satellite Hall.In this lecture entitled "Hatsune Miku's Past, Present, and Future", Professor Ito developed "Hatsune Miku", and "Creation Chain" where creators around the world create new art from "Hatsune Miku". In addition, I talked to KCGI and KCG students about the 3DCG concert "MIKU EXPO" of "Hatsune Miku" held around the world in 2016.In addition, in this lecture, in order to accommodate the increasing number of international students at KCGI, an attempt was made for the first time to send simultaneous interpretation into English by a faculty member to a wireless receiver.
Hatsune Miku was born in 2007 as a virtual idol with a height of 158 cm, a weight of 42 kg, and a 16-year-old setting.There are 100,000 songs, 1 million Japanese SNS users, 2.5 million English Facebook users, and 800,000 Chinese Weibo users. A large number of fans gather for 3DCG concerts held in various locations.Regarding the development and success of this global idol "Hatsune Miku", Prof. Ito created a singing voice synthesis technology by adding two existing technologies, speech synthesis technology and computer music, and added a character element to it. I told you that this led to success.He also pointed out that the "Niko Nico Douga" started in 2006, the year before its release, and that video submissions were generally established, which was behind the success of "Hatsune Miku".
Prof. Ito explained that the addition of this character stimulated creators' "creative desire" and caused a "chain of creation" that was born from "Hatsune Miku", and secondary art and tertiary art. He stressed that clearing the problem boosted it.If a third party uses secondary creations from "Hatsune Miku" for tertiary creations, it would be a burden to get permission from Krypton Future Media Co., Ltd. and secondary creators. "Piapro" (piapro) was launched and "fan art" (secondary work) was posted here, and other users were free to use it for their creation.You should protect this right with only a few rules, such as giving thanks to the creator, not using it for advertising, and not creating something that will reduce the value of Hatsune Miku. Said that led to active creation.Krypton Future Media Co., Ltd. has been aggressively commercializing works created in this way, and it seems that it has distributed over 8000 songs to the world.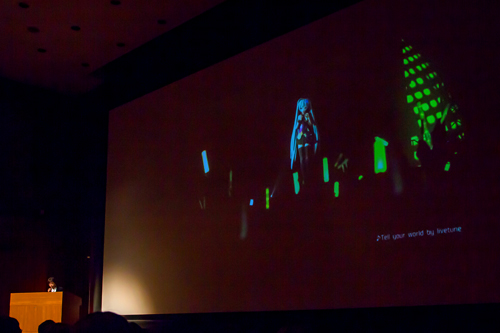 A virtual idol "Hatsune Miku" that enthusiastically enthusiasts from North America
The concerts of "Hatsune Miku" in 2016 have already been held in 10 cities including Fukuoka, Osaka, Nagoya, Sapporo and Tokyo in Japan, and 10 cities including Mexico City in North America. A Chinese tour will also be held in December.Especially in the North American tour, the American television station NBC picked up on the site, and it became even more exciting, and at the concert in Chicago in June, gathered at a bookstore in the city for fans who could not enter the venue. We also had an event to draw Miku's picture and introduced a video showing the situation.In addition, we introduced the state of collaboration with singer Namie Amuro, BUMP OF CHICKEN, and composer Isao Hamada, and impressed the diversity and breadth of activities of "Hatsune Miku".
Finally, touching on the event "SNOW MIKU 2016" (Snow Miku) held in Sapporo this February, publicly soliciting costumes for "Hatsune Miku" on the theme of winter sports and designing "Hatsune Miku" to ride on a snowboard A wide range of activities closely associated with local Hokkaido, such as the creation of a snow sculpture of "Hatsune Miku", wrapping on a streetcar in Sapporo, and a booth dedicated to "Hatsune Miku" in New Chitose Airport Introduced.At the 2017 "SNOW MIKU", costumes were solicited under the theme of "Winter Starry Sky" and the design was already decided.Professor Ito said, "Hatsune Miku cannot do anything without its own creators, so I want creators to create more and more."It is our job to create an environment that makes it easy for you to participate." He expressed his high expectations for the ambitious creative activities of young people.
Mr. Ito became KCGI professor in April 2013.In recognition of international activities and technological innovation, in 2013 he received the Ai Akira Akiaki Award and in 2016 he received the FIT Funai Achievement Award.Prof. Ito's activities and advanced initiatives provide a great vision for students learning about IT (ICT) and content at KCGI, and KCG students who can attend classes with KCGI, especially art design It is also a great stimulus for students studying content-related matters such as IT voice actor courses in academic, digital game, and computer science.