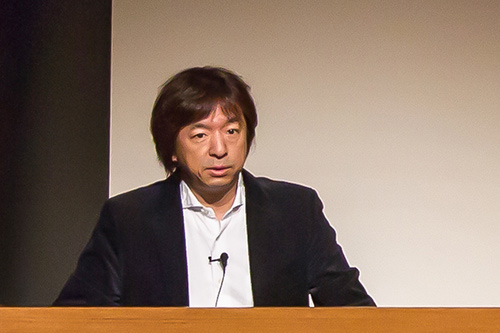 Professor Hiroyuki Ito, creator of Hatsune Miku
On November 18, 2016, Professor Hiroyuki Ito of Kyoto College of Graduate Institute of Information (KCGI), who is the president of Crypton Future Media, Inc. (headquartered in Sapporo, Japan; founded in 1995) and the creator of VOCALOID "Hatsune Miku," gave a special lecture in Kyoto at the Kyoto Station Satellite Main Hall of Kyoto College of Graduate Institute of Information.In this lecture titled "The Past, Present, and Future of Hatsune Miku," Professor Ito spoke passionately to KCGI and KCG students about the development of "Hatsune Miku," the "Chain of Creation" in which creators around the world create new art from "Hatsune Miku," and the "MIKU EXPO," a 3DCG concert of "Hatsune Miku" held around the world in 2016.In this lecture, a simultaneous interpretation into English by a faculty member of KCGI was carried out for the first time in order to cope with the increasing number of international students at KCGI.
Hatsune Miku is a virtual idol born in 2007, 158cm tall, 42kg in weight and 16 years old.With 100,000 songs, 1,000,000 Japanese SNS users, 2,500,000 English Facebook users, and 800,000 Chinese Weibo users, they have fans all over the world, and many of them come to the 3DCG concerts held around the world every year.Regarding the development and success of the world-famous idol "Hatsune Miku," Professor Ito said that the success was achieved by combining the two existing technologies of voice synthesis and computer music to create a singing voice synthesis technology, and then adding the element of character to it.In 2006, the year before the release of Hatsune Miku, 'Nico Nico Douga' was launched, and it was pointed out that the success of 'Hatsune Miku' was due to the fact that the posting of videos had become commonplace.
Professor Ito explained that the addition of this character stimulated creators' "desire to create" and triggered a "chain of creation" that resulted in a chain of secondary and tertiary art from "Hatsune Miku", and stressed that this was particularly supported by the fact that the copyright issue was cleared.When a third party wants to use a secondary work from "Hatsune Miku" for a tertiary work, it would be too much of a burden to obtain permission from Crypton Future Media Inc. and the secondary creator every time.There are only a few rules to follow, such as expressing gratitude to the creator, not using the work in advertisements, and not creating anything that would lower the value of Hatsune Miku.Crypton Future Media, Inc. has been actively involved in the commercialization of works created in this way, and to date has distributed more than 8,000 pieces of music around the world.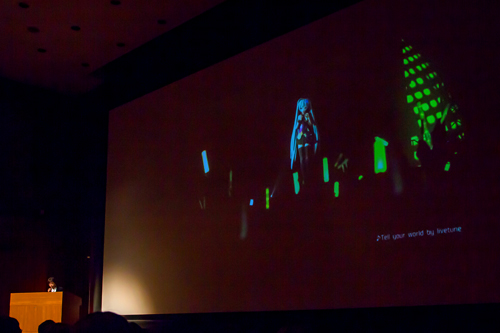 Virtual Idol 'Hatsune Miku' Enthralls Fans in North America
So far in 2016, concerts of HATSUNE Miku have been held in five cities in Japan (Fukuoka, Osaka, Nagoya, Sapporo and Tokyo) and ten cities in North America (including Mexico City).Especially during the North American tour, NBC, a U.S. TV station, covered the event on this site, and it became even more popular. At the concert in Chicago in June, there was an event where fans who couldn't make it to the venue gathered at a bookstore in the city to draw pictures of Miku, and a video of the event was introduced.She also introduced her collaborations with singers Namie Amuro and BUMP OF CHICKEN, as well as composer Isao Tomita, to show the diversity and breadth of Hatsune Miku's activities.
Lastly, she talked about the event "SNOW MIKU 2016" (Snow Miku) held in Sapporo in February this year, and introduced a wide range of activities closely related to her hometown Hokkaido, such as the public contest for Hatsune Miku costumes based on the theme of winter sports, the announcement of the design of Hatsune Miku riding a snowboard, the creation of a snow sculpture of Hatsune Miku, the wrapping of a streetcar in Sapporo, and the setting up of a dedicated booth for Hatsune Miku in New Chitose Airport.The theme for the 2017 SNOW MIKU is "Starry Skies in Winter", and costumes have already been designed.Professor Ito said, "Without creators, Hatsune Miku would not be able to do anything on her own, so I hope that creators will continue to create.It's our job to create an environment that makes it easy for everyone to participate," he said, expressing his high expectations for the ambitious creative activities of young people.
Dr. Ito was appointed as a KCGI professor in April 2013.In recognition of his international activities and technological innovations, he was awarded the Medal with Blue Ribbon in 2013 and the FIT Funai Achievement Award in 2016.Professor Ito's activities and advanced initiatives provide a great vision for students studying IT (ICT) and contents at KCGI, and also serve as a great stimulus for KCG students who are able to attend classes mutually with KCGI, especially students studying contents-related subjects such as Art and Design, Digital Game, and IT Voice Actor Course of Computer Science Information Processing Department.