On Saturday, August 11, a trial run of the "ET Robot Contest" was held at Kyoto Computer Graduate School (KCG) to compete in running a robot using embedded software.In the ET Robot Contest, the participants compete to make a self-propelled robot of a certain specification run smoothly on a course with various obstacles such as hills.The competition is based on the design model of the running software and the result of actually running the robot.The Kansai Convention is held at KCG every year.
In the test run session, each participating group runs the robot with the embedded software on a real course to find out the problems and to get hints for improvement.On this day, a course was set up in the classroom of KCG, and the robot ran on the course.As there was still some time to go before the completion of the project, there was no robot that could run all the way to the end, but each team seemed to have a good feeling about the project.
ET Robocon Kansai will be held on September 16 (Sun.) and 17 (Mon.) at Kyoto Station Satellite Hall of Kyoto Institute of Information.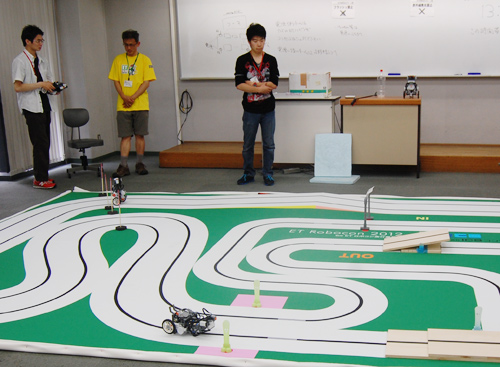 There were a lot of retirements on the circuit today.We've got a lot of work to do.