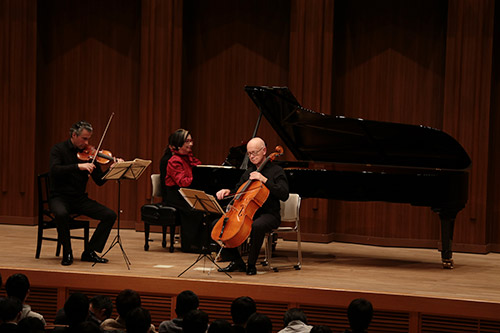 A classical concert "Vienna's Sunny Evening" where soft examinations wrap up the hall.
KCG groups such as Kyoto University of Information Graduate School, Kyoto Computer Gakuin, and Kyoto Automobile College held a classical concert "Vienna's Windy Evening" at the Kyoto Information University University Kyoto Concert Hall on November 4, 2016.Joagen Fogue (cello), Yoko Fogue (piano), Remy Baro (violin), Ellis Schutenberger (same), Nina Fogue (actress) and three songs in total The performance attracted many ordinary people and students who visited.
The performances were Haydn's "Two Violins and Cello London Trio", "Piano Trio (Hob.XV) No. 27 in C major" and the label "Piano Trio (1915) in A minor".Finally, performances and image footage that were tailored to Nina Fogue's music were added to the soft study, and the performing arts were created, resulting in great applause from the audience.
Since its founding, the KCG Group has been holding various cultural lectures, classical music concerts, traditional art appreciation events, etc., including general education subjects in the curriculum for the purpose of cultivating not only specialized skills but also students' intellect and sensitivity.These events are also appreciated by the general public.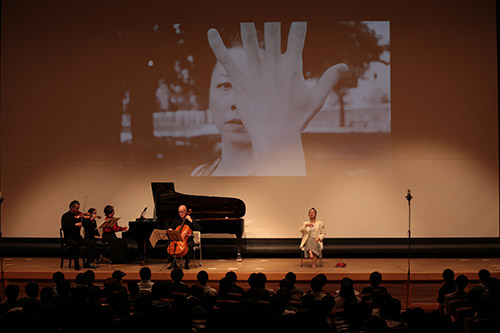 Performance and video were added to create the performing arts (November 4, 2016, Kyoto Information Graduate University, Kyoto Ekimae Satellite Concert Hall)