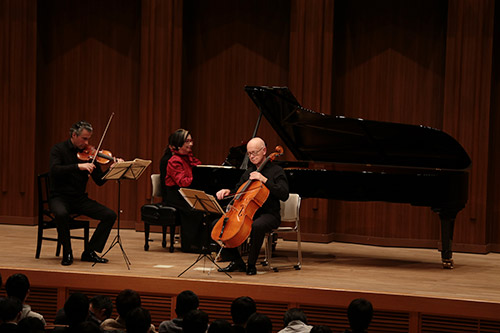 Soft music filled the hall for the classical concert "An Evening with a Viennese Breeze.
On November 4, 2016, the KCG Group, including The Kyoto College of Graduate Studies for Informatics, Kyoto Computer Gakuin, and Kyoto Computer Gakuin Automobile School, held a classical concert "An Evening with Viennese Breeze" at the Satellite Concert Hall in front of Kyoto Station, Kyoto Institute of Information Science.Joergen Foog (cello), Yoko Foog (piano), Remy Barro (violin), Iris Schutzenberger (violin), and Nina Foog (actress) performed a total of three pieces, which attracted many visitors from the public and students.
The performance consisted of Haydn's "London Trio for two violins and cello" and "Piano Trio (Hob. XV) No. 27 in C major" and "Piano Trio (1915) in A minor" by Ravel.The audience applauded loudly as Nina Fogg's performance and visual images were added to the soft music to create a stage performance.
Since its foundation, KCG Group has incorporated general education courses into its curriculum to cultivate the intellect and sensitivity of its students in addition to specialized skills.These events are open to the public for viewing.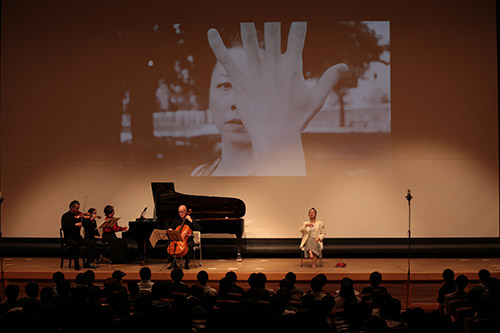 Performance and video were added to create the performing arts (November 4, 2016, The Kyoto College of Graduate Studies for Informatics, Kyoto Ekimae Satellite Concert Hall)