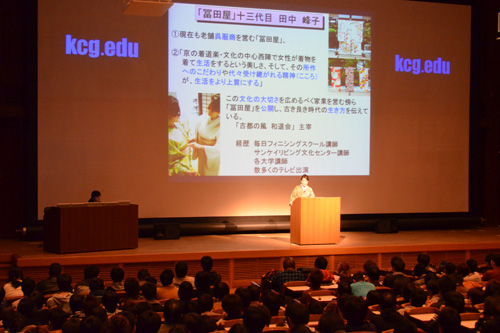 Minako Tanaka gave a lecture entitled "Information Society and Traditional Culture".We explained in detail about the annual events.
A lecture titled "Information Society and Traditional Culture" by Minako Tanaka (President and CEO, Hirotaya Co., Ltd.) telling traditional lifestyles while protecting Kyoto's townhouses will be held on November 9th (Friday). Bunka Week's recommended event was held at Kyoto University Graduate School of Kyoto Satellite Hall as a lecture for Kyoto Prefectural University.Tanaka-san introduced Japanese traditional events, "Be sure to learn history not only in the IT field, but also when trying new things.The hint is sure to be hidden.
In the lecture, Tanaka explained in detail the annual events starting with "New Year" and "Mirror opening".We also explained about "Shitsurae" that decorates events and seasons.The event disappeared and was worried about the forgotten situation, "I would like everyone who studies IT and is active in that world to know and protect the traditional culture that Japan is proud of." .
Mr. Tanaka, a townhouse that operates a kimono merchant that continues to protect, Todaya, was built about 130 years ago.One of the features of Kyomachiya is that it retains the unique style of Nishijin merchants.It was designated as a national registered tangible cultural property in 1999, and as a Kyoto city landscape important building in 2007, and is now open to the public as a "Nishijin Living Museum".Mr. Tanaka has held many important positions, including the director of the Women's Association of the Kyoto Chamber of Commerce and the Managing Director of the International Kyoto Studies Association.
The Ministry of Education, Culture, Sports, Science and Technology, in order to deepen people's understanding of education and culture and promote its enhancement, the "Education and Culture Week" "And recommends the opening of facilities for the period including the same week and about two weeks before and after, and holding related events such as public lectures and lectures.Kyoto Information Graduate University (KCGI) and KCG agree with the purpose and hold various recommended events.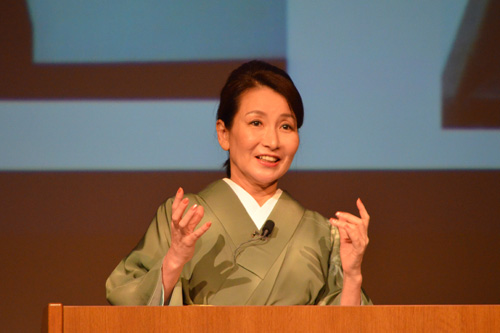 Mr. Tanaka stressed that "Be sure to learn history before trying new things."