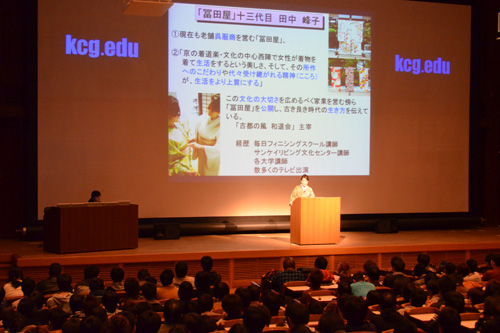 Mineko Tanaka gave a lecture titled "Information Society and Traditional Culture."Annual events were explained in detail.
Ms. Mineko Tanaka (President of Tomitaya Co., Ltd.), who preserves machiya houses in Kyoto and conveys traditional lifestyles, gave the lecture "Information Society and Traditional Culture" on Friday, November 9 at the Kyoto Ekimae Satellite Hall of the Kyoto Institute of Information Science as a recommended event for the "Education and Culture Week" of the Ministry of Education, Culture, Sports, Science and Technology and a lecture for Kyoto Prefecture Citizens University.Introducing traditional Japanese events, Mr. Tanaka said, "Always study history when taking on new challenges, not only in the field of IT.There will always be a clue hidden in there," he emphasized.
In his lecture, Mr. Tanaka explained in detail the annual events beginning with "Shogatsu" and "Kagamibiraki".He also explained about "shitsuremu," or decorations for events and seasons.He expressed his concern about the current state of affairs, where events are disappearing and being forgotten, and said, "I hope that those of you who study IT and are active in the world of IT will learn about and preserve the traditional culture that Japan prides itself on.
Tondaya (Tondaya: Omiya-dori Ichijo-agaru, Kamigyo-ku, Kyoto City), a townhouse where Mr. Tanaka runs a kimono business that he continues to protect, was built about 130 years ago.Among the Kyoto machiya, it retains the unique style of Nishijin merchant houses.In 1999, it was designated as a national tangible cultural property, and in 2007 as an important building in the Kyoto cityscape.Ms. Tanaka has served in a number of important positions, including director of the Kyoto Chamber of Commerce and Industry Women's Association and executive director of the International Kyoto Studies Association.
The Ministry of Education, Culture, Sports, Science and Technology (MEXT) has designated one week (November 1-7), including Culture Day (November 3), as "Education and Culture Week" to deepen public understanding of education and culture and to promote their enrichment.The Kyoto College of Graduate Studies for Informatics (KCGI) and KCG agree with the purpose and hold various recommended events.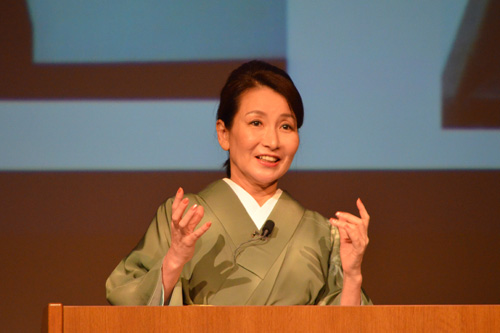 Mr. Tanaka emphasized, "Always study history before trying something new.