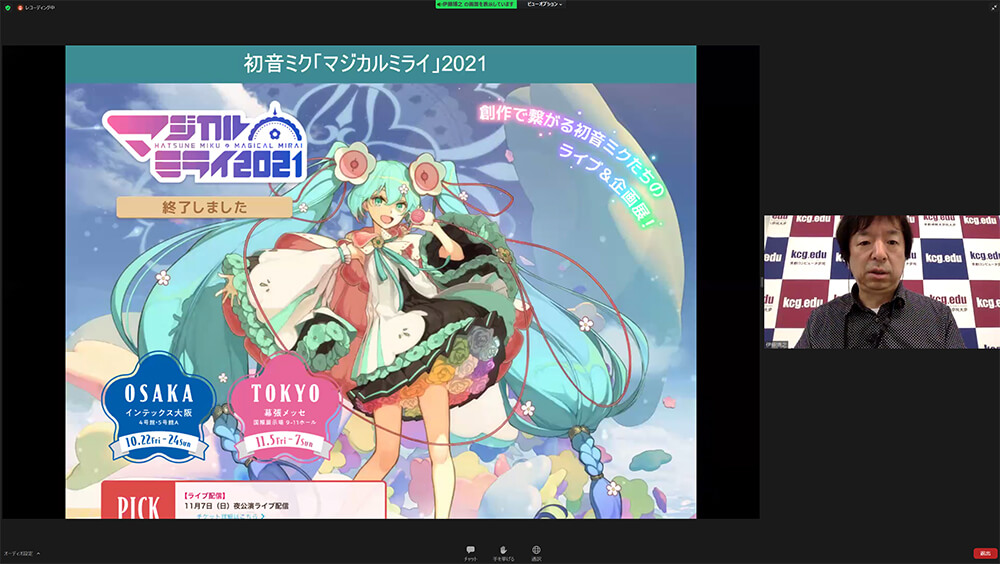 On Friday, January 14, 2022, a special online lecture was given by Professor Hiroyuki Ito of The Kyoto College of Graduate Studies for Informatics (KCGI), creator of the globally popular Vocaloid (VOCALOID) "Hatsune Miku" and CEO of Crypton Future Media, Inc.This special lecture is usually held in the main hall on the 6th floor of KCGI Kyoto Ekimae Satellite, Kyoto Computer Gakuin (KCG), Kyoto Ekimae Campus, but this time, as in previous years, the lecture was broadcast live with simultaneous interpretation in English via the Internet to prevent the spread of the new coronavirus.Professor Ito explained how "Hatsune Miku" was born, how it has grown, his approach to voice technology and 3DCG technology, and his wide-ranging activities in Japan and abroad, using video clips.At the end of the lecture, there was a question and answer period.
Hatsune Miku" is a virtual idol created on August 31, 2007.It is a software program that sings a song by voice synthesis when lyrics and melody are inputted, and is a popular "character" of 158 cm tall, 42 kg, and 16 years old.Live concerts are held in Japan and abroad, and it has become a symbol of Cool Japan, which promotes Japanese culture to the rest of the world.
In his lecture titled "The Potential of Digital Content Learned from Hatsune Miku," Professor Ito introduced Crypton's business and explained the basics of computer music.And "software-enabled instruments that are installed on a computer are called virtual instruments."Hatsune Miku" is a virtual instrument of singing voice.It was developed using Yamaha's Vocaloid technology.This was a completely new experiment for our company, and we put a character on the product," he explained.
The characterization of Miku Hatsune was so successful that people began to create not only music, but also illustrations, computer graphics, and cosplay of Miku Hatsune and post them on the Internet, creating a chain of creative works that spread throughout the world.Professor Ito stated, "The demand to use 'Hatsune Miku' as a character became so high that our headquarters had no choice but to work on how to smoothly clear the rights." He also explained in detail how the company opened a license for rights handling and established the content posting site "piapro" to create an environment conducive to creative works.
Fourteen years have passed since the birth of "Hatsune Miku," and as a result of secondary and tertiary creations by many creators, the ways of expression have expanded beyond singing and voice to include dance, animation, cosplay, figures, and more.In addition to collaborations with fashion, opera, robots, games, Japanese drums, and popular TV animation characters, the development of merchandise continues to expand.Professor Ito said, "There is a law that says the more content is used, the more value it has.I think it is very important to have a wide variety of people use the products and to collaborate with them," he said.
Even in the Corona Disaster, "Hatsune Miku" is still active.The "Hatsune Miku 'Magical Miku 2021'" event, a 3DCG live performance and exhibition event that has been held annually since 2013 to experience the joy of creation, was held in Osaka City from October 22 to 24, 2021, and in Chiba City from November 5 to 7, 2021.In September, he is performing "Cho-Kabuki" with Shidou Nakamura at the Minami-za Theater in Kyoto for the first time in two years.The "MIKU EXPO," which could be called an overseas version of Magical Mirai, was scheduled to be held in 12 cities in the U.S. and Canada from April to May 2020, but was postponed twice and then canceled due to the global spread of the new corona virus.In 2021, however, it was held online on June 6 as "MIKU EXPO 2021 Online" and distributed worldwide.Sony has added a "Hatsune Miku Collaboration Model" to its wireless earphones, and TEAC will release a Bluetooth-equipped turntable designed by Hatsune Miku in March 2022.Maywa Denki has come out with a "Hatsune Miku" version of an electronic musical instrument in the shape of a musical note.
Dr. Ito became a professor at KCGI in April 2013.In the fall of the same year, he was awarded the Medal with Blue Ribbon in recognition of his international activities and technical innovations.KCGI and KCG have a reciprocal class auditing system.Not only students studying content business at KCGI, but also KCG students in art and design, digital games, computer science, IT voice acting, and other content-related courses can learn a lot from Professor Ito's efforts.