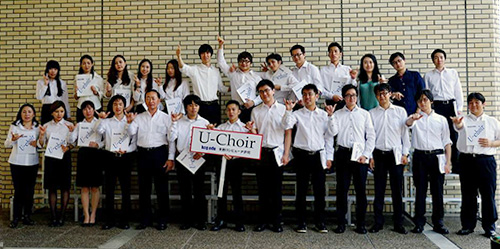 U-Choir performs "Origami Crane" at Kyoto Chorus Festival
Chorus Group U-Choir, composed of students, faculty, and parents of The Kyoto College of Graduate Studies for Informatics and Kyoto Computer Gakuin, participated in the 51st Kyoto Choral Festival held on May 31 at the Hachiman City Cultural Center in Kyoto Prefecture. Did.
They sang "Niji" and "Origami Crane.Many Chinese students participate in U-Choir.The song "Orizuru" has been sung by students on school excursions to Hiroshima and Nagasaki, and this time, with the permission of Shuhei Umehara, who wrote the lyrics and composed the song, the international students created a Chinese translation and practiced the lyrics for the song.The song was performed for the first time at the Kyoto Chorus Festival with the hope that the prayer for peace contained in the song would be delivered to China as well.The audience gave a warm round of applause.
I hope to continue to spread this song to Japan, China, and the world by having Japanese and Chinese sing it together.