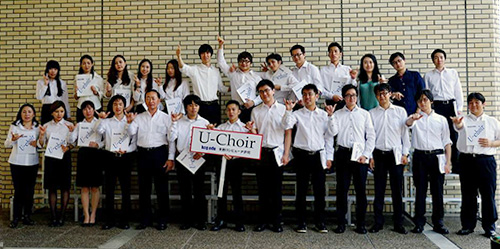 U-Choir who performed "folding crane" at Kyoto Choral Festival
Chorus Group U-Choir, composed of students, faculty, and parents of Kyoto Information Graduate University and Kyoto Computer Gakuin, participated in the 51st Kyoto Choral Festival held on May 31 at the Hachiman City Cultural Center in Kyoto Prefecture. Did.
I sang "rainbow" and "paper crane".Many Chinese students participate in U-Choir."Folding crane" is sung by students from school excursions to Hiroshima and Nagasaki, but this time, with the permission of Dr. Shihei Umehara, who wrote and composed, international students made Chinese translations and repeated their practice. I came.With the desire to deliver the peace prayer included in this song to China, we performed for the first time at the Kyoto Choral Festival.We received warm applause from everyone at the venue.
From now on, I hope that Japanese and Chinese will sing together to spread this song to Japan, China, and the world.