The 33rd convention of the All Nippon Information Industry Association (ANIA, Chairman: Masaki Nakamura) and the 10th anniversary celebration of the establishment of the Kyoto Information Industry Association were held on November 10 at the Hotel Granvia Kyoto in Kyoto City, with KCG serving as host.Many participants from 47 prefectures in Japan and China gathered to study and interact with each other, and pledged to transmit information from Kyoto to the world and into the future while contributing to the economic development of Japan through the ICT (Information and Communication Technology) industry.
The theme is "The present exists because of the relationship from ancient times.And the relationships of today will create tomorrow.Toward a Bright and Vibrant Japan of Tomorrow".
At the beginning of the conference, Mr. Hasegawa, President of the Kyoto International Association (Vice President of ANIA), addressed the participants, "I hope that this conference and ceremony will help us to think together about how Japan and Kyoto should think and live amidst the chaos of the Great East Japan Earthquake, political upheaval in the world, and riots in Japan.Following the opening address by ANIA President Nakamura, congratulatory speeches were given by the guests of honor: Mr. Nobuhiko Kobayashi, Director, Regional Informatization Human Resource Development Office, Ministry of Economy, Trade and Industry; Mr. Akio Nishizumi, Director, Regional Informatization Promotion Office, Ministry of Internal Affairs and Communications; Mr. Keiji Yamada, Governor, Kyoto Prefecture (Mr. Noboru Ota, Deputy Governor, Kyoto Prefecture); and Mr. Daisaku Kadokawa, Mayor, Kyoto City (Mr. Yoshiro Hosomi, Deputy Mayor, Kyoto City).Awards for distinguished service to ANIA and the Kyoto International Association were also presented.
This was followed by a keynote speech by journalist Soichiro Tahara on "Reading the Times," and a lecture by Bill Totten, President of Assist Inc. who is active on TV and other media, on "This is the Path Japan Must Take.Both expressed their thoughts on Japan's participation in the Trans-Pacific Partnership Agreement (TPP), an option that the country now faces.Mr. Tahara, who is in favor of the project, and Mr. Totten, who says that the project should not be joined, each developed his own theory and raised the issue.In a panel discussion featuring Mr. Totten and Ms. Mineko Tanaka, President of Tomitaya and Director of the Kyoto Chamber of Commerce and Industry Women's Association, the panelists exchanged opinions on a wide range of topics including lifestyle, education, and economy under the theme of "Hints from Kyoto Lifestyle.After the meeting, a reception was held to deepen the friendship among the participants.KCG and other participating corporations set up booths at the venue to disseminate information.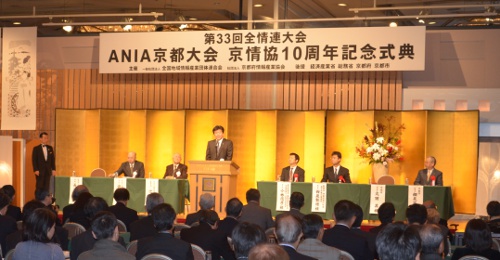 The 33rd All-Japan Information Industry Association Convention and the 10th anniversary of the establishment of Kyoto Information Association held at Hotel Granvia Kyoto in Kyoto City, Japan.