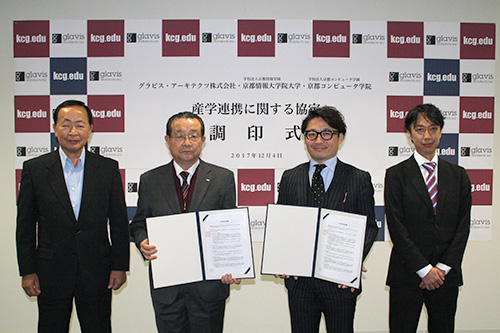 KCGI Professor Harufumi Ueda, KCGI Vice President Yoichi Terashita, KCGI Representative Director Akari Furumi, and KCGI Director Hideki Kim with the agreement in hand (from left).
The Kyoto College of Graduate Studies for Informatics (KCGI) and Kyoto Computer Gakuin (KCG) have signed an agreement on IT-related consulting with Gravis Architects Co., Ltd. Signed on the 4th.This joint research is a joint effort to develop ERP-based packaged solutions, especially applications that adapt to rapidly evolving technologies such as AI and IoT, and applications with high business added value, by leveraging the academic accumulation of ERP (Enterprise Resources Planning, a planning method to increase management efficiency by appropriately allocating human, material and financial resources, the basic resource elements of corporate management) that have been taught and studied in the Business IT Course at KCGI and GA's practical know-how with extensive experience in IT consulting services to public institutions, including central government agencies.KCGI and KCG students also actively participate in this joint research, aiming to develop practical IT human resources with advanced skills.
The signing ceremony, held at the KCGI Kyoto Ekimae Satellite, was attended by KCGI Vice President Yoichi Terashita and Professor Harufumi Ueda, who is in charge of ERP education and research, as well as Representative Director Akisato Furumi and Director Hideki Kim from GA Inc.At the signing ceremony, Professor Ueda said, "We have been training ERP (SAP-certified) consultants for the past 10 years, and I hope that through this joint research, KCGI will have the technology to develop the applications that the IoT society really needs.I hope that the participating students will also acquire basic skills that will lead to advanced development," he said, explaining the significance of the project.Next, Mr. Furumi, Representative Director of the company, stated, "The need for ERP consultants is extremely high worldwide, and there is a shortage of human resources.He concluded by expressing his hope that this project will be a success and that the relationship with KCGI will continue to grow.
Vice President Terashita and Representative Director Furumi then signed the agreement, officially launching the joint research.The joint research is off to a good start, with environmental surveys for research and development and lectures on basic development by GA personnel to project member students already underway.We plan to start with the development of general-purpose tools and gradually upgrade to the development of high-value-added applications. We will begin software verification by companies in 2018, and in 2019, we plan to present the results of our joint research at the Design and Manufacturing Solutions Expo, the largest exhibition of IT solutions for the manufacturing industry in Japan.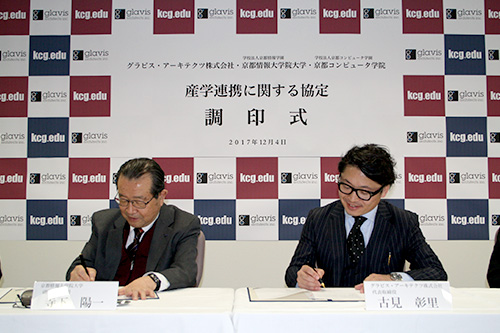 KCGI Vice President Terashita and GA Furumi signing the agreement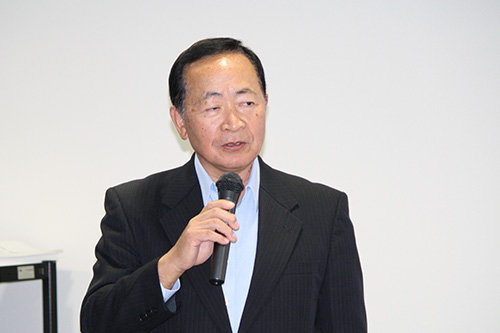 Professor Ueda speaking about the significance of the project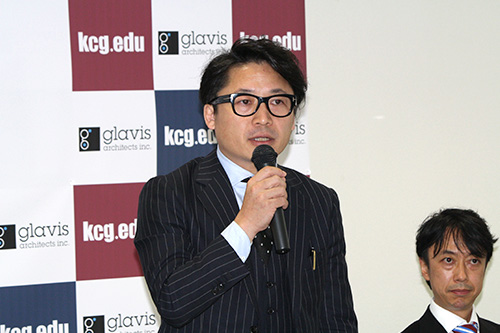 President of Furumi GA, Inc. speaks enthusiastically about expectations for joint research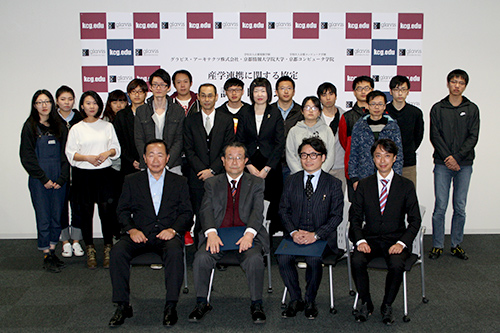 Commemorative photo with KCGI and KCG students participating in joint research