The Kyoto Informatization Seminar (co-sponsored by Kyoto Prefectural Small and Medium Enterprise Technology Center, supported by Kyoto Sangyo 21, Kyoto Institute of Advanced Technology, Kyoto Chamber of Commerce and Industry and IT Consortium Kyoto), sponsored by the Kyoto Association of Information Industry (Chairman: Wataru Hasegawa, President of KCGI/KCG), whose secretariat is located in KCG, was held on October 17 at the Kyoto Station Satellite Hall of The Kyoto College of Graduate Studies for Informatics and Technology.Members of the association, KCGI and KCG students, and the general public attended.
He has been wearing an eyeglass-shaped HMD (Head Mounted Display) on his head for the past 12 years for his research on wearable (small computers that can be worn) and ubiquitous computing.He is also the president of the NPO Wearable Computer Research and Development Organization (Team Tsukamoto), which has participated in various events such as the Suzuka 8-Hours Race, where it was worn by the general public and was well received.
HMDs, which have been used only by the U.S. military, are expected to be used by a large number of people in the near future, as the range of applications expands to include civilian use.Many domestic and foreign manufacturers are still developing and selling HMDs, he said. "The breakout of HMDs is imminent, as wearable game consoles are likely to penetrate various generations.Competition for market share from Google, Apple, and others will become more and more intense," he explained.He added, "Business opportunities related to wearables are unlimited, including entertainment, health, and eco-friendly fields.I encourage everyone to take up the challenge.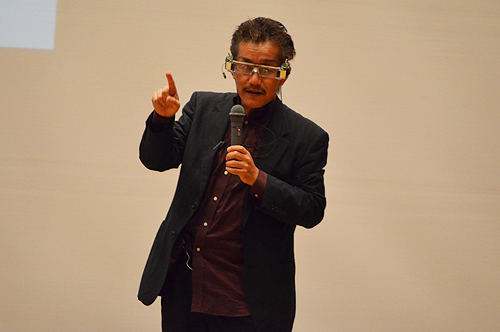 Wearing an HMD, Prof. Tsukamoto talks about the future of wearable and ubiquitous computing.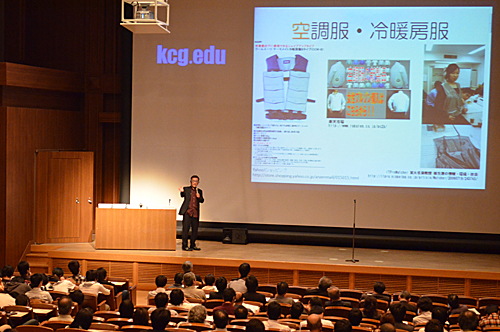 In his speech, he said that business opportunities related to wearables are endless, and he challenged the audience to take up the challenge.