Kyoto Information Industry Association (Chairman: Wataru Hasegawa, KCGI / KCG General Manager), Information Society Monthly Sponsor / Kyoto Information Technology Seminar (Co-sponsored by Kyoto Prefectural Small and Medium Enterprise Technology Center, Kyoto Sangyo) 21 (Kyoto Advanced Technology Research Institute, Kyoto Chamber of Commerce and Industry, IT Consortium Kyoto sponsorship) was held on October 17 at the Kyoto University of Information Sciences, Kyoto Station Satellite Hall, Department of Electrical and Electronic Engineering, Graduate School of Engineering, Kobe University Prof. Masahiko Tsukamoto (Doctor of Engineering) from the Engineering Laboratory talked about the latest trends in wearable and ubiquitous computing.Members of the association, KCGI, KCG students, and ordinary people attended.
Professor Tsukamoto, who has been wearing eyeglass-type information terminals and HMDs (Head Mounted Display) on his head for 12 years to study wearables (small computers that can be worn) and ubiquitous computing, , At the time of wearing, it was taken up by many newspapers and magazines and showed that it was expressed as "HMD evangelist".He was also active as the chairman of the NPO Wearable Computer Research and Development Organization (Team Tsukamoto), and participated in various events such as the Suzuka 8 Hours, and was introduced to the popular popularity.
The HMD, which has been used only for military purposes in the US Army, is expected to expand in the near future and be used by many people in the near future.Many manufacturers in Japan and overseas are still developing and selling HMDs. "HMD breaks are imminent, such as the possibility of wearable game machines penetrating various generations."The competition over Google, Apple and other market shares will become even more intense in the future."On top of that, "the business opportunities related to wearables are not limited to the fields of entertainment, health and ecology.Everyone, please challenge. "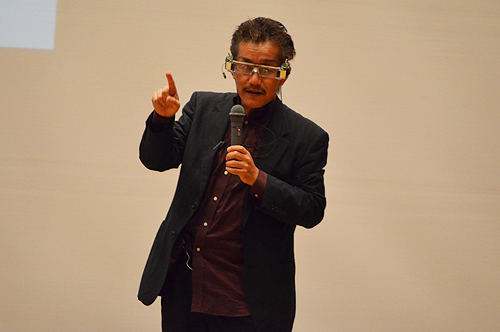 Prof. Tsukamoto wearing HMD and talking about the future of wearable and ubiquitous computing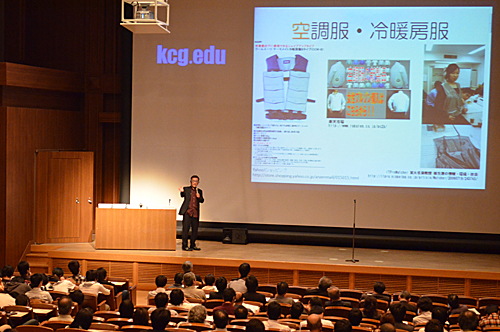 In the lecture, business opportunities related to wearables are expanding, and the audience was challenged.