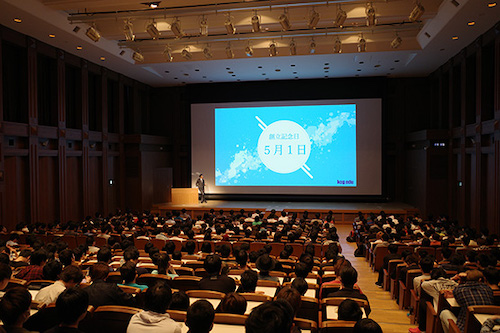 May 1, 2019 was the 56th anniversary of the founding of the KCG Group at Kyoto University of Information Graduate Studies (KCGI), Kyoto Computer Gakuin (KCG), and Kyoto Automobile College (KCGM).In response, a commemorative ceremony was held on the 6th floor of the KCGI Kyoto Station Satellite / KCG Kyoto Station School on the 17th.All students and faculty members celebrated their achievements in education and research, confirmed the mission of an information society that will continue to evolve, and pledged a further leap forward.
At the commemorative ceremony, we first confirmed the pioneer spirit, the spirit of architecture, and the educational philosophy of KCG.Next, Prof. Kazuki Maeno, the head of KCG Computer Science, gave a lecture entitled "Significance of Learning with KCG".
Professor Maeda graduated from Ryukoku University and entered KCG to learn IT.In the lecture, Professor Maeda introduced the history of KCG's advanced efforts, overlapping with the times when he was born and grew up.After graduating from university, I suddenly noticed the power of computers suddenly during my work, and when I was told by my boss whether I could get an IT department, I immediately quit the company and decided to enter KCG. An episode was also shown.In KCG, I learned in my student life that I can understand something if I try it, and the bonds I get through the challenge are very strong. He seems to have wanted to be a teacher."Because KCG is" Opening the wilderness without roads and opening the way for others ", I continue to learn and serve as the food for everyone who will be responsible for the next generation." It was.Lastly, "KCG 56 years so far is the history of seniors.I think that it will be a history of building with you."Let's entertain the world," he called to the venue and concluded his lecture.
The KCG Group is based on the "FORTRAN Study Group" established on May 1, 1963 by a group from the Graduate School of Astrophysics in Kyoto University (Astrophysics Department).The study group was intended to use IBM 7090 for academic researchers at universities.The founder, Shigeo Hasegawa, the first director of the school, and Atsuko Hasegawa The current director of the school founded the potential of computers and created the pioneering spirit with the belief and passion for nurturing information processing engineers. It was a computer educational institution.
In 1969, the first full-time school "Kyoto Computer Gakuin" was born in Japan to train computer engineers.Since then, it has continued to develop, and more than 40,000 graduates have established the school.In 2004, Kyoto Information Graduate University, Japan's first and only IT graduate school, was established and joined the group school. Graduates and graduates contribute to the driving and development of the IT industry in Japan and the world.In 2013, Kyoto Automobile College, the oldest automobile mechanic training school in Kyoto, joined the group.