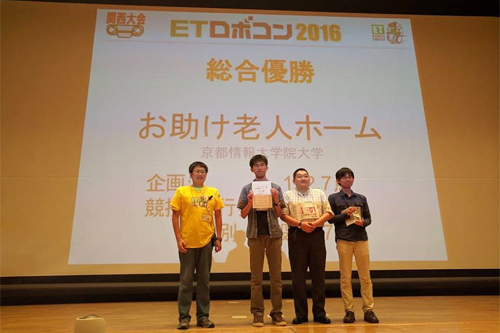 KCGI team that won the Kansai region tournament "Help nursing home"
The 2016 ET Robocon Kansai area conference was held at Kyoto Computer Gakuin (KCG) on September 19th, and Mr. Yuki Ohashi (leader), Shu Numata and Kanda students who completed KCGI studied at Kyoto University of Information Studies (KCGI) A team led by Mr. Shoichi won the "Innovator" category.I was also blessed with the honor of receiving the Kinki Bureau of Economy, Trade and Industry Director's Award at the same time.The KCGI team will participate in the championship competition held in Yokohama on November 16th.
The KCGI team that participated under the team name "Help nursing home" planned and developed the robot "Eagle 113" that patrols the nursing home at night."Eagle 113" is a robot that informs staff smartphones when it finds a fallen resident by visiting the corridor along a designated route during nighttime when there is not enough manpower to go around.Even if troubles such as damage to the residents occur for about 7 hours on a single charge, the idea and design were highly appreciated, with the advantage of being easy to repair.The "Innovator Division" sets its own issues and competes for innovators to plan and develop products and services that solve them.
ET Robocon has been held every year since 2002 with the aim of providing opportunities for young and intermediate engineers to challenge modeling and product / service planning and development with the aim of developing world-leading engineers. This is a nationwide robot contest.