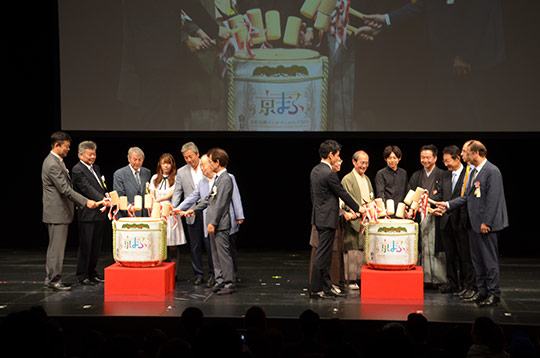 Executive committee members and guests who celebrate the opening of Kyomafu 2018 with a mirror opening.The second from the left is Hiroshi Hasegawa, President of KCG Group (September 15)
"Kyoto International Manga and Anime Fair (Kyo Mafu) 2018" (Kyoto International Academy / Kyoto Institute of Computer Science, Kyoto University of Information Sciences, Kyoto Automobile College) City sponsorship) was held on September 15th (Sat) and 16th (Sunday), centering on the Kyoto City Kogyokan (Miyako Messe).Many people came to the KCG Group booth for a fun event.In addition, the announcement of the final and examination results of "Voice Actor Soul in Kyo Mafu 2018 -Voice Actor Kinki Tournament-" (cooperation with KCG group) was also invited.
At the opening ceremony on the 15th at the ROHM Theater Kyoto, the organizer, Mr. Wataru Hasegawa, President of the KCG Group, was on the stage with Daisaku Kadokawa, Mayor of Kyoto, Takayuki Matsutani Executive Committee President (Tezuka Productions Co., Ltd.) and others We split and celebrated the opening.
At the KCG booth set up at the venue, a "Liquid Tab Experience Workshop" was created to create an original fan by coloring the KCG mascot character "Kyokotan" using a liquid crystal pen tablet. It was.It was also featured in a unique event and NHK news.The clear file of "Kyokotan" presented to those registered with KCG's LINE @ was also well received.
"Voice actor soul in Kyo-mafu 2018 -Voice actor soul Kinki tournament-" aims to participate in a voice festival / international voice actor contest for junior and senior high school students who want to be a voice actor.Previously, those who passed the second screening conducted at the Kyoto University of Information Graduate University Kyoto Main Campus, the Million Universe Campus, challenged.Mr. Kenta Miyake, a voice actor, was invited as a guest judge, Hideo Momota, Director of the International Voice Actor Development Association, Akiyoshi Watanabe, Professor of Kyoto University of Information Studies, and the 7th International Voice Actor Contest held in Tokyo on November 18 "Soul" has selected the highest award to participate in the final competition.After that, there was a talk event by Mr. Miyake and it was exciting.Kyoto Computer Gakuin IT Voice Actor Course of Information Processing Department played an active role as a moderator.Please see the "Voice Actors" page for results and details.
Voice actor soul
https://seidama.jp/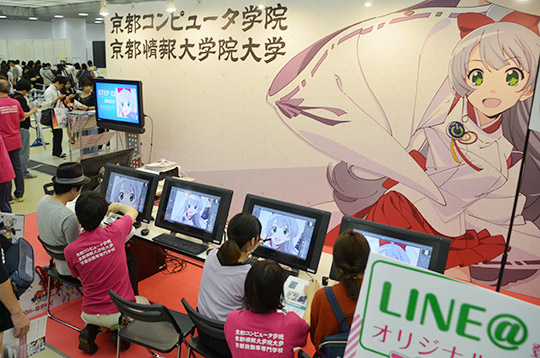 A KCG booth at Kyomafu, which was visited by many people.The "Liquid Tab Experience Workshop" was well received (September 15-16)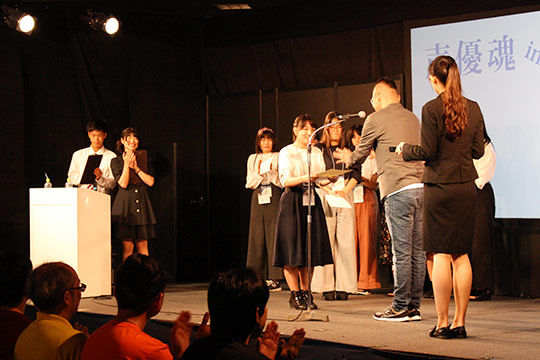 In "Voice Actor Soul in Kyo-mafu", the people who passed the second screening aimed to participate in the final competition.Student of KCG Information Processing IT Voice Actor Course was active as moderator (September 16)