U-Choir, a choral circle made up of KCGI and KCG students and faculty members, participated in the 49th Kyoto Chorus Festival organized by the Kyoto Chorus Federation on Saturday, June 2.
This will be the second time for U-Choir to participate in this choral festival.The Kyoto Chorus Festival is sponsored by the Kyoto Chorus Federation and is the largest chorus festival in Kyoto Prefecture, lasting three days.About 120 organizations in the prefecture are participating in this project.This time it was held at Yawata City Cultural Center.
The first two songs were "Sekai ni Hitotsu dake no Hana" and "Believe".Utilizing the results of daily practice at The Kyoto College of Graduate Studies for Informatics Kyoto Ekimae Satellite Large Hall, he performed a singing voice that would not be defeated by a large hall.They also performed children's songs in a joint performance with three other choirs.Singing on the same stage with a traditional choir was a stimulating experience for the students.
Many of the students had joined the club in the past year, and for some it was their first time to perform on a big stage.Many international students also participated in the event, and it seemed to be one of the best memories of their study abroad experience.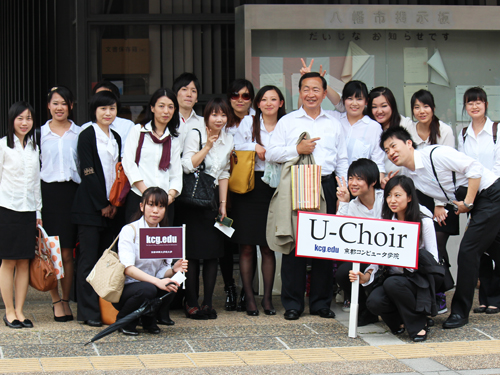 U-Choir members who participated in the Kyoto Chorus Festival