The choir circle U-Choir, made up of KCGI and KCG students and faculty members, participated in the 49th Kyoto Choral Festival hosted by the Kyoto Prefectural Choral Federation on Saturday, June 2nd.
This is the second time U-Choir has participated in the choral festival.The Kyoto Choral Festival is the largest choral festival in Kyoto, organized by the Kyoto Prefectural Choral Federation and held for three days.About 120 organizations from the prefecture participate.This time it was held at Yawata City Cultural Center.
The two tracks are "One Flower in the World" and "Believe".Utilizing the results of daily practice at Kyoto Information Graduate University Kyoto Ekimae Satellite Large Hall, he performed a singing voice that would not be defeated by a large hall.In addition, we performed a nursery rhyme together with the other three choirs.Singing on the same stage as a traditional choir seems to have stimulated the students.
There are many students who joined the club in the past year, and some members are new to the big stage.In addition, many international students participated, and it seems that it became one of the good memories of studying abroad.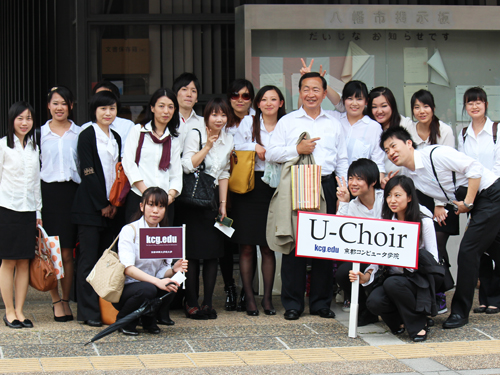 U-Choir members who participated in the Kyoto Choral Festival