A two-wheeled robot blasted through a circuit at the ET Robocon 2011 Kansai Regional Conference (sponsored by the Embedded Systems Technology Association of Japan) held on September 18 at the Kyoto Station Satellite Hall of Kyoto Institute of Information Science.The highlight of the event was a competition in which autonomous two-wheeled robots ran on a predetermined course and competed for time and obstacle clearance.The hardware of the robot was the same according to the regulations (an inverted pendulum using LEGO MINDSTORMS NXT), and the level of the software to be incorporated was competed.KCGI and KCG supported the Kansai Regional Conference in the form of "special cooperation and hosting cooperation".
Twenty-four teams from all over the Kansai region participated in the competition.The "Kyoto Curry Gourmet.edu" team from our university participated in the competition.Although they did not qualify, they received warm applause for their good performance.The team consists of Shigeto Okuda, a first-year KCGI student, Yusuke Kawachi, a graduate of KCGI, Muneki Uragami, a fourth-year student in the Computer Amusement Course (currently the Department of Game Studies) in the KCG Department of Information Science, and Ouyang, a first-year KCGI student.He had been preparing for it in between his busy studies, but he was disappointed, saying, "I didn't make enough adjustments due to the lack of tests.
After the competition, a model workshop was held to judge the quality of the models of software design, and the committee members including Associate Professor Keiji Emi of KCGI, who is the chairman of the committee, critiqued the models.Based on the results of the competition and the evaluation of the models, four teams were selected to participate in the championship competition (national competition) to be held in Yokohama City in November.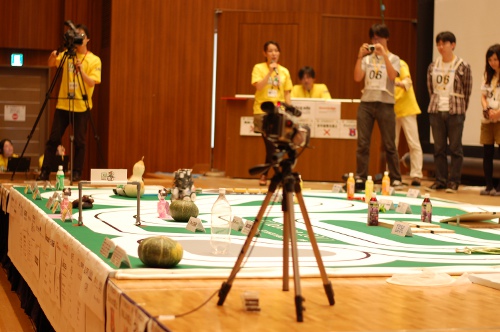 A competition course with various obstacles.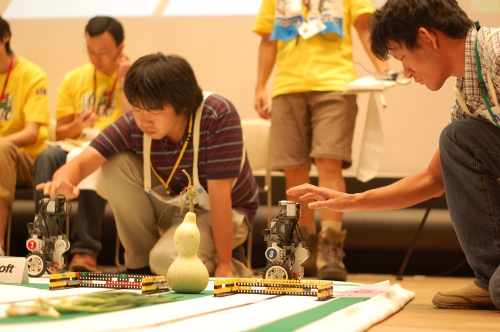 The moment of departure.The robot of "Kyoto-Curry-Gourmet.edu" is number 8.Mr. Muneki Uragami is the one who is pressing the switch to start the race.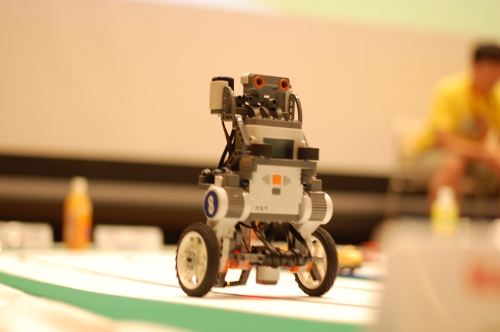 A bombastic robot.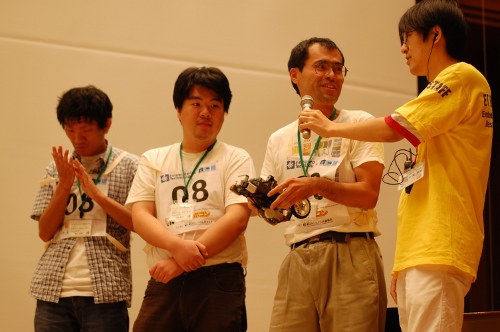 Team members being interviewed after the race.From right to left: Shigeto Okuda, Yusuke Kawachi, and Muneki Urakami.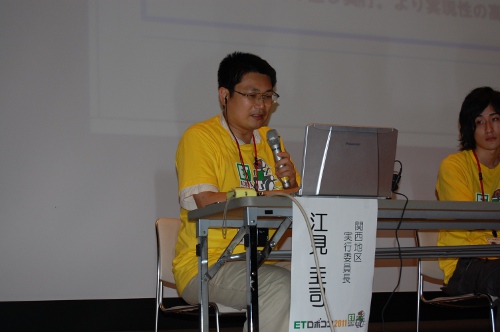 KCGI Associate Professor Keiji Emi, Kansai Region Executive Committee Chairman, critiques the models of each team.