Kyoto Information Graduate University, The Kyoto College of Graduate Studies for Informatics KCG Group ) Kyoto International Manga and Anime Fair (Kyo Mafu) 2013 "(Sponsored by the same executive committee / Kyoto City) was held on September 7th (Saturday) and 8th (Sunday) at the Kyoto City Kogyokan (Miyako Messe).In addition to various events, an exhibition zone, character food zone, merchandise sales zone, business talk zone, etc. were established, and manga and anime fans from all over the country made a long line.The co-sponsored KCG group Kyoto Manga and Anime Society We held a variety of related events, such as the establishment ceremony of the event, and a commemorative forum (7th), and played a part in the excitement.
◇ First CLAMP original painting exhibition in Kyoto
○… " CLAMP Kyoto Original Painting Exhibition "(Sponsored by Ex Arts Japan Co., Ltd.) September 6-8, held at Kyoto Information University Kyoto Station Satellite.24 years since debut, popular cartoonist CLAMP who continues to demonstrate various talents such as "Magic Knight Rayearth" and "Card Captor Sakura", "Drag and Drop" Kadokawa Shoten / Young Ace) and "xxxHOLiC / Return " (Kodansha / Young Magazine) lined up many original drawings.CLAMP's original painting exhibition was also the first in Kyoto, and the venue was crowded with many fans during the period.
Social game "Card Captor Sakura-Sakura and Mysterious Card-" and Fuzuki Tsujimura's "Haken Anime!There were many illustrations such as illustrations that were unveiled for the first time in the original exhibition.There was also a sale of goods, and visitors visited as a dish of memories of seeing the original painting exhibition.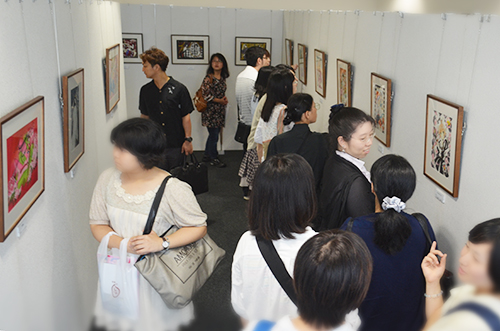 "CLAMP Kyoto original painting exhibition" packed by many fans = The Kyoto College of Graduate Studies for Informatics Kyoto Station Satellite
◇ Fans cheer for W screenings and voice actors!
○… W screening of popular anime "Magic Knight Rayearth" and "Card Captor Sakura" Was held on September 8th (ex-arts Japan Co., Ltd.) at the Kyoto University Graduate School of Kyoto Satellite Hall.The original authors are all CLAMP.It was a work that has been loved for almost 20 years, and a wide range of fans visited and filled the hall.There was also the appearance of a voice actor as a guest, and the venue was very exciting.
"Magic Knight Rayearth" was serialized in "Nakayoshi" in November 1993, and the TV animation began in the following year.On that day, 19 episodes and 48 episodes of TV and 1 episode of OVA (original video animation) were screened.On the way, Naomi Tamura who sings the theme song appeared as a special guest and performed live singing.Voice actors Shiaki Hekiru (played by Hikaru Tsujido), Emi Ogata (played by Emelord), and Jutaro Kosugi (played by Lantis) performed a mini-talk show based on the memories of the production and shooting. The fans who visited were excited.I was sending big applause.
"Card Captor Sakura" was serialized in "Nakayoshi" in June 1996, and started broadcasting TV animation in 1998."Theatrical version Cardcaptor Sakura" was screened on this day.After the screening, Sakura Tange (as Sakura Kinomoto), Junko Iwao (as Tomoyo Daidouji), and Motoko Kumai (as Lee Kowolf) appeared.I had flowers in my talk about my thoughts about Kyoto.
◇ Professional painting close at the KCG booth
○… KCG Group has a booth in the exhibition zone on the 3rd floor of the Miyako Messe venue in "Kyoto International Manga and Anime Fair 2013" (7th and 8th). Live painting "has been held.Under the theme of "Kyoto × IT × Manga Anime (Character)", illustrator Koji handwritten on the wall, while Fuji Choko draws on a personal computer with a pen tab.There was a big circle of people at the KCG booth as professional paintings were seen up close.
Two pictures completed by the fusion of digital and analog were combined at the end of the event.The completed illustrations will be used for scarves, Yatsuhashi, cookie packaging designs, etc.
In addition to the performance, the original character "Kyokotan" was displayed at the KCG booth, and staff members wearing costumes appeared to stop the visitors.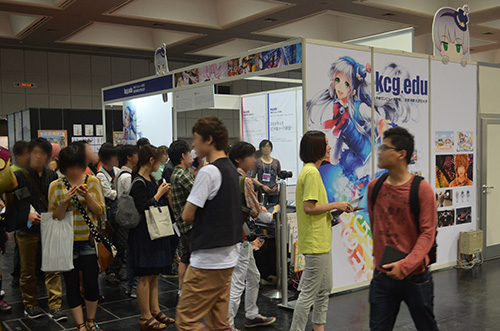 KCG booth visited by many people (Miyako Messe's Kyo Mafu venue)
Enthusiastic to Anison! Karaoke tournament organized by students
○… Anison karaoke tournament for events related to Kyo Mafu, organized by students of the Kyoto Computer Gakuin November Festival Executive Committee ~ You sing, we are crazy ~ supported by LIVE DAM "(Planning cooperation: X Arts Japan Co., Ltd. / Yoshimoto Creative Agency Co., Ltd .: Cooperation: Kyoto International Manga Anime Fair Executive Committee, Sponsor: LIVEDAM) held at Shidax, Kawaramachi Sanjo Club, Kyoto, Nakagyo-ku, Kyoto on the 7th night .Along with enjoying anime songs, it was exciting with talks and songs by gorgeous guests. Mr. Seiji Mizushima (one of Japan's leading anime directors) sings an anime song that visitors can be proud of."Mobile Suit Gundam 00", "Fullmetal Alchemist", etc., Hirotaka Yoshida (Akiba Culture Leading Company, President of Toranoana Co., Ltd.), Ikugo Shibusawa (NC2Lab LLC. Director, Otaku (Idol producer) is judged.Mr. Noboru Maeda, a talented host, served as a moderator and wrapped up the venue with a unique talk.
After the karaoke, guests LOLI.COM, Nayugoro and Jun ☆ Jun performed songs and the excitement reached its climax.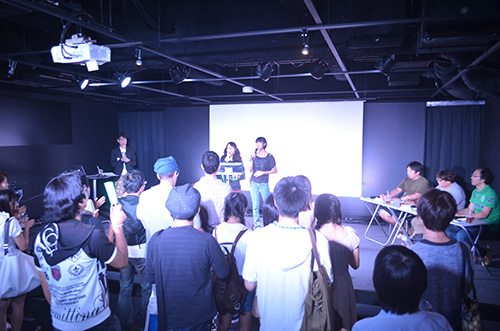 Participants of the karaoke tournament with anison = Karaoke box in Nakagyo-ku, Kyoto