Kyoto Information Graduate University, The Kyoto College of Graduate Studies for Informatics KCG Group ) Kyoto International Manga and Anime Fair (Kyo Mafu) 2013 "(Sponsored by the same executive committee / Kyoto City) was held on September 7th (Saturday) and 8th (Sunday) at the Kyoto City Kogyokan (Miyako Messe).Various events were held, and long lines of manga and anime fans from all over the country lined up to visit the exhibition zone, character food zone, product sales zone, business meeting zone, and more.The KCG Group, a co-sponsor of the event, played a role in the event by organizing various related events such as the establishment ceremony of the " Kyoto Manga/Anime Society" and a commemorative forum (on the 7th).
First CLAMP original picture exhibition in Kyoto
X-arts Japan Inc. held the " CLAMP Kyoto Original Art Exhibition " at Kyoto Ekimae Satellite, Kyoto Institute of Information Science, from September 6 to 8.The popular manga artist CLAMP, who has continued to demonstrate his diverse talents 24 years since his debut, presented a large number of original drawings, including "Magic Knight Rayearth" and "Card Captor Sakura," nostalgic works that everyone was crazy about, "Drag & Drop" (Kadokawa Shoten, Young Ace) and "xxxHOLiC Rei" (Kodansha, Young Magazine), which is currently being serialized.This was the first exhibition of CLAMP's original artwork in Kyoto, and the venue was crowded with many fans during the exhibition period.
Social game "Card Captor Sakura: Sakura and the Mysterious Card" and "Haken Anime!" by Fukazuki Tsujimura, serialized in Magazine House's "an-an".Many of the illustrations, such as illustrations, were exhibited for the first time, making the exhibition a great hit with fans.Goods were also on sale, and visitors bought them as a memento of their visit to the exhibition.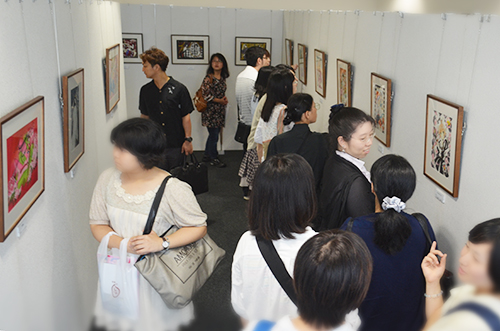 "CLAMP Kyoto original painting exhibition" packed by many fans = The Kyoto College of Graduate Studies for Informatics Kyoto Station Satellite
Fans cheered the appearance of the voice actors!
On September 8, a screening of the popular anime "Magic Knight Rayearth" and "Card Captor Sakura" was held at the Kyoto Ekimae Satellite Hall of the Kyoto Institute of Information Science and Technology.The original authors are all CLAMP.The hall was filled with fans of all ages who came to see this work that has been loved for nearly 20 years.Guests included voice actors, and the venue was filled with excitement.
Magical Knight Rayearth" was serialized in "Nakayoshi" magazine in November 1993, and a TV animation began the following year.On this day, episodes 19 and 48 of the TV series and one episode of the original video animation (OVA) were shown.Naomi Tamura, who sings the theme song, appeared as a special guest and sang the song live.Voice actors Hekiru Shiina (Hikaru Shido), Emi Ogata (Emelode), and Jurota Kosugi (Lantis), who appear in the film, gave a mini talk show on their memories of the production and filming, which excited the fans.They applauded loudly.
Card Captor Sakura" was first serialized in "Nakayoshi" magazine in June 1996, and its TV animation began airing in 1998.On this day, "Card Captor Sakura the Movie" was screened.After the screening, Sakura Tange (playing Sakura Kinomoto), Junko Iwao (playing Tomoyo Daidoji) and Imotoko Kumamoto (playing Syaoran Li) appeared.We had a lively talk about our thoughts on Kyoto and other topics.
◇Professional paintings up close at the KCG booth
KCG Group set up a booth in the exhibition zone on the third floor of the Miyako Messe venue at the Kyoto International Manga and Anime Fair 2013 (July 7 and 8) and held a collaborative performance " Live Painting " by illustrators.Under the theme of "Kyoto x IT x Manga/Animation (characters)," illustrator Koji drew pictures on the wall by hand, while Choko Fuji drew pictures on a PC with a pen tab.A large circle of people gathered at the KCG booth to see professional paintings up close.
The two paintings, completed through a fusion of digital and analog, were combined at the end of the event.The completed illustrations will be used in the package design of scarves, yatsuhashi bridges, cookies, and other products.
In addition to the performances, the KCG booth was decorated with the original character "Kyokotan," and staff members appeared in cosplay, creating a gorgeous atmosphere that stopped visitors in their tracks.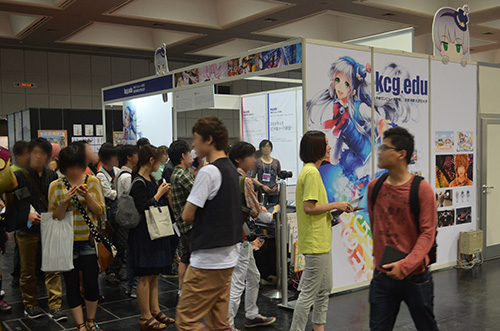 KCG booth (at Miyakomesse, KYOMAFU venue), which attracted a large number of visitors.
Crazy about ani-song! Karaoke contest organized by students
The students of the Kyoto Computer Gakuin November Festival Executive Committee organized an anime song karaoke contest " ~君が歌い、僕らは熱狂する~ supported by LIVE DAM" (planned by X Arts Japan Inc. and Yoshimoto Creative Agency Inc. in cooperation with the Kyoto International Manga and Anime Fair Executive Committee and sponsored by LIVEDAM) at Shidax Kyoto Kawaramachi Sanjo Club in Nakagyo-ku, Kyoto City on the evening of November 7.In addition to enjoying animation songs, the guests were entertained with talks and songs by gorgeous guests. The visitors sang their favorite anime songs and Mr. Seiji Mizushima (one of Japan's most famous anime directors, "MIZUSHIMA Seiji") sang his own karaoke songs.Mobile Suit Gundam 00", "Fullmetal Alchemist", etc.), Hirotaka Yoshida (President of Akiba Culture Leading Company, Tora no Ana Co.(Director, Otaku Idol Producer) judges the contest.Noboru Maeda of the TV personality "Hariken~nzu" served as the moderator, and his unique talk brought laughter to the audience.
After karaoke, guests LOLI.COM, Nayugoro, and Jun☆Jun performed songs, and the excitement reached its climax.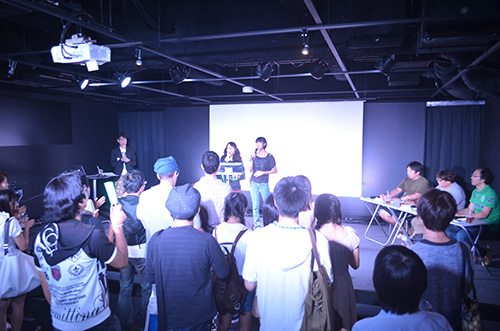 Participants in a karaoke contest get excited with anime songs at a karaoke box in Nakagyo-ku, Kyoto City.