Held 2011 degree awarding ceremony and graduation ceremony
The 2011 KCGI Degree Ceremony and the KCG Graduation Ceremony were held on March 17 at the Kyoto Information Graduate University Kyoto Station Satellite Hall.There is also an oath from a representative of graduates and graduates, "While the reconstruction of the Great East Japan Earthquake is urgent, we will make the best use of the knowledge and technology we have cultivated so far and continue to contribute to society." The friends who studied together in the kcg.edu group stood powerfully from the school to the rough seas of society.
First, Toshihide Ibaraki, President of KCGI, gave a degree record of "Master of Information Technology (Professional)" to graduates, and the principals of Shohoku, Kamogawa, and Kyoto Station Schools received graduation certificates for KCG graduates.After this, awards and memorabilia were awarded to graduates and graduates who were selected for the KCGI / KCG Grand Prize.
In the ceremony, KCGI / KCG President Hiroshi Hasegawa emphasized the importance of having a dream to graduates and graduates."Our computer / IT education is about creating dreams.Some people say that Japan is stuck, but now is the best time to dream.I'm looking forward to seeing it swell and blossom, "he said.He also mentioned that the kcg.edu group will be celebrating its 50th anniversary in 2013. "We are starting a new attempt, such as the opening of KCGI's Sapporo Satellite and the development of the.I believe that as your mother 's school, you will always be a proud school. "
As an example of ICT (information and communication technology) progress, President Ibaraki cited "Competing humans and computers in chess, shogi, and go".In January 2012, Shogi defeated a former celebrity with a computer."Go needs to be judged globally, and the computer continues to struggle, but in the near future it may be able to compete with the strongest professional players."In this way, with regard to the phenomenon where the intelligence of computers surpasses humans, "Each person is challenging the infinite possibilities based on the optimistic idea that new possibilities spread rapidly and interesting research themes and businesses are born. I hope you want it. "
Next, on behalf of graduates and graduates, Mr. Tomito Nakagawa (KCG Information Science Graduate), Department of Web Business Technology, Graduate School of Applied Information Technology, KCGI, said, "I was able to live a meaningful student life in a traditional school. .I think that I acquired information processing technology and gained strength in society, as well as improved my comprehensive skills as a human being through general and cultural education.It is also a property that you can touch different cultures and make many friends by interacting with foreign students.The social contributions we can make are diverse.I want to work hard and do my best, "he said.Finally, all attendees sang "Firefly Light".
After the ceremony, the venue was moved to Kyoto Tokyu Hotel and a celebration was held.Graduates and graduates, together with faculty and staff who have shared joy and struggle, blossomed memories and vowed to make a leap forward.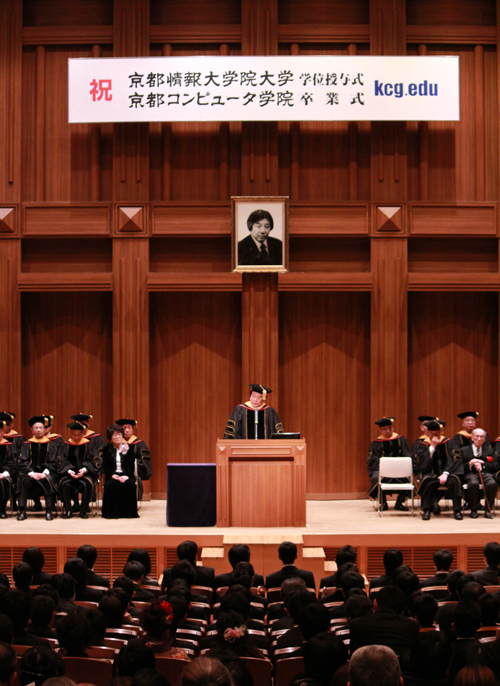 2011 KCGI degree award ceremony and KCG graduation ceremony.Many students who acquired knowledge and technology stood in the IT industry = The Kyoto College of Graduate Studies for Informatics Hall