2011 Degree Conferral and Graduation Ceremonies Held
The 2011 KCGI Degree Ceremony and the KCG Graduation Ceremony were held on March 17 at the The Kyoto College of Graduate Studies for Informatics Kyoto Station Satellite Hall.The representatives of graduates and alumni made a pledge to "contribute to society by making the most of the knowledge and skills they have cultivated so far in the midst of the urgent need for reconstruction following the Great East Japan Earthquake.
At the beginning of the ceremony, KCGI President Toshihide Ibaraki presented the diplomas of "Master of Information Technology (Professional)" to the graduates, and the principals of Rakuhoku, Kamogawa, and Kyoto Ekimae Schools presented the diplomas to the KCG graduates.Afterwards, the KCGI and KCG Grand Prize and Excellence Award winners were presented with certificates and commemorative gifts.
In his address, KCGI/KCG President Wataru Hasegawa stressed the importance of having a dream for graduates and alumni.Our computer and IT education is designed to create dreams.Some even say that "Japan is stuck," but now is the perfect time to dream.I look forward to waiting for it to expand and blossom," he said as a farewell gift.He also mentioned that the kcg.edu group will celebrate its 50th anniversary in 2013 and said, "We are embarking on new initiatives such as the opening of the Sapporo satellite of KCGI and the development of the .kyoto registry, which is about to undergo a major change in its appearance.I believe that we will always be a school that you can be proud of as your alma mater," he said.
President Ibaraki cited "human-computer competition in chess, shogi, and go" as an example of ICT (Information and Communication Technology) progress, saying, "In chess, a computer won against a world champion 15 years ago.In shogi, a computer defeated a former meijin in January 2012.He pointed out that "Go requires big-picture decisions, so the computer side is still struggling, but there is a possibility that in the near future it will be able to compete with the best professional Go players.He encouraged the participants to take on the challenge of unlimited possibilities based on the optimistic view that new possibilities will rapidly expand and interesting research themes and businesses will emerge.
Next, Mr. Tomohito Nakagawa, a graduate of KCGI's Graduate School of Applied Information Technology, majoring in Web Business Technology, on behalf of the graduates and alumni, said, "I was able to spend a meaningful student life at a school with a long tradition.I believe that I gained an advantage in society by mastering information processing technology, and I was also able to hone my comprehensive human skills through general and cultural education.It is also an asset that I was able to experience different cultures and make many friends through exchanges with international students.The contributions we can make to society are many and varied.I will do my best with diligence," he said in his graduation address.At the end of the event, all attendees sang "Light of Fireflies" together.
After the ceremony, the celebration party was moved to Kyoto Tokyu Hotel.Graduates and alumni reminisced with faculty and staff with whom they had shared their joys and hardships, and pledged to make great strides in the future.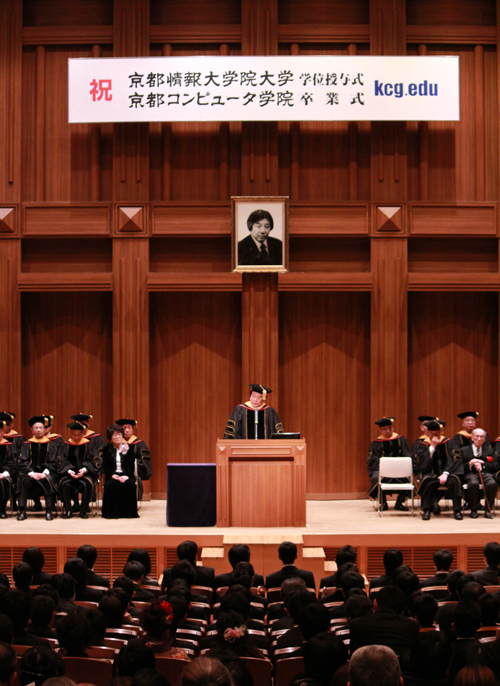 KCGI Degree Conferral Ceremony and KCG Graduation Ceremony 2011.Many students who acquired knowledge and technology stood in the IT industry = The Kyoto College of Graduate Studies for Informatics Hall