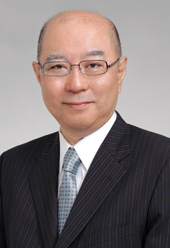 Professor Nakamura
NAKAMURA Masanori, Professor of Kyoto Information Graduate University (KCGI), Director of Sapporo Satellite (President of Digic Corporation, Hokkaido System Industry, Inc.) Association chairperson) won the Minister of Economy, Trade and Industry Award for Information Promotion Promotion Individuals 2014.On October 6th, the award will be given at the Marunouchi Building Hall in Chiyoda-ku, Tokyo.Congratulations, Professor Nakamura.It is also a great honor for the KCG group.
In addition to the Ministry of Economy, Trade and Industry, the Ministry of Internal Affairs and Communications, the Ministry of Education, Culture, Sports, Science and Technology, etc., each year, recognizes individuals and companies as events related to the Information Month (October) established by the country.
Prof. Nakamura participated in the establishment of the Hokkaido Software Association and the Hokkaido Software Business Co-operative to play a leading role in the development of the local information industry. Contributed to the establishment of a solid position in Sapporo as a cluster of information processing industries.In order to build a healthy and safe working environment for employees, the "Hokkaido Computer Related Industrial Health Insurance Association" was established and has served as the chairman to date.
In addition, he served as president of the National Association of Regional Information Industry Associations (ANIA) for seven years, leading the promotion of informatization in local and small and medium-sized sectors as the top of the prefectural information industry related organizations nationwide.He has served as a committee member of other ministries and external organizations, including the Ministry of Economy, Trade and Industry, and has worked hard to promote computerization not only in local and small / medium-sized countries but also in Japan.I am currently the president of the Hokkaido Information System Industries Association.
In April 2012, he established KCGI Sapporo Satellite as a professor / satellite director at the same time.Taking advantage of his many years of experience, he is in charge of lectures such as "IT company practical theory" on the theme of IT company management of local and small and medium-sized enterprises, and is focusing on the development of the next generation.KCG group students will have the opportunity to learn various things from Professor Nakamura in the future.
Ministry of Economy, Trade and Industry website
http://www.meti.go.jp/press/2014/09/20140926003/20140926003.html