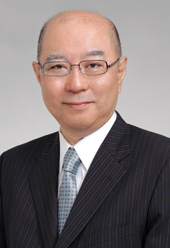 Professor Maki Nakamura
NAKAMURA Masanori, Professor of The Kyoto College of Graduate Studies for Informatics (KCGI), Director of Sapporo Satellite (President of Digic Corporation, Hokkaido System Industry, Inc.) Association chairperson) won the Minister of Economy, Trade and Industry Award for Information Promotion Promotion Individuals 2014.He will receive the award at an awards ceremony to be held at Marunouchi Building Hall in Chiyoda-ku, Tokyo on October 6.Congratulations, Professor Nakamura!It is a great honor for the KCG Group.
In addition to the Ministry of Economy, Trade and Industry (METI), the Ministry of Internal Affairs and Communications (MIC), the Ministry of Education, Culture, Sports, Science and Technology (MEXT), and other organizations present awards to individuals and companies every year as a related event of the National Informatization Month (October).
Professor Nakamura played a leading role in the development of the local information industry by participating in the establishment of the Hokkaido Software Association and the Hokkaido Software Business Cooperative Association, and was also involved in the creation of the Sapporo Techno Park, which became the foundation of Sapporo Valley, contributing to Sapporo's solid position as a center for the information processing industry.In order to create an environment where employees can work in good health and with peace of mind, I established the Hokkaido Computer Related Industry Health Insurance Association, and have served as its chairman to this day.
In addition, he served for seven years as the chairman of the National Association of Local Information Industry Associations (ANIA), and led the promotion of informatization in local areas and small and medium-sized enterprises as the head of prefectural information industry-related organizations nationwide.He has served on many committees of the Ministry of Economy, Trade and Industry (METI), other ministries, and external organizations, and has devoted himself to the promotion of informatization not only in local communities and small and medium-sized enterprises, but also in Japan.He is currently serving as chairman of the Hokkaido Information System Industry Association.
In April 2012, he was appointed as a professor and the head of the satellite at the same time as the opening of the KCGI Sapporo Satellite within DESIC.With his many years of experience, he teaches courses such as "Practical Theory of IT Companies," which focuses on IT company management in rural areas and small and medium-sized enterprises, and focuses on training future generations.The students of the KCG Group will have many opportunities to learn from Professor Nakamura in the future.
Ministry of Economy, Trade and Industry Web site
http://www.meti.go.jp/press/2014/09/20140926003/20140926003.html