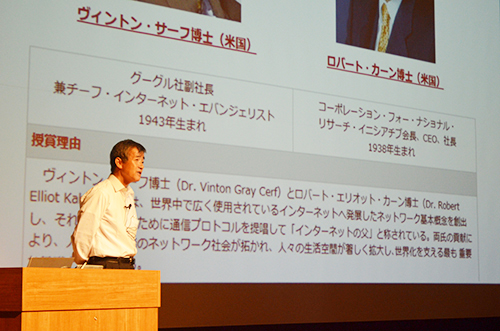 Prof. Shozo Naito discussing the great potential of ".kyoto" Professor KCGI
This year's resident seminar (Kyoto Prefectural SMEs) organized by the Kyoto Information Industry Association (abbreviation: Kyokyokyo, Chairman: Kyoto Computer Gakuin University, President of Kyoto Computer Gakuin, Secretariat: Kyoto Computer Gakuin in front of Kyoto Station) Co-sponsored by the Technology Center, Kyoto Sangyo 21, Kyoto Advanced Technology Research Institute, Kyoto Industrial Association, Kyoto Chamber of Commerce, and IT Consortium Kyoto sponsorship), Kyoto Information Graduate University on Thursday, June 27 It was held at the satellite hall in front of the Kyoto station, and there were many lectures including members of the Kyojo Association and the general public.
The lecture entitled "Top-level domain. Expectations for kyoto (dot Kyoto) and its utilization"-Creation of a clean domain by All Kyoto-KCGI became a management operator (registry) as early as 2014. We looked at the future of a new geographic top-level domain that will begin operation.
Lecturer is Prof. Shozo Naito (Former Senior Researcher, Information Sharing Platform Laboratories, Nippon Telegraph and Telephone Corporation) Head).
In his lecture, Prof. Naito explained the history of the Internet, the current state of domain management, etc., and then issued 1930 applications to ICANN in the United States that manages domain names worldwide, including Tokyo, Paris, Kyoto, etc. 66 Introducing that the case is the geographical name top-level domain."It is significant that among the applicants for the registry of top-level geographical names, the public interest corporation is KCGI alone and it is an educational institution.All others are private for-profit companies.KCGI will design the system in an all-Kyoto system of industry, government, and academia, and aim for a domain that maintains a high level of reliability with an emphasis on the public interest and publicity. "
"Physical (reality) Kyoto is widely recognized as one of the world's leading brands.From now on, it will be possible to transmit the charm of Kyoto more powerfully to the world by complementarily using ".kyoto" in the physical and cyber (Internet) space, contributing to the development of Kyoto's social economy and culture. I am expected to do that. "
Currently held for the purpose of deepening the understanding of the general public about the creation of new businesses using .kyoto and the potential for the development of Kyoto society. "Seminar for" .kyoto "users" Also called for participation.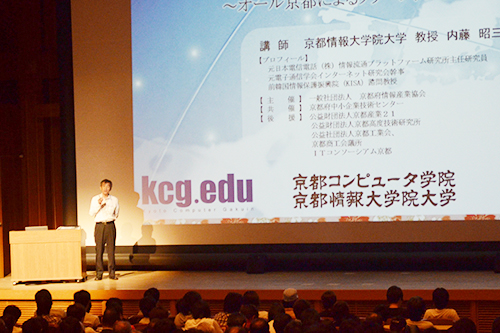 ".Kyoto" dot Kyoto domain
http://nic.kyoto/