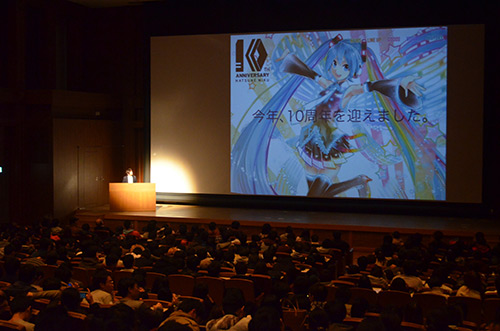 Prof. Hiroyuki Ito talks about his progress in a special lecture entitled "Why is Hatsune Miku supported in the world?" (December 8, 2017, Kyoto University of Information Sciences, Kyoto Ekimae Satellite Hall)
A special lecture by Prof. Hiroyuki Ito, President of Krypton Future Media Co., Ltd. (Head office: Sapporo City, founded: 1995) who gave birth to the vocaloid "Hatsune Miku" Was done "was held on December 8, 2017 at the satellite hall in front of KCGI Kyoto Station.It has been 10 years since Hatsune Miku was born.Prof. Ito looks back on the creation of "Hatsune Miku" by creators of various genres, and the "Magical Mirai" participatory event, looking back on the history of becoming a beloved person from all over the world. Introducing "MIKU EXPO" that has been held in cities around the world.Professor Ito said, "Miku is loved by many people all over the world.I will continue to maintain ease of use so that everyone can use it happily and meaningfully. "The lecture by Prof. Ito, who leads the world's content business, was very interesting for KCG and KCGI students.
Hatsune Miku, 158cm tall, 42kg in weight and 16 years old, was born on August 31, 2007.Over 100,000 songs, more than 2 million videos (You Tube), more than 2.5 million official Facebook users, and 3D concerts around the world attract many fans.
In the lecture, Prof. Ito first touched on the various businesses of Krypton Future Media Co., Ltd., and explained to students about making sounds and songs using software as an introduction to digital sound."Hearing is the first human sensory response.It is said that it is most likely to affect the human psychology. "Preliminary items required for DTM (Desk Top Music = computer-based music production) include equipment (audio, speakers, etc.), software (effectors, plug-ins, etc.) ), And a sound source (such as a virtual instrument).Of these, the virtual instruments go back to the 1960s "Mellotron", and the software sampler evolved gradually from the hardware sampler to the 2000s, creating software that creates drums, pianos, and wind instruments. And so on."That's why people could create singing voices with software, and Hatsune Miku was born.In addition to the singing synthesis technology, the fusion of characters would have made me feel like a vocaloid. "
In developing "Hatsune Miku", it is good to focus on how to release the rights (related to copyright). "Copyrights are created and published for copyright, and it is not possible to use Hatsune Miku freely. Clarified things.In addition, when a third party uses a secondary creation, it feels that it would be a heavy burden if we received permission from Krypton and the secondary creators, so we launched the content posting site "piapro" For non-commercial use only, if you thank the creator as a manner, you can use it freely."We worked to create a place where creators could actively create without shrinking."
Hatsune Miku takes steps from secondary creation to tertiary creation, expanding its expression to not only songs and voices, but also dance, video, cosplay, and figures.Commercialization continued and many collaborations such as fashion, opera, robots, racing teams, games, Japanese drums, and popular anime characters on TV were realized.This year, "Hatsune Miku" birthday was limited to August 31st, and was used for the city emblem of Chiba City.
Prof. Ito introduced that the first Shanghai concert was realized in September 2017 when the Chinese version of Hatsune Miku was born."Magical Mirai" in 2018 revealed that it will be held in Osaka in addition to the usual Makuhari Messe.After 10 years, Hatsune Miku will continue to be loved by many people around the world.
Mr. Ito became KCGI professor in April 2013.In recognition of international activities and technological innovations, in 2013, he received the award of indigo autumn.KCGI and KCG have mutual exchanges of classes, and there is a mechanism for listening to each other's classes.In addition to the content business course students at KCGI, students studying content-related topics such as the KCG art / design course, digital game course, computer science course information processing department IT voice actor course can learn from the efforts of Professor Ito. There will be many.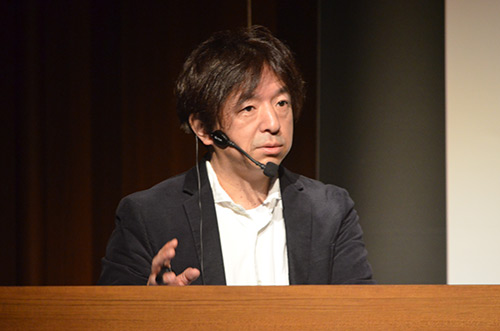 Prof. Hiroyuki Ito talks about his progress in a special lecture entitled "Why is Hatsune Miku supported in the world?" (December 8, 2017, Kyoto University of Information Sciences, Kyoto Ekimae Satellite Hall)