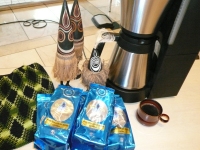 It's delicious and authentic."On Friday, October 9, students and faculty members at Kyoto Computer Gakuin Kyoto Ekimae Campus enjoyed coffee donated to KCG by the University of Goroka in Papua New Guinea and the Embassy of Papua New Guinea in Japan as a token of appreciation for the donation of computers through the Overseas Computer Education Support Activities (IDCE).On this autumn day, with occasional chilly winds blowing, the students were satisfied with a hot drink after class and were thinking of their new like-minded friends in Papua New Guinea, 4,600 kilometers away.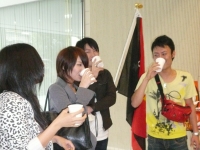 KCG donated 53 computers to the university.The coffee was received with a commemorative gift at a ceremony held at Goroka University on September 22 to receive the donated computers.The Blue Mountain coffee is a specialty of Goroka, and when combined with a separate gift from the Embassy of Goroka in Japan, the total amount of coffee is 3,000 grams, or about 300 cups. A long line of students formed in front of the "coffee counter" set up temporarily in front of the Kyoto Ekimae School, each adding their own milk and enjoying the authentic taste.
The donation of PCs to Goroka University was made possible when a KCG faculty member learned through a TV program that the university, where a Japanese staff member works, was lagging behind in the use of information technology.The university had only about 300 university-owned PCs for its approximately 1,900 students and about 100 PCs for students to use freely.The university is pleased with the donation and has agreed to name the new computer lab for graduate students "KCG Hasegawa Lab" after KCG and the last names of Yasuko Hasegawa, Dean of the university and founder of IDCE, and her eldest daughter, Yoshi Hasegawa, who is mainly involved in the activities of IDCE.This year marks the 20th anniversary of IDCE's activities, and the latest donation brings the number of countries covered by IDCE to 22.

Independent State of Papua New Guinea
It consists of the eastern half of New Guinea Island in the South Pacific Ocean, just south of the equator and north of Australia, and about 600 surrounding islands.Its area is 462,000 square kilometers, about 1.25 times that of Japan.The population is about 6 million and the capital is Port Moresby.The tropical climate is hot and humid, with wet and dry seasons.Major industries include mining and petroleum, with coffee, cocoa, and marine products as specialties.In 1975, the country gained independence from Australia.