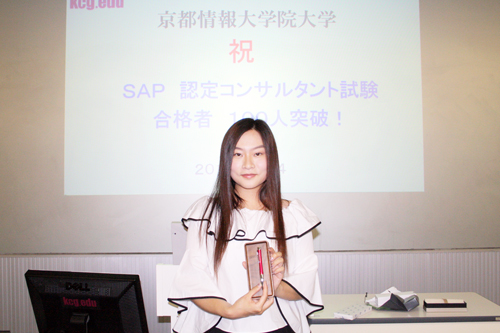 Jia Yee He becomes the 100th person from KCGI to pass the SAP certification exam.
The total number of students from The Kyoto College of Graduate Studies for Informatics (KCGI) who have passed the ERP certification exam of German SAP company has reached 100!The first successful applicant was in 2005, and the student from China, He Jiajie, who passed the exam on June 6, 2017, is the 100th student to pass the exam.To commemorate this event, a ceremony was held on June 14 in a classroom at KCGI, attended by students in the ERP program and faculty in charge of ERP education, where Professor Harufumi Ueda, who supervised the program, presented Mr. He with a commemorative gift.Mr. Yuzuru Fukuda, President and Representative Director of SAP Japan, also presented a commemorative gift, which was handed over by Dr. Ueda.
Enterprise Resource Planning (ERP) is a planning method that increases management efficiency by optimizing the allocation of people, goods, and money, which are the basic elements of corporate management.
The ERP education at KCGI/Business IT course is strongly led by Prof. Ueda and five other experienced faculty members.From the first semester of enrollment, students are required to develop a systematic schedule of lectures and practical training in order to pass the SAP certification examination.As more and more companies in Japan are adopting SAP ERP, this ERP consultant certification is the shortest passport to employment.All of the 100 students who have passed the course so far have found employment, and more than 20 of them have been hired by publicly listed companies.KCGI is the only university in Japan that offers systematic SAP ERP education.We will continue to focus on SAP ERP education in order to reach our 150th and 200th successful students.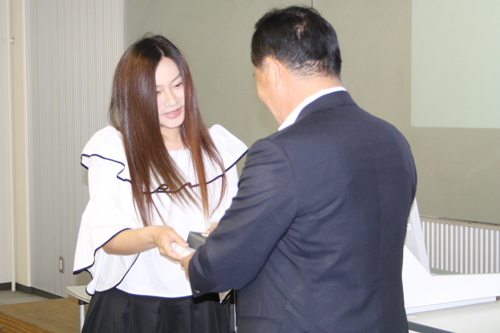 He Jia Yi receives a commemorative gift from Professor Harufumi Ueda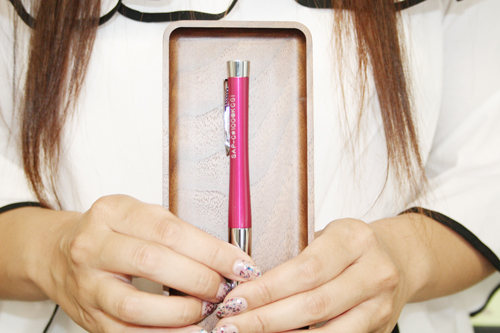 Dr. Ueda's custom-made ballpoint pen commemorating the 100th successful applicant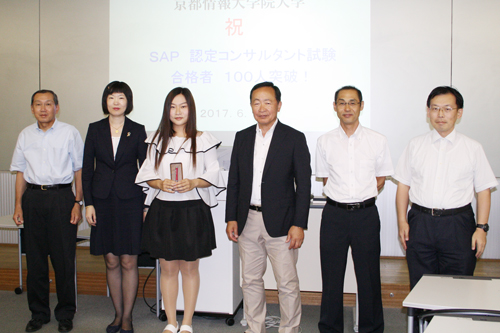 Commemorative photo with five faculty members responsible for teaching the ERP program at KCGI